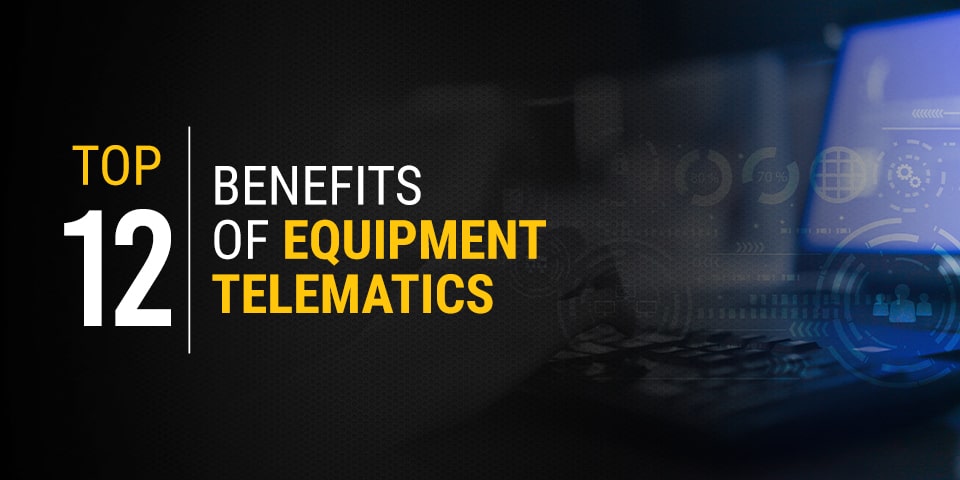 Today's smart technology means we can monitor our health, homes, and even our pets. Why shouldn't our heavy equipment be smart, too? Heavy equipment telematics can do just that.
Equipment telematics is steadily growing in popularity as fleet owners realize the immense value of these systems. A 2021 report on fleet technology trends shows that businesses can enjoy a return on investment (ROI) in under a year, and they can improve customer service by 54% with fleet tracking.
Telematics offers extraordinary visibility for many aspects of an equipment fleet, from location and hours to condition and usage. With the help of these powerful metrics, users can create significant savings and improvements across operations. So what is telematics, and how does it benefit your business? Let's take a closer look.
What Is Telematics?
Telematics encompasses a range of technologies used to monitor assets, usually vehicles and machinery. One of the most basic types of telematics systems provides location tracking through global positioning systems (GPS). More advanced systems can monitor equipment status, such as engine power, fuel consumption, and driving behavior. Telematic findings can support further analysis through software programs that provide predictive analytics, user alerts, intelligent dispatching, and many other valuable features.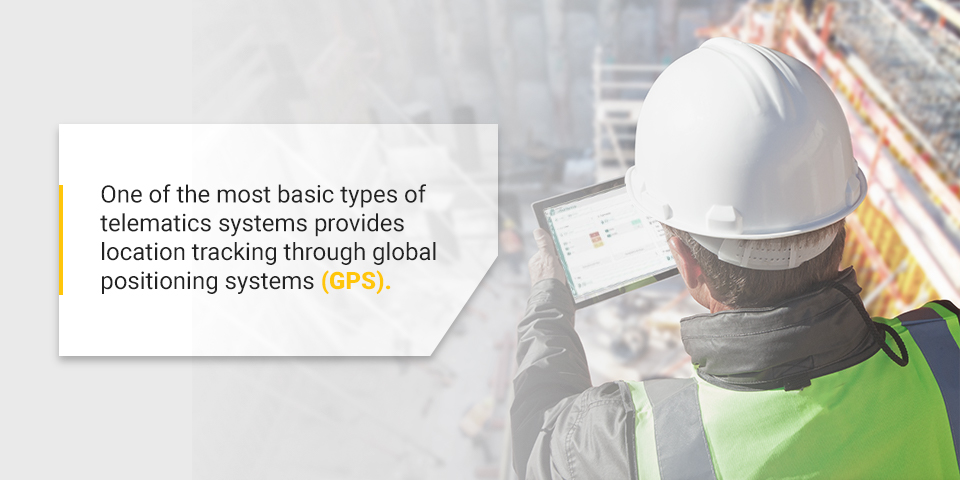 Typical components involved in telematics include:
GPS: The GPS component collects real-time data on the equipment's location, along with information on its speed and movements.
Monitoring sensors: Sensors in a machine collect data on its usage. This might include aggressive acceleration or erratic driving habits that should be corrected.
Onboard diagnostics: A device pulls data from the onboard diagnostics system to provide information on machine health, performance, and status. Diagnostic information can include fuel consumption, the power status of the engine, and use hours.
Typically, the results of this data reach the user in easy-to-read software systems, many of which you can access from any device. They might offer visualization tools for a clear picture of your fleet. Some of the challenges that telematics can solve include problems scheduling maintenance and stolen equipment.
Data points you can track with telematics include:
Location
Speed
Aggressive or erratic driving habits
Load information
Fuel consumption
Idling time
Miles traveled
Seatbelt use
Emissions
Remote vehicle inspection reports
Dashboard camera footage
The possibilities are practically endless!
How Does Telematics Work?
The process of sending data from your equipment to your phone or computer involves a few steps and components: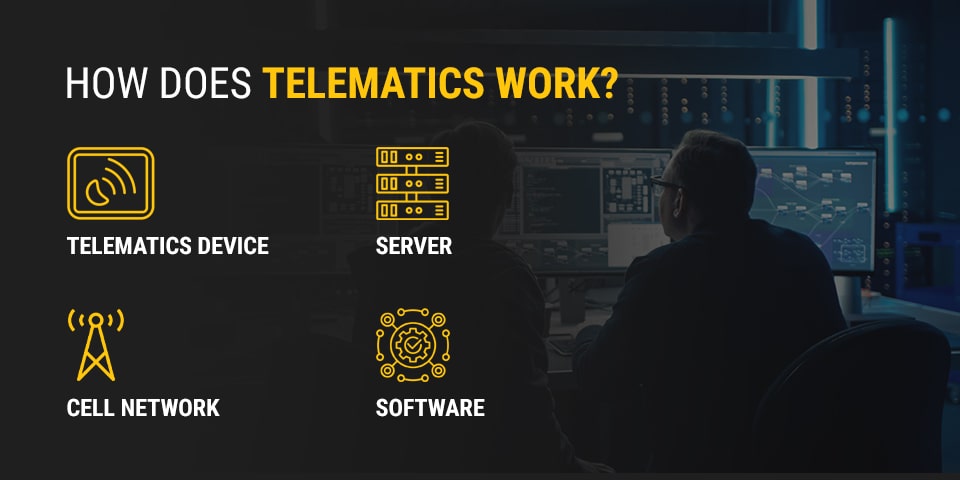 Telematics device: First, the data is collected and stored in the telematics device in the vehicle. Usually, this is transmitted through the onboard diagnostics port, either OBD-11 or CAN-BUS with a SIM card. Cat Product Link™ offers easy installation and can collect equipment location, hours, productivity, idle time, and diagnostic codes.
Cell network: With the help of an onboard modem, that data goes through a telecommunications company and their private cellular network to reach its next destination.
Server: The destination is a secure server, typically owned by the telematics provider.
Software: From there, the data is connected to the fleet management software, where it becomes readable and easy to visualize with any device that connects to the internet. Cat telematics link up to Cat VisionLink®, which is powered by Trimble. This web-based application offers easy management and custom views of your telematics data. Monitor conditions, create alerts for boundaries and preventive maintenance needs, and compare idle and working times for better efficiency.
Getting your telematics data occurs quickly, with near real-time updates. Telematics devices are often hardwired into the machinery for a tamper-proof design. This type of setup also helps the system connect to more peripheral devices, such as additional sensors.
Telematics devices can also connect to in-cab interfaces to communicate information to and from the operator. They can, for instance, receive jobs, send inspection reports, and get important job-related information through the dashboard.
My.Cat.Com is another way to monitor your telematics-enabled devices. This user-friendly, web-based platform brings Product Link™ and VisionLink together to offer monitoring for all your equipment, connected or not, in one place. You can access it from any device that has internet and make the most of your equipment.
Telematics for Construction Equipment
The construction industry operates with razor-thin margins, and miscalculations on operating costs or unexpected downtime can have significant ramifications on profits and customer satisfaction. Typically, construction fleet owners are working on many projects at once. If a piece of equipment breaks down, it can lead to missed deadlines on the current project with rippling effects on other projects that might need the labor or machinery being used on the first one. Breakdowns will also include the costs associated with equipment rentals or immediate repair needs.
Since telematics can address many of these problems facing the construction industry, it's a great investment. Construction telematics offer features suited to on-road and off-road applications.
On-road telematics for construction provides excellent site reporting capabilities. Management teams can see clearly what equipment is on the work site and who is there. You can also enact route planning tools to create efficient movements and reduce fuel consumption. For off-road telematics, you can find a range of features that help you understand the efficiency of your assets, from performance to location to use hours. You can better optimize the utilization of the equipment across your work sites.
Telematics for Power Generation Equipment
Power generation equipment is a bit simpler than heavy equipment, but you can still avoid problems through telematics systems. When used with power generation equipment, telematics can offer insights into the status of the equipment, monitor and log events, and send alerts when necessary. For example, if a generator fails, you want to know right away, especially if it's supporting business-critical equipment. You may also want to know if it turns on, so you can have an accurate assessment of its usage.
You can receive alerts and updates in these instances, along with notifications on the status, fuel notifications, and other aspects of operation.
Top 12 Benefits of Equipment Telematics
Heavy equipment telematics has benefits for your profits, efficiency, customer relations, asset management, safety, and other aspects of the business. Whatever your goals are, there's a good chance telematics can help. Below are some of the benefits of construction equipment telematics: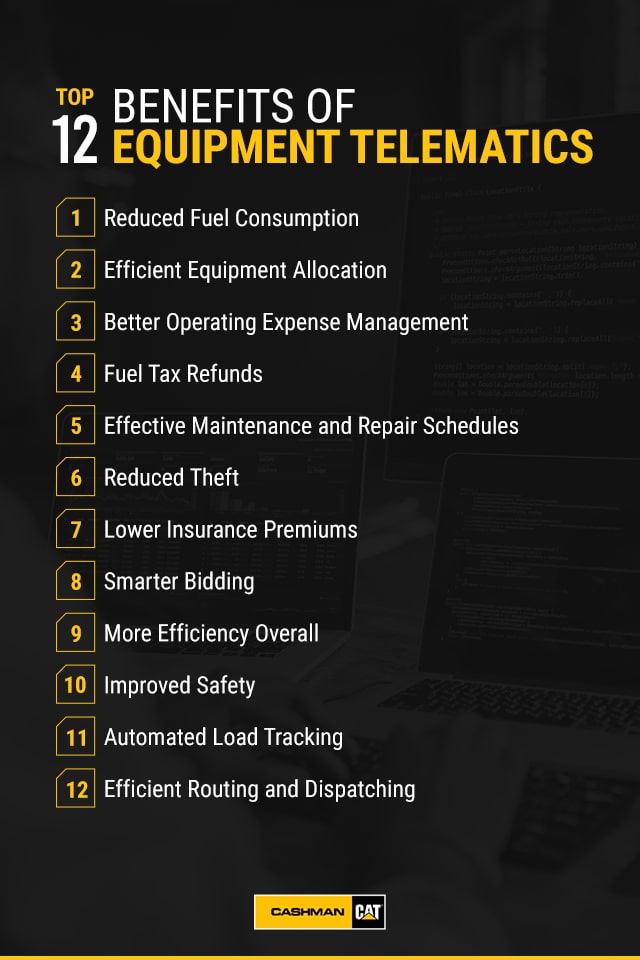 1. Reduced Fuel Consumption
Telematics can monitor important factors related to fuel use in a piece of machinery and provide significant cost savings. It can track idling time and work time, along with operators who are using equipment irresponsibly or without prior authorization. This specific information can be used to correct poor behaviors or know where to teach best practices. Some systems can organize optimized routes to reduce bottlenecks at a job site to reduce fuel usage, too.
Reducing your fuel consumption can save costs, as well as provide your engine with extra care for a longer life span and less maintenance.
2. Efficient Equipment Allocation
When you're working with many different project sites, efficient allocation is critical to optimizing equipment value and meeting project demands as quickly as possible.
By tracking usage habits, you can watch how and how often a piece of machinery is being used on a work site and whether you might need to adjust equipment placement or the size of your fleet. If a piece of equipment is being underutilized and spending a lot of time idle, it may be worth sending it off to another project. If your projects are struggling and all your skid steers are being used, you may want to consider adding a new one to your fleet.
The level of oversight offered by telematics can significantly improve a fleet owner's understanding of their equipment utilization and allocation.
3. Better Operating Expense Management
Operating expenses can include a wide range of costs, from fuel and preventive maintenance to payroll and the costs of repairs. Because telematics can monitor so many aspects of operation, it can allow for much better operating expense management. You can understand these factors better and evaluate the value of the machine versus its costs.
Through careful monitoring, you can also reduce your operating expenses through predicting maintenance requirements, thereby reducing last-minute repair needs. Fuel reduction, lower insurance costs, and higher efficiency can all contribute to operating expenses, too.
4. Fuel Tax Refunds
As you experience every time you fill up your car, gasoline and diesel fuel are taxed, with those funds being used to improve the roads that cars and diesel trucks drive on. If you're using gasoline in a machine that doesn't use those roads, you don't need to pay as much toward their upkeep. To get this kind of federal, and sometimes state, refund, you'll need to show proof that your vehicles aren't being used on the roads. Because telematics collects that type of data, you can use those records to your advantage.
Keep in mind that red-dyed diesel fuel, which is already designated for off-road use and not taxed, would not make you eligible for these refunds.
5. Effective Maintenance and Repair Schedules
The sensors on a piece of equipment with telematics are great for continuous monitoring and predictive maintenance practices. Basic equipment data like use hours, fuel consumption, and operational habits can be integrated with predictive maintenance programming to provide guidance on when to conduct certain tasks.
Telematics can also identify when equipment isn't operating at its best and help you make early repairs, which are great for extending the equipment's life and minimizing the costs of the repairs. Plus, you can minimize downtime by conducting those repairs on your terms and not in the middle of a project.
6. Reduced Theft
With the help of GPS and geofencing capabilities, you can minimize the chances of losing your hard-earned equipment to theft. Many telematics systems can send you alerts when your equipment leaves the job site or is operated outside of scheduled work hours. Some systems can even shut off the engine remotely to prevent unauthorized use.
Constant monitoring is an excellent way to get peace of mind regarding your heavy equipment.
7. Lower Insurance Premiums
Just as you can get rate reductions for safety features on your car, you can often enjoy lower insurance rates for having telematics features on your heavy equipment, like GPS tracking and geofencing alerts. If you have a large fleet, these savings can add up fast.
While not directly related to your premiums, you can also avoid making insurance claims through the reduction of accidents. You can often reduce accidents by identifying unsafe driving behaviors through your telematics and correcting them accordingly.
8. Smarter Bidding
A common problem in the construction industry involves the accuracy of estimates, with many projects going over budget or past deadline due to an incorrect understanding of project costs. The insights that come from telematics make it easier for you to make accurate bids. You can better calculate and reduce operating costs while increasing your knowledge of your fleet in general.
9. More Efficiency Overall
Telematics provides the kind of data that can help you create efficiency in many parts of your operation. If you know exactly where, when, and how your equipment is being used, you can conduct more thorough assessments to understand the job site. You can provide appropriate trainings to educate operators and supervisors on appropriate practices, or change up where you're deploying your equipment for more efficient usage.
Another benefit of construction telematics is that you can access visibility data from anywhere and don't need to bother on-site workers to get updates or make changes. They can focus more on their work.
10. Improved Safety
The safety benefits of construction telematics involve monitoring operating behaviors and equipment performance. Telematics can often detect when a piece of equipment might be facing an operational issue or when an operator is driving dangerously. The information can then be used to repair the equipment or correct the poor behavior.
Another benefit of the precise location data of telematics is that, in the event of an incident, responders know exactly where to go and reduce time spent searching for an injured employee.
11. Automated Load Tracking
In addition to equipment information, telematics can provide data on the types of loads being lifted, size, location in the job site, and who's working with the load. Deliveries can be tracked with scanners and radio-frequency identification (RFID) tags for easy, error-resistant monitoring.
12. Efficient Routing and Dispatching
Some businesses working with heavy equipment have a dispatch team sending out machines where they're needed most. The route-planning capabilities of telematics make it possible for dispatching organizations to predict the most efficient and fastest routes for the equipment. Better routes can have positive effects on equipment wear and tear and can help minimize machine mileage and carbon emissions. Since everything's in real-time, dispatchers can make quick responses according to interruptions in traffic or weather conditions.
See What Telematics Can Do for You With Cashman Equipment
Telematics can have many different types of implementation for various organizations. However you use it, the benefits of telematics can have a range of positive effects for construction equipment and its management. If you're in or near Nevada, Cashman Equipment can help you implement telematics. We're a trusted supplier of equipment from the leaders at Caterpillar and many other reliable manufacturers, many of which have telematics equipment available.
If you have any questions about telematics and what they might look like in your workday, reach out to our experienced representatives at your nearest location or at 800-937-2326. We're happy to talk about options and help you experience the power of telematics.