Interstate Trailers for Sale
When you have heavy equipment, you need an effective way to haul it — that's where Interstate Trailers come in. We offer high-quality Interstate Trailers for sale in Nevada, the Eastern Sierras and select neighboring California counties to help you safely transport heavy equipment.
We have tag-along and tiltbed trailers designed specifically for businesses like yours. No matter what type of heavy equipment you need to move, we have various options to help you find the right size and capacity for your application.
Tag-Along Trailers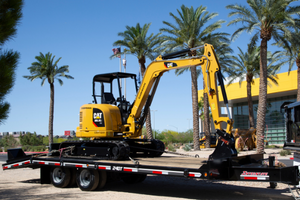 Tag-along trailers — sometimes called drag trailers — are made to haul cargo like your heavy equipment. They connect to your tow vehicle with a pintle eye and can come in sizes ranging from small models to heavy-duty haulers used in commercial industries.
Some of our Interstate tag-along trailers for sale include:
12RBS: The 12RBS trailer has a 12,000-pound capacity at 55 mph. The deck measures 16′ flat + 2′ beavertail. This model comes with an LED lighting system and 12" by 2" electric brakes.
20DT: The 20DT trailer has a 20,000-pound capacity at 55 mph and a total length of 31'. It includes spring-assisted ramps and disc-type wheels.
24DT: Interstate's 24DT has a 24,000-pound capacity at 55 mph. Its deck measures 21' flat + 5' beavertail.
40DLA: A 40DLA has a 40,000-pound capacity at 55 mph with an overall length of 35'. This trailer features durable air brakes and a front head board stop.
Tiltbed Trailers
A tiltbed trailer is another option that also attaches to your vehicle with a pintle eye. With this design, the entirety or a portion of the deck tilts to make it easier to load and unload your heavy equipment. Generally, there are two classifications for tiltbed trailers — full trailers tilt the whole deck, while industrial models only move part of it.
Interstate tiltbed trailers available include:
10TST: The 10TST trailer has a 10,000-pound capacity with an overall length of 21′ 6″.
12TST: This trailer has a 16′ tilting platform and a 12,000-pound capacity, plus LED lights as standard equipment. The axles on both sides have electric brakes for greater stopping power.
14TST: The 14TST has a 14,000-pound carrying capacity with a 4′ stationary deck and a 16′ tilting platform. The trailer's deck width is 82".
16TST: The 16TST trailer has a 16,000-pound capacity at 55 mph and a 16′ tilt + 4′ stationary deck length.
40TDL: To haul larger loads, you can choose the 40TDL for a trailer with a 40,000-pound capacity and an overall length of 34' 3".
Why Choose Interstate Trailers?
Interstate Trailers, like tiltbed and tag-along models, offer several valuable benefits:
Durability: Interstate trailers have a specialized frame designed to provide excellent longevity. They are made from high-gauge steel and assembled with precision to enhance strength.
Heavy-duty axles: These trailers have road-hugging axles that make them easier to handle under heavy load.
Strong ramps: The ramps on Interstate trailers have heavy-duty hinges and an all-steel construction, making them rugged enough to handle repeated use with heavy equipment.
High-quality flooring: Interstate builds trailers with premium materials like American steel and hardwood planks, with all seams sealed completely.
Choose us as Your Interstate Trailer Dealer
If you need to haul and transport heavy equipment, including Cat® machines, choose us. We are a full-service Interstate Trailer dealer in Nevada and the Eastern Sierras region of California that will work to understand and meet your needs. We have locations throughout the state and surrounding regions and our service team is always ready to help you choose the right model for your application.
Request a quote for an Interstate tiltbed or tag-along trailer today!