Cashman Power Solutions provides the only 100% integrated power solution on the market. We sell, rent, and buy virtually every variety of power generation, temperature control, compressed air, power quality, and power distribution equipment currently available on the market. Contact Cashman Power Solutions today at 800-937-2326.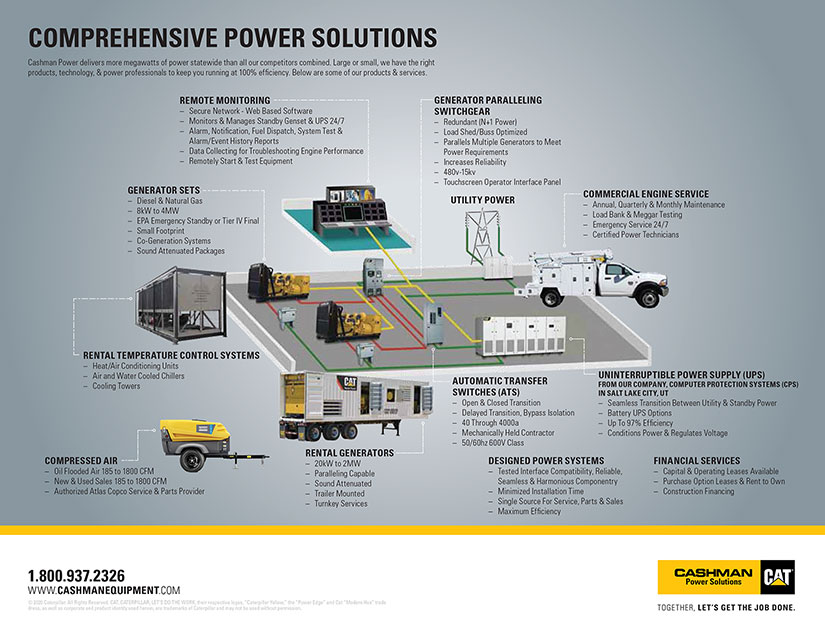 Power Systems Sales
Gas & Diesel Generator Sets | Paralleling Switchgear | Automatic Transfer Switches | Commercial & Residential
Power Systems Rental
Compressors | Generator Sets (Gensets) | Air Conditioners | Chillers | Pumps | ​Contingency Planning Assistance | Light Towers | Light Balloon Stands
Power Quality Services
Uninterrupted Power Supplies – Rotary & Battery | Surge Protectors | Line Conditioners | ​Emergency Lighting Power Supplies
Cogeneration Packages
Learn how you can save money and be more self-reliant with Enviro-Gen® Cogeneration Packages from Blue Point Energy.
Used Power Systems
We buy and sell all types of Power Systems equipment.
Power Solution Tools
Trying to size a generator for your home or business? We have all the power generation tools you need to help you determine your residential or commercial needs.