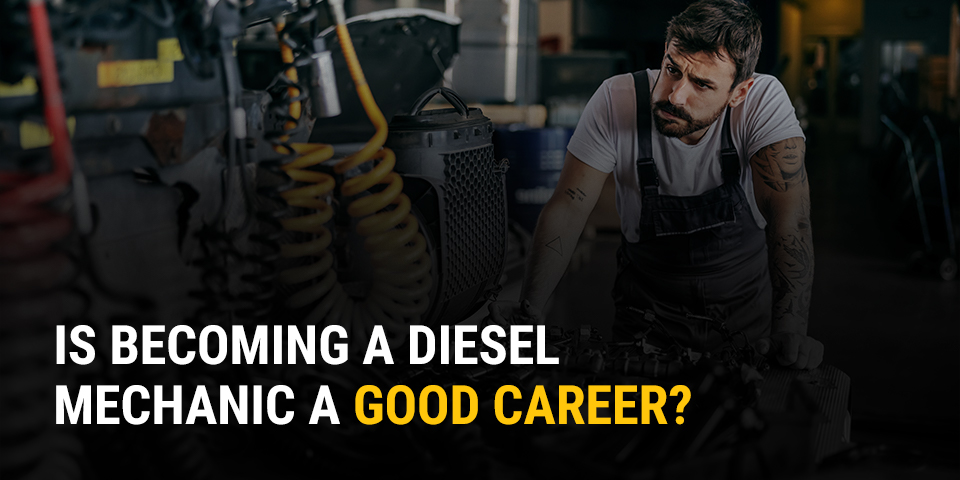 With competitive pay, exciting work, and the solid labor demand, becoming a disel mechanic can be a great career choice. In this article, we'll examine the diesel mechanic career path. It is important to explore the type of work they do and the advantages before you decide to pursue a career as a diesel mechanic. By knowing more about the field, you can make an informed decision about whether it's a job you want to pursue.
What Is a Diesel Mechanic?
Diesel mechanics are technicians trained to maintain, inspect, and repair heavy equipment and machines with diesel engines. They typically work on exhausts, electrical systems, and perform preventive maintenance on diesel machines and heavy equipment.
Review some of the primary responsibilities you may be expected to handle as a diesel mechanic:
Cleaning engine parts and systems
Inspecting tires and wheels, adjusting them as required
Replacing steering mechanisms, brake systems, transmissions, and diesel engines
Performing diagnostic tests on diesel engines
Reviewing diagnostic test results, taking action to correct issues as needed
Taking diesel-powered vehicles on test drives to gauge performance
Replacing or repairing engine parts
Inspecting the condition of a vehicle's lighting system
The Benefits of Being a Diesel Mechanic
Some of the main advantages of being a diesel mechanic include high pay, solid labor demand, low student debt, and short training times. Learn more about the benefits of becoming a diesel mechanic below:
Compensation: The competitive pay and opportunities for advancement attract skilled mechanics to the field.
Low student debt: Unlike other fields, you don't need a four-year college degree to get a job as a diesel mechanic. In fact, while an associate's degree can help you get hired, some employers don't require it. If you pursue educational opportunities, like certifications or an associate's degree, the costs are much lower than if you get a four-year degree, leading many diesel mechanics to have low student debt.
Solid labor demand: People who know a trade are almost always in high demand, and diesel mechanics are no different. If you're a trained diesel mechanic, there's a great chance you can find work. The Bureau of Labor Statistics (BLS) estimates the number of jobs in this field will grow by 3% between 2019 and 2029, which is as fast as the national average.
Day-to-day variety: When you work as a diesel mechanic, you'll have plenty of different tasks to keep you occupied. Since you'll work on various tasks each day, it's hard to get bored. You'll often get to work through challenges, determining what's going wrong in a diesel engine and solving the problem. If you love variety and problem-solving, becoming a diesel mechanic could be for you.
Short training times: When you want to start a career as a diesel mechanic, you won't have to spend as much time in training programs or school as you would for other careers. An associate's degree usually takes two years, and certificate programs are typically only six months to a year.
How to Determine if Becoming a Diesel Mechanic Is a Good Career for You
As you decide if becoming a diesel mechanic is a good career choice, check out the skills and values that help many diesel mechanics enjoy their job. For example, those who value job security and enjoy solving mechanical problems often love their career as diesel mechanics. Additional indicators that you might love working as a diesel mechanic include: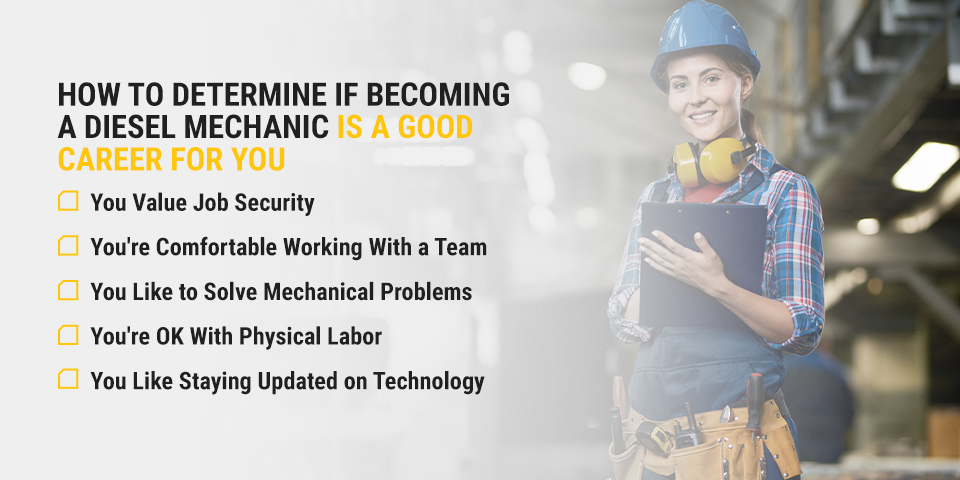 1. You Value Job Security
Since semi-trucks and other heavy machines are necessary to the economy for transporting goods and constructing homes, diesel mechanics have high job security. Diesel-powered machines and vehicles will always need someone to fix their engines. If you want a long-lasting career with lots of job security, becoming a diesel mechanic is a great choice.
2. You're Comfortable Working With a Team
Diesel mechanics often work with other team members to diagnose and solve diesel engine problems. If you're comfortable working with others and learning from them, you'll enjoy being a diesel mechanic.
3. You Like to Solve Mechanical Problems
People who like to figure out mechanical issues and solve them often love being diesel mechanics. As a diesel technician, you'll learn about the parts associated with diesel engines and machinery. Once you're through training, you'll use this knowledge to solve various mechanical problems and help customers maximize their machine's potential and engine's ability. If you have strong critical thinking skills and an interest in mechanical work, you may be perfect for a job as a diesel mechanic.
4. You're OK With Physical Labor
A diesel mechanic has to stand and perform physical tasks for long portions of their day. Technicians also have to use heavy tools, bend over to reach various parts, work in cramped areas, and perform tasks in the heat. Those who are comfortable with doing physical labor and getting their hands dirty are usually a great fit for a diesel mechanic job.
5. You Like Staying Updated on Technology
Companies are always producing new technology for diesel-powered machines and vehicles. As a result, someone who's open to learn about new technology and interested in the latest developments may love working as a diesel technician.
Why Become a Diesel Mechanic at Cashman Equipment?
At Cashman Equipment, being a diesel mechanic makes for an excellent career. We offer employees exceptional support and training to give them a rewarding and financially successful career. Whether you're passionate about technology, diesel engines, or heavy equipment, we can help you find a mechanic position you'll love.
We offer various training programs to new and seasoned mechanics to help them stay updated on the latest technology and increase their value in the field. This ongoing training makes us a top choice for mechanics of all experience levels. If you're a newcomer to the field, our Apprenticeship Program is designed to help you learn the ropes and develop your abilities as a diesel mechanic in a supportive environment.
We provide competitive salaries and a comprehensive benefits package to ensure our staff has the job security they need. You can expect to advance up the ranks with us if you work hard and are open to learning. Our ongoing technical and leadership training program gives you all the tools you need to pursue whatever career path is most exciting and rewarding to you. In this year alone, we've promoted or transferred over 45 employees, helping them find roles they can excel and advance in.
Apply to Become a Diesel Technician at Cashman Equipment
If you're interested in becoming a diesel mechanic, apply at Cashman Equipment today. If you have any questions, contact us online or give us a call at 800-937-2326.