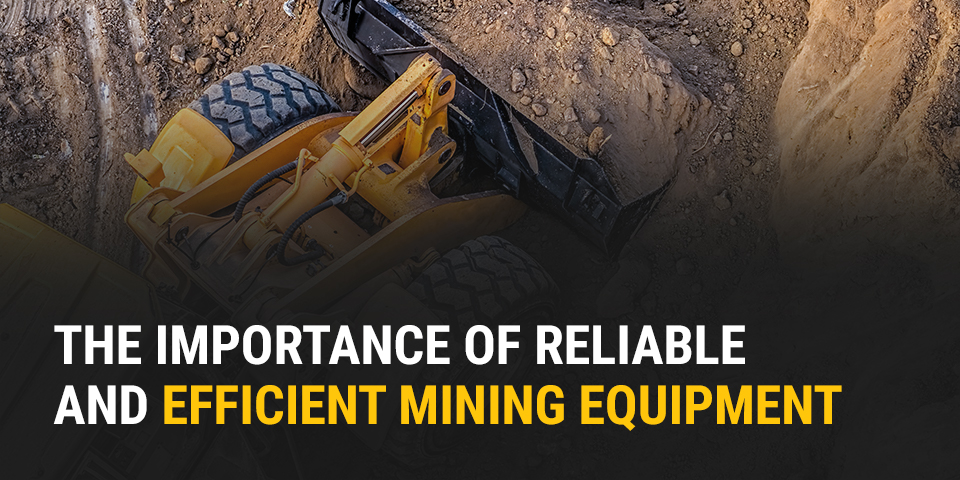 The mining industry is one of the most challenging job sectors in the country. Mining operations are always focused on controlling costs and maintaining a profit. Having reliable equipment makes mining easier, safer, and more productive. The right equipment can also improve the mine site's productivity and help your keep cost per ton low.
Read on to learn more about the importance of efficient mining equipment and get tips for improving your productivity in mining.
Why Reliability Is Important in the Mining Industry
Reliable equipment gives you and your operation peace of mind that your machines will perform like they're supposed to whenever you need them and won't cause hazardous work conditions. It's an essential part of your mining operations because it:
Keeps you safe: The 2019 occupational mining fatality rate was 10.5% — a significantly lower number than decades past. This is largely due to the improvements and features of modern mining equipment, which are designed with your employees' safety in mind.
Makes you marketable: Reliable equipment lets you take on mining projects and operate at the lowest cost per ton, giving you an edge over the competition.
Boosts employee morale: One of the best ways to boost employee morale is to provide them with the tools and equipment they need to complete their job easily and safely.
Increases site productivity: More reliable equipment means less costly downtime and increased productivity across the mining site — with minimal equipment servicing and parts replacement required.
The Importance of Efficient Mining Equipment
When your mining equipment is efficient, it means that each piece of your fleet is operating as it should. Maintained, up-to-date mining equipment is critical for your employees' safety and for keeping project costs low. It also saves you the time, frustration, and risks associated with faulty equipment.
The importance of reliable mining equipment is that it offers:
Safety: Mining machinery was the second leading accident class for 2019 mining fatalities. Efficient mining equipment reduces the chance for stalls, worn brakes, fires, rollovers, electrocution, and other mining site hazards.
Efficiency: The better a machine operates, the better equipped it is to do its job. Maintained brakes, wheels, tracks, and additional components can help your team get the job done faster and without interruption.
Savings: It's more cost-efficient to maintain equipment than to replace entire machines or costly components. Efficient equipment can also help you reduce your cost per ton and achieve your daily ore goals without expensive delays and minimal material waste — which is ideal for your bottom line.
Evaluate your equipment efficiency by keeping accurate logs of cycle time, maintenance, accidents, injuries, part replacements, and fuel costs. Then, track trends, patterns, and changes over time.
3 Ways to Improve Mining Productivity
Productivity in the mining industry means you:
Have a steady or increasing output for materials mined and moved.
Are able to successfully manage the safety of the crew, equipment, and surrounding environment.
Protect the bottom line and seek areas to minimize costs and waste.
Perform specific job tasks with accuracy while seeking new ways to improve processes.
Learn how to improve mining productivity with these three tips.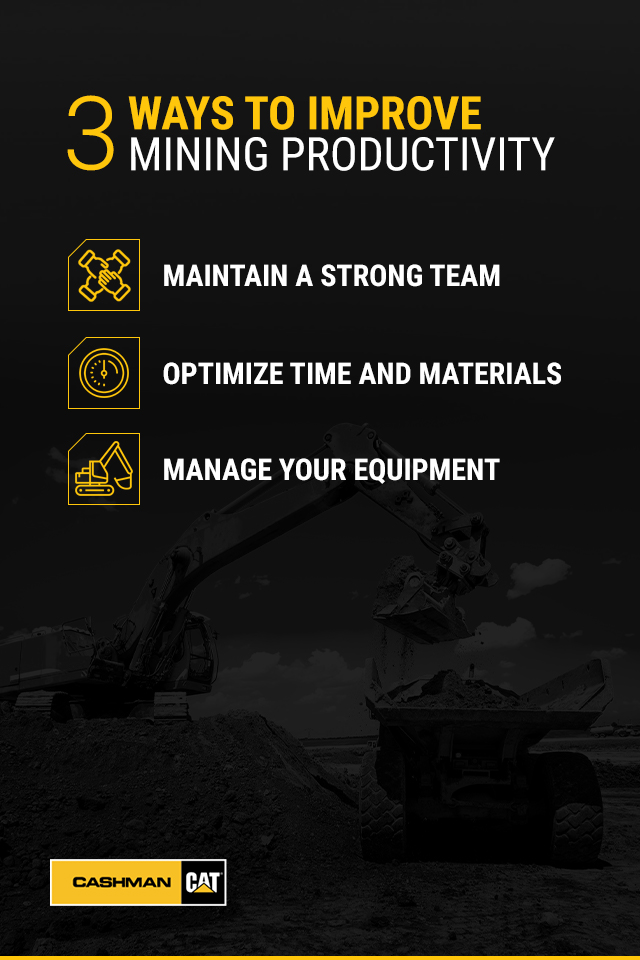 1. Maintain a Strong Team
You already know the value of reliable and efficient mining equipment, but even more valuable than the machines are those operating them. Your team plays the largest role in your mine's productivity.
Build a strong crew by:
Implementing training programs: Invest in quality training programs for new and existing employees. This includes ongoing training sessions throughout the year and as needed for changes in industry standards, staff reorganization, new equipment, enhanced safety protocols, and before every new work project or site. Training is the best way to keep the minds of your team sharp and focused on the task at hand while creating a collaborative environment where they can improve their skills — all of which translates to a safer, more productive job site.
Collecting employee feedback: Regularly collect employee feedback through surveys, one-on-one discussions, and open meetings to learn what changes and improvements they need to do their jobs well, like better safety equipment, machines with more comfortable cabs, or better tracks and tread. Making these changes creates a more positive work environment while arming your team with everything they need to succeed.
Cross-training employees: Cross-train your best workers in other sectors, mining materials, job tasks, and special equipment. This reduces the cost of hiring additional help while encouraging long-term career development for your existing employees.
Preparing the team: You should give your team as much information as possible about a project before you get to work, including site concerns and requirements, long-term and short-term goals, and specific site standards for safe and fast equipment operation. Conduct site-specific training if necessary.
Prioritizing health and safety: Nothing is more important than your employees' well-being. Prioritize health and safety during all purchasing and assignment decisions to avoid dangerous and potentially life-threatening situations. Hazardous work conditions aren't just risky — they can also be expensive. Occupational mining injuries create costly downtime and could damage tools or materials in the process.
2. Optimize Time and Materials
Optimizing your time and materials helps your team work more efficiently, protects profits, and gives your business a cutting edge over the competition. Some ways to optimize your tools, fleet, and practices include waste management and automated processes:
Waste management: Global mining waste is anticipated to reach a total of 87 million tons by 2022. Minimizing site and material waste — especially in the non-renewable resource sectors — is a critical part of staying productive and protecting the environment. You can also use your knowledge of sustainable practices to adapt to new jobs with stricter mining regulations, cutting the need for additional training and giving you an advantage over competitors who lack existing waste management training. Some waste management practices include reducing your electric consumption for equipment and on-site buildings and maintaining compliance with local environmental standards. Reuse as many resources as possible, like repurposing waste rocks to minimize site erosion. Some sites may also be conducive to treating and repurposing project wastewater. Some places offer incentives and grants for environmentally-friendly practices.
Automated processes: Use technology and modern equipment upgrades to automate as many routine processes as you can, like supply inventory management to avoid expensive overstocking, tracking and filling purchase orders for additional materials, and automatically scheduling preventive maintenance for your fleet. Use mining software like Cat® MineStar Command for Underground that pairs with your existing equipment. You can get an overhead view of your entire fleet's needs and anticipate costs while creating budgets to protect your profits.
3. Manage Your Equipment
Manage your tools and equipment to keep them operating smoothly and avoid expensive repairs, replacements, and unexpected downtime. The best way to do this is to establish an equipment management plan that accounts for every machine's needs, like regular servicing, preventive maintenance, troubleshooting, and fuel consumption.
Include the following in your equipment management plan:
Regular inspections: Your crew should inspect equipment before and after each use and when any problems arise, like abnormal sounds, excessive vibrations, or stalling. Inspect the inside and outside of the machine, including the brakes, lights, signaling devices, and the tires or tracks. Establish a clear protocol for employees to follow should they find anything concerning during regular inspections.
Preventive service: Preventive servicing refers to regularly scheduled checkups from an equipment specialist who inspects critical areas for performance and damage, then makes necessary adjustments to maintain the machine's integrity. Preventive services help you catch and fix potentially dangerous malfunctions before they cause a safety risk or create downtime.
Maintenance and repairs: When it comes to mining equipment, you should never ignore potential warning signs for machine failure. Discontinue use of the machine and contact a professional. Replace components as needed using parts and attachments from your machine's brand whenever possible.
Energy reduction: Use energy consumption data to note patterns in your equipment's fuel and energy consumption, then take steps to reduce it. For example, you might switch to a more fuel-efficient machine model if your typical worksites have no need for a heavier-duty machine. Implement processes to repair leaks and other energy wasters promptly. Tracking your energy consumption can also help you identify and correct usage spikes.
Upgrades and improvements: Even the most reliable equipment can benefit from occasional upgrades and enhancements. As technology becomes more intelligent, so do machines. Today's mining equipment has innovative technology to help you take control of your fleet and create a safer, more productive environment.
How Upgrading to Cat® Mining Equipment Improves Your Operations
Caterpillar earned its place as an industry leader for heavy equipment by producing durable, innovative machines and pairing them with attentive customer service. Caterpillar is constantly refining and updating machines to comply with changing standards, reduce environmental impact, increase productivity, and keep operators safe and productive. Support extends far beyond your initial purchase, with machine management services, comprehensive fleet solutions, operator training, and parts replacement.
One of the most significant benefits of Cat mining equipment is accessing Cat MineStar Command for Underground, a comprehensive technology that gives you an in-depth look at your fleet. MineStar is suitable for use in all types of mines, regardless of size, sector, or industry. It's even compatible with equipment from other manufacturers. You can use the information to make more informed decisions regarding your machines, staff training, and site practices while addressing needs as they arise and avoiding costly downtime or repairs.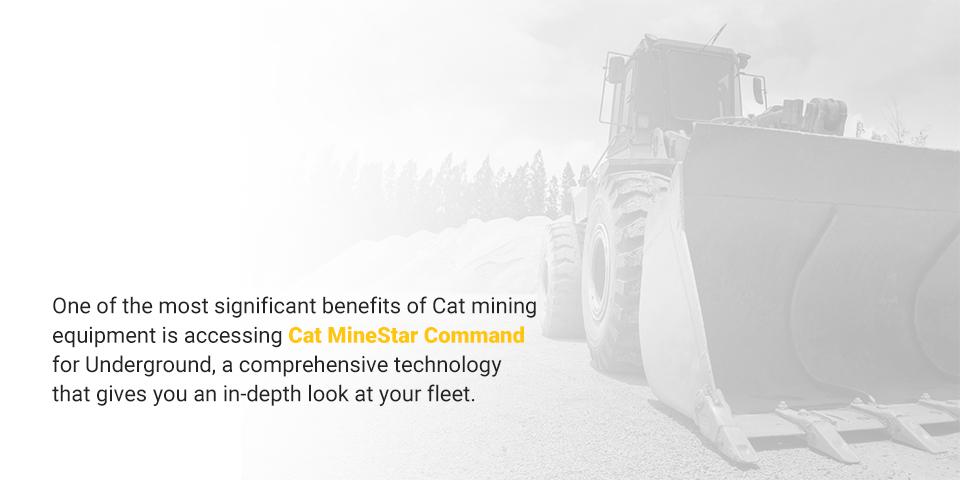 The Cat MineStar suite includes the following features:
Health: Health collects critical equipment data for every machine in your fleet to get insights into operating performance and equipment concerns. Use Health information on an ongoing basis to identify equipment issues before they lead to equipment failure or dangerous working conditions. You can also use the Health feature after event-specific incidents when you're concerned about an equipment's operation after a site accident or impact.
Fleet: Fleet offers a comprehensive overview of each machine in your fleet, including real-time tracking and equipment identification and assignment. Use this data to track equipment, supplement training materials, identify areas for improvement and manage productivity levels on the job.
Command: Command gives you control over your fleet in a brand new way — with a remote control feature you can set as semi-autonomous or fully-autonomous to complete repetitive tasks and free valuable employees to reallocate their talents elsewhere. It's also an easy way to manage equipment availability and keep workers safer in challenging mines.
Terrain: Get specific high-precision management with Terrain. This feature uses guidance technology to help you navigate various types of terrains and make decisions regarding drilling, grading, loading, and handling.
MineStar mining technology is completely adaptable and scalable, so you can choose one area to focus on, like fleet tracking, or you can take advantage of the entire suite.
Cashman Equipment Offers Complete Sales and Service of Mining Equipment
Cashman Equipment has the Cat mining equipment and technology you need to increase productivity and get the job done. With years of experience in mining support — including surface and underground sites — the team at Cashman Equipment offers the knowledge and services required to manage equipment and improve operations.
Take advantage of benefits, like:
Truck fleet and drill autonomy.
Driver safety systems.
In-house operator and service training.
Flexible financing and lease terms.
Extensive parts and equipment available for less downtime.
Equipment servicing and repairs.
Everything is backed by the Cashman Commitment — our way of ensuring you're completely satisfied with your purchase and getting the most out of your equipment. The Cashman Commitment includes premium training and consultation programs for your fleet, one full year of coverage on qualifying repairs, warranty and protection plans, loaner machines to eliminate downtime during repairs, and 24-hour support, every day of the year.
Request a Quote From Cashman Equipment Today
A productive mine can help you achieve more profits, tackle challenging projects faster, and keep your employees safe and satisfied along the way. Improving your productivity in mining starts with investing in the right equipment from Cashman Equipment. Visit a location near you to buy or rent new or Cat Certified Used equipment for your underground or surface mining project or request a quote online. You can also give our team a call at 800-937-2326 to learn more about our mining services and machine options.