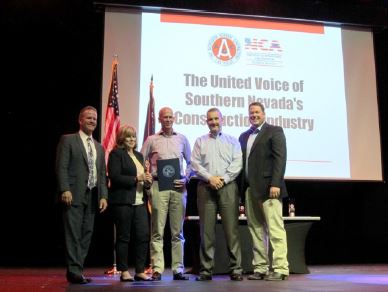 Friday, October 16, 2015 (Las Vegas) – Cashman Equipment was the recipient of the Supplier of the Year 2015 award from the Associated General Contractors of Las Vegas (AGC Las Vegas) and the Nevada Contractors Association (NCA).
The awards luncheon yesterday at The Joint at Hard Rock Hotel was packed with approximately 600 construction industry contractors, suppliers, and affiliates. The ceremony was led by Nevada Lieutenant Governor Mark Hutchison and AGC Las Vegas executive vice president Sean Stewart. Hutchison discussed the "can-do" factor of Nevada businesses and cited the Tesla gigafactory near Reno as evidence of the strength of the state and the construction industry.
"Tesla wanted Nevada's 'get it done' attitude," Hutchison said. "We are a can-do state."
Multiple awards, including the JA Tiberti Spirit Award and the Safest Contractor of the Year, were presented prior to the Supplier of the Year. Cashman Equipment was selected out of the three finalists, which included Werdco BC and Western Elite.
Cashman Equipment CEO and Chairman MaryKaye Cashman, COO and President Mike Pack and General Manager of Sales and Marketing Todd Gilligan accepted the award from Stewart and Hutchison. Gilligan thanked the AGC Las Vegas and NCA as well as the customers who made the award possible.
"We want to thank the AGC and our customers for this award," Gilligan stated. "We really enjoy being partners with everyone day in and day out. Next year will be Cashman Equipment's 85th anniversary, and we look forward to being business partners for many years to come."
Following the presentation of the award, Cashman Equipment customers Tradewinds Construction and Las Vegas Paving won the Subcontractor of the Year and Contractor of the Year awards, respectively.
###
Cashman Equipment Company… Founded in 1931 by James "Big Jim" Cashman, Cashman Equipment is one of the highest rated Caterpillar equipment dealers in North America. A full service dealership, Cashman provides new and used equipment for sale and rental, as well as high-quality parts and service to mining, construction, paving, truck engine, on-highway trucks, and power system industries throughout Nevada and parts of California. With LEED Gold certified corporate headquarters in Henderson, Nevada, Cashman is one of the largest privately-owned employers in the state. For more information, visit www.cashmanequipment.com or follow us on Facebook (facebook.com/CashmanEquipment) or Twitter (@CashmanCat).
For any questions or additional information on this story, please contact Kate Gallagher at 702.633.4582 or kategallagher@cashmanequipment.com.