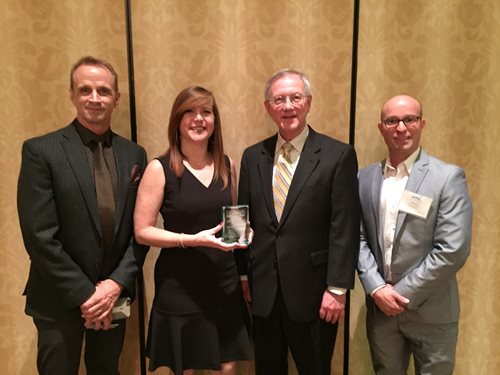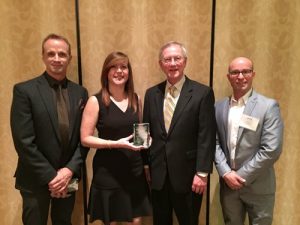 LAS VEGAS – (Friday, May 5, 2017) – In celebration of Earth Day, the U.S. Green Building Council Nevada (USGBC Nevada) and GREEN Alliance honored local leaders who are inspiring immense progress for Nevada, illuminating the best in green building, community engagement and service at the GREENFest Awards Gala. In a recent award ceremony, Cashman Equipment received the Community Green Building Legacy Award for its Leadership in Energy and Environmental Design (LEED) Gold corporate headquarters in Henderson, Nevada.
The Community Green Building Legacy Award is for any building constructed, renovated, or operated within the past 10 years that was innovative in sustainable practices and pushed the envelope of sustainability in design and development. Cashman Equipment achieved LEED Gold certification in 2009 through a whole-building approach to sustainability in all nine buildings of its corporate headquarters, designed by Las Vegas-based SH Architecture. Due to this approach, the company saw a 32 percent overall reduction in energy use, a 43 percent reduction in water use, and 97 percent of construction waste diverted from landfills.
"We are honored to accept this award on behalf of Cashman," stated Kate Gallagher, marketing communicator and facility tour guide for the company. "The other honorees' dedication to sustainability is staggering, and we're proud to be counted amongst them."
Winners of the 2017 GREENFest Awards are project teams, buildings, companies, organizations and individuals who have demonstrated leadership for a greener Nevada and represent the best and brightest of Nevada's green building and sustainability movement. Additional recipients included Ciara Byrne and Kim MacQuarrie, co-founders of Green Our Planet for GREENFest's Rob Dorinson Environmental Hero Award, the Las Vegas Academy for the Arts for Community Leader in Green Schools, Vinny Spotleson for Community Volunteer Leadership, and the Zion Community Garden, Conservation District of Southern Nevada, for the Transformers Award.
The GreenFEST award ceremony at The Orleans in Las Vegas concluded with Pat Mulroy receiving the USGBC Nevada's Lifetime Achievement Award for her extensive water conservation work throughout her life, including her time as the general manager of the Southern Nevada Water Authority from 1993 until retiring in February 2014 and as the general manager of the Las Vegas Valley Water District from 1989 until her retirement.
Currently, there are more than 545 LEED commercial projects in Nevada, totaling more than 325 million square feet across myriad building types and business sectors. Home to 1,281 LEED Professionals and 77 USGBC members, Nevada's LEED construction will contribute 96,000 jobs, $5.73 billion in labor earnings and $8.55 billion to the GDP between 2015 and 2018.
###
Cashman Equipment Company… Founded in 1931 by James "Big Jim" Cashman, Cashman Equipment is one of the highest rated Caterpillar equipment dealers in North America. A full service dealership, Cashman provides new and used equipment for sale and rental, as well as high-quality parts and service to construction, paving, mining, truck engine, pipeline, and power system industries throughout Nevada and parts of California. With LEED Gold-certified corporate headquarters in Henderson, Nevada, Cashman is one of the largest privately-owned employers in the state. For more information, visit www.cashmanequipment.com or follow Cashman on Facebook (@CashmanEquipment), Twitter (@CashmanCat), or LinkedIn (/company/cashman-equipment/).
For any questions or additional information on this story, please contact Kate Gallagher at 702.633.4582 or kategallagher@cashmanequipment.com.