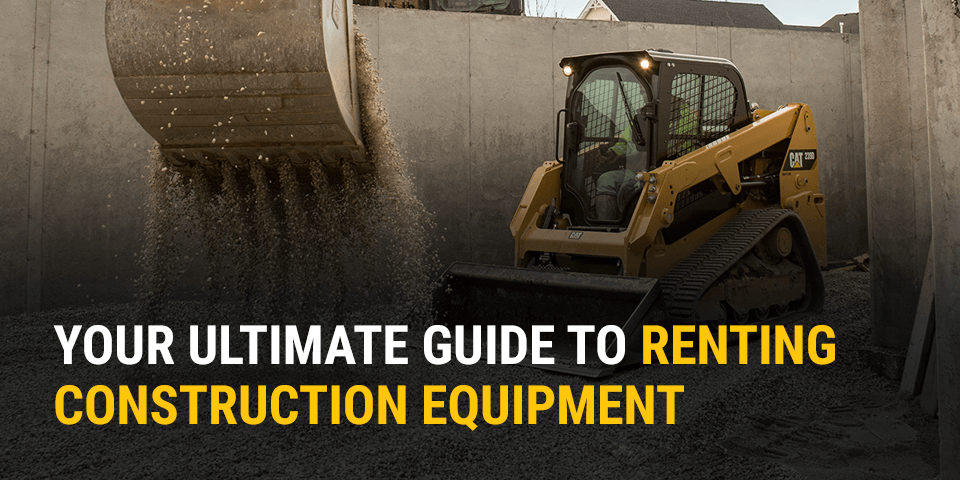 Businesses ranging from construction, landscaping, and agriculture to road building, waste handling, and countless others rely on the productivity of heavy equipment and other machinery to make progress possible. In recent years, the advantages of renting construction equipment have made choosing a temporary solution an increasingly viable option. Not sure if you should rent or buy? We're here with a guide to renting heavy equipment so you can make the right decision based on your unique circumstances.
Renting vs. Buying Construction Equipment
There will always be good reasons for certain businesses to buy new or used equipment. When you are an established company, have an ample spending budget, and consistently use certain types of machines day after day, year after year, purchasing makes sense. However, often, adding permanent equipment to your fleet isn't as economical or efficient as a short or long-term rental from a reliable source.
If you find your business constantly works on different types of jobs, or you don't want to invest in machinery you're not sure you'll use again, there are many benefits to renting construction equipment.
Many businesses end up favoring a hybrid model, combining rented and purchased equipment. You can own equipment for your usual jobs with a similar scope of work, and rent when other equipment is necessary for other jobs.
Renting allows you to:
Avoid depreciation and risk associated with ownership.
Conserve capital with less upfront spending.
Access a broad range of equipment on demand.
Save on storage costs.
Eliminate maintenance costs.
Alternatively, buying new or used can help you:
Save in the long term.
Earn a return on investment through resale.
Access equipment any time you need it.
Potentially spend less on taxes.
Avoid downtime when customer service is unavailable.
When deciding whether to rent or buy a piece of equipment, use three steps to compare your options:
Set a budget: Consider rental and purchasing costs in the context of your budget. If you might be able to use the equipment for many projects, look at your internal budget. If looking for specialized equipment for a few projects, consider how renting can fit into the project budget.
Weigh ownership versus rental costs: For rentals, use the rental rate quoted by the dealer multiplied by the rental period. Then, add in pickup and delivery charges plus rental insurance. For purchasing, consider the original cost added to the cost of transport, storage, maintenance, and insurance. Subtract an estimated resale value depending on when you plan to sell it. Compare the two final numbers.
Consider the frequency of use: The length of your current project and how often you will have similar projects can also influence your decision. The longer the project and the more often you work on similar projects, the more profitable it can be to buy. Generally, if you can keep the equipment in use for more than 60% to 70% of the time, it becomes more practical to buy.
Top 5 Benefits of Renting Construction Equipment
Equipment rental is at an all-time high in the construction and contracting industry. A recent study found that 93% of contractors rented equipment within the last year. Among renters, 92% say they expect to rent at least as much as they have in the last year, while 52% plan to increase rental usage. You can take advantage of dozens of benefits when you rent equipment. While it sometimes makes sense to invest in equipment, you'll likely see cost savings and added convenience when you choose to rent.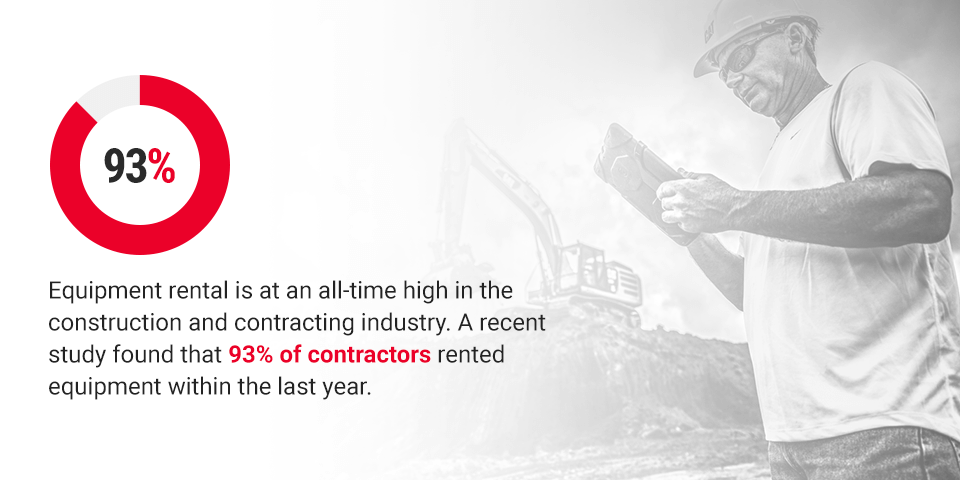 1. You Can Potentially Save Money up Front
When you rent, you cut a significant capital expense while also avoiding the immediate asset depreciation that happens the moment you take it off the lot. With more money in the bank and not wrapped up in an excavator or skid steer loader, for example, you're able to invest in other resources for growing your business.
Consider the cost of new equipment. In comparison, renting most machines may cost a few hundred dollars a day. Further, the cost per day goes down the longer the period you rent it for. Furthermore, while new equipment is a fixed cost, rentals can fluctuate. When construction enters the off-season, you can often take advantage of lower rental rates. Contact us to get accurate rental rates for any equipment you are interested in.
2. You Can Change Your Equipment for Every Job Based on the Job Needs
A primary advantage of renting is your readiness to tackle every job that comes your way. When you have a project or application beyond your permanent fleet's capabilities, renting makes it possible to access the specific machines you require for the length of time you need.
So, renting allows you to bid on jobs outside of your usual wheelhouse and expand your offerings. When a more complicated or custom job comes your way, you don't have to invest in machinery you won't use often.
For many applications, the size and type of tools you need can vary depending on the job site's parameters. When it comes to earthmoving equipment, for example, you need equipment large enough to move earth in the fewest number of trips.
Making do with a smaller machine for a larger project can suck time and increase fuel consumption. Using larger equipment, especially in tight spaces or when moving heavier materials, can limit efficiency. Instead of purchasing a mid-sized excavator or backhoe that will be too small for some jobs and too large for others, you can rent the perfect size equipment for the job at hand.
3. You Have the Opportunity to Save Money Over Time
Owning less equipment means you don't have to spend as much time and resources on repairs. In many cases, the company you are renting from covers equipment maintenance and even offers emergency service and support. Renting also alleviates concerns that come with storing a more robust fleet. You only pay for the machines you need while you have a use for them.
Besides storage and maintenance costs, you can also save on the hidden costs of resale. While owning assets allows you to earn some of your investment back when you resell the equipment, you have to worry about depreciation costs.
When hoping to preserve resale value, you may spend more time and money on preventive maintenance. When it comes time to sell, you'll lose some of your recouped investment to marketing and working with an equipment broker. You also risk a bad economy lowering your machine's market value. Since economic downturns put many construction projects on hold, you may have trouble selling your used equipment. In that case, you'll continue to pay storage and maintenance costs for a machine that's outlived its usefulness.
You can avoid these costs by simply renting equipment when you need it. When you rent, depreciation turns into an advantage. Renting equipment that's a few years old will likely be more affordable. In times when demand for equipment is down, you may pay lower rental prices.
4. You Can Boost Productivity
The ability to access the latest models of equipment from leading manufacturers such as Caterpillar® provides a significant advantage. Renting from a Cat® dealer like Cashman ensures you're always working with premium machines designed to deliver industry-leading performance, safety, and reliability.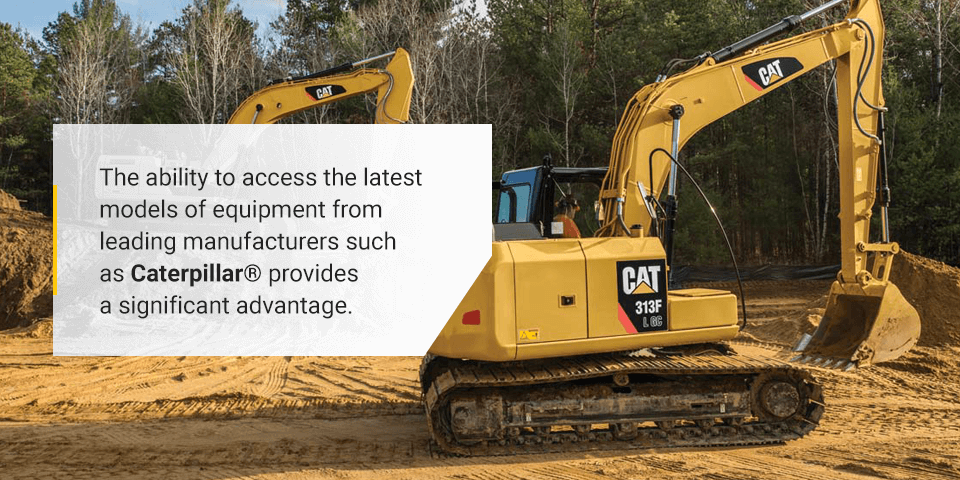 Renting allows you to optimize productivity in many ways. For one, you can always access the optimal equipment for the job at hand, meaning projects will take less time and use fuel in the most efficient way possible.
When you own your equipment, you're limited by how many items you own. You may suddenly find yourself working multiple projects without enough equipment to go around. Moving one machine from job site to job site can quickly prove inefficient. Each piece of machinery can only be in one place at a time, increasing downtime at several sites. When renting the equipment, you can work on many projects at once without racking up transportation costs, allowing for the greatest efficiency at every job site.
5. You Can Try Before You Buy
Many construction companies benefit from a combination of rented and purchased equipment. Since owning is cost-effective in the long term, buying and upgrading equipment can be smart.
If you want to upgrade to a newer model but aren't sure what to choose, renting equipment can help you decide. Investing in the wrong equipment, which will depreciate, can be a costly mistake. You can test drive a new machine by renting a piece of equipment for a few upcoming jobs. Your operators can learn how to use it and check to see if it performs well for your needs. You can also rent out a few different models to compare options before making a purchasing decision.
When equipment outlives its usefulness for your company, it may take some time to get it on the market and make a sale. For cases when the cash flow you gain from resale is crucial to help cover the cost of an upgrade, renting in the meantime can prevent you from losing productivity.
Questions to Ask Rental Equipment Companies
When evaluating a rental company and choosing a rental for a specific project, make sure you know what you are getting. Use this construction equipment rental guide to ensure you ask all the right questions.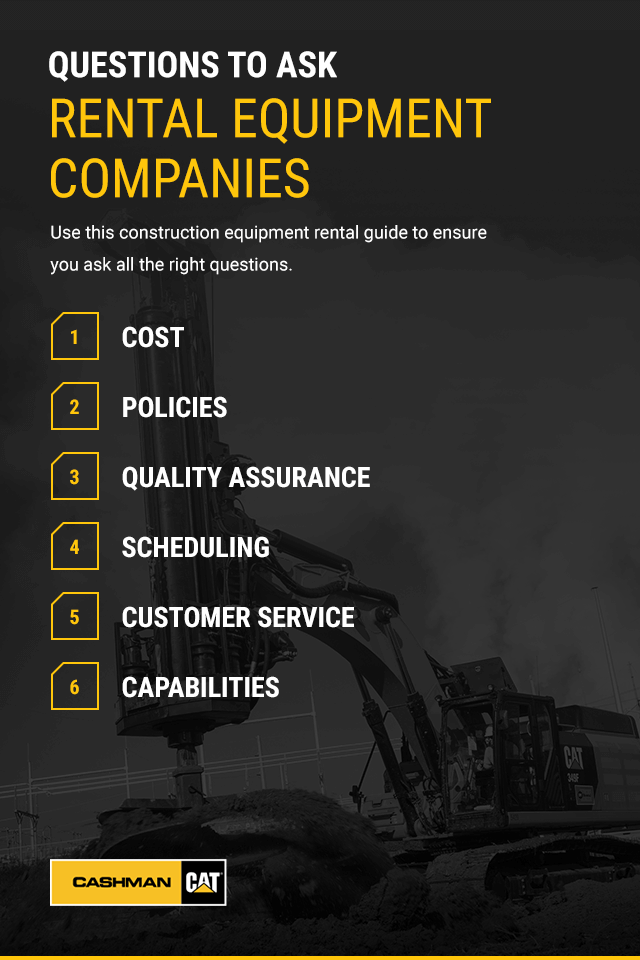 Cost: What are your rates and additional fees? Rental rates are a huge determining factor in equipment and rental company selection. Look at the rates and see if you can benefit by decreasing your rental time or receive a better deal by renting for a few extra days. Look at the full list of fees, so you can evaluate the total cost of the rental.
Policies: What are your billing policies? What are your return policies? Before doing business, you should know when you'll need to pay the bill, and if you can get refunded when you return or cancel a rental.
Quality assurance: What is your maintenance schedule? Can I have a maintenance and rental record for the equipment? What is your response time when the equipment doesn't work? Knowing the equipment is in good condition gives you confidence the equipment will work when you need it. If it stops working on-site, you'll want a service team that can be there quickly to minimize your downtime.
Scheduling: What are your pickup and delivery times? What are your hours? It's essential to know when you can expect a delivery and when your equipment needs to be ready for pickup. If something goes wrong while on the job, it can be helpful to know what times a service rep will be available to take a call and send a service technician.
Customer service: What training do you provide? Will anyone be available after hours if there is a problem? A rental company that offers training can help you mitigate the risk of equipment rentals while on the job. A company with after-hours availability can keep you on schedule if an issue arises.
Capabilities: How many options do you have for my project specifications? How large is your fleet? What brands do you carry? Being able to compare multiple options at varying price points and getting an expert opinion can be invaluable as you select a rental for your current project. A larger fleet can decrease the chances that a piece of equipment will be unavailable for the dates you need. A company that works with trusted brands lets you know they'll have high-quality equipment when you need it.
Tips for Renting Heavy Equipment
It's clear renting has plenty of advantages over buying, and you can gain more benefits when you rent like a pro. Here are some tips for renting construction equipment, so you can have a great experience:
Know what you need: You can get the most efficiency out of your equipment rentals when you know what you need for your specific application. You'll save time on selecting a rental, and reduce the chances you need to make a return or exchange. The experts at the rental facility can make suggestions if you are unsure of what to order.
Read reviews: Look for online reviews to get a sense of the company and their customer service.
Understand the terms and conditions: Before you sign a rental contract, read all the terms and conditions. Know what you could be liable for, if you can cancel or reschedule an order, and all other terms before you rent.
Stay safe: Whenever you rent equipment, the machinery will be new to many of your workers. Unsafe practices can injure your employees and damage your rentals. Ensure workers receive training on all rented equipment before using it. Inspect it before use and make sure everyone is using proper precautions at all times. Never use the equipment outside the recommended operating conditions. Doing so can violate your rental contract and put employees at risk.
Mistakes to Avoid When Renting Equipment
Like with most things in construction, renting has some pitfalls. Here are some mistakes people make with construction equipment rentals and tips for renting without a hitch:
Wrong equipment: Renting the wrong type of equipment for your particular application can be costly. Discuss your scope of work thoroughly with your equipment rental dealer and outline any load requirements or features you need. Mitigate this risk by renting multi-role machinery that can take on many attachments. Multi-role equipment can allow you to rent fewer machines and still get the job done.
Wrong size: The size of the equipment you use can be very specific to the job it's being used for. Equipment too small can decrease your efficiency, and equipment too large may not have the precision you need. Heavy equipment can also damage lawns, asphalt, and concrete on your job site. Before you decide on rental needs, make sure you understand site conditions and your power capacity. Speak with your operators to ensure the equipment will meet your needs.
Poor timing: Overestimating the length of your rental can cause you to pay for rental days you do not need. Underestimating may result in fees to extend your rental period, and cause your project to go over its initial rental budget. Make sure you create an accurate timeline, so your equipment is delivered as soon as you need it, and picked up as soon as you're done. When reserving during busy construction times, ensure you give plenty of advance notice and check with your dealer periodically to make sure nothing has come up. Let your dealer know as soon as possible if you discover you need to extend your rental.
Poor quality: While a high-quality rental company should provide you with the most professional equipment, beware of unreliable dealers. Check for fading, rust, wear, leaks, missing safety guards, and a lack of professional appearance. These conditions can affect safety or performance and make your construction company appear less professional. Rent from a trusted dealer to get the newest machines and highest quality every time.
Rent From the Best With Cashman Equipment
The decision of whether you should rent or buy construction equipment is often a case-by-case judgment. When you do decide to rent, trust the dealer with the best rental fleet in the area. At Cashman Equipment, we offer a full range of solutions for accessing the machines you need to get the job done right. We're an authorized Cat dealer with convenient locations to rent throughout Nevada and the Eastern Sierras.
Get in touch for more information on our extensive rental fleet or give us a call at 800-937-2326.