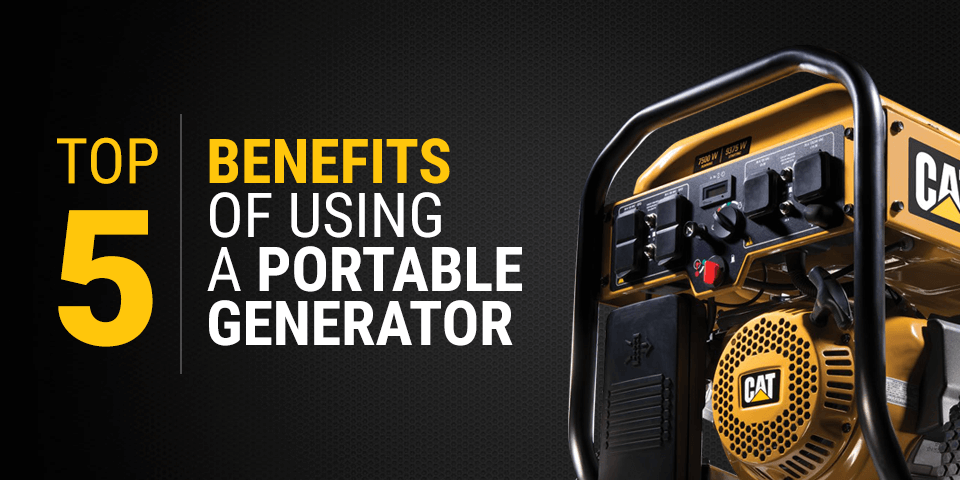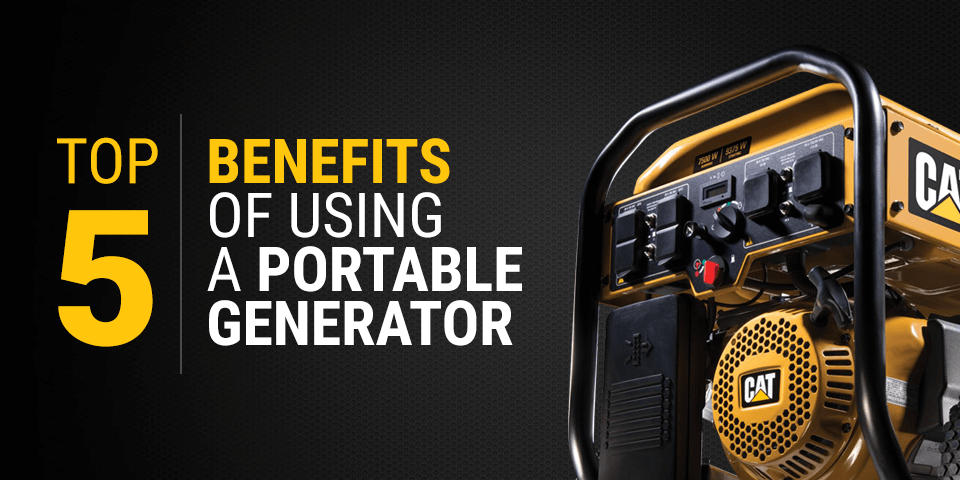 It's impossible to put a price on peace of mind, but the benefits of owning a portable generator mean you don't need to. Whether it's a medical emergency, a neighborhood power outage, or a weeklong camping trip, a portable power generator is a cost-effective way to ensure security and comfort.
While a standby generator is great, it doesn't offer the same amount of flexibility as a portable generator — and unlike a portable generator, a standby generator usually can't be used for more than providing power to the building to which it is attached.
5 Benefits of Using a Portable Generator
The convenience of having a portable generator is probably its biggest benefit, but there are several others as well, including: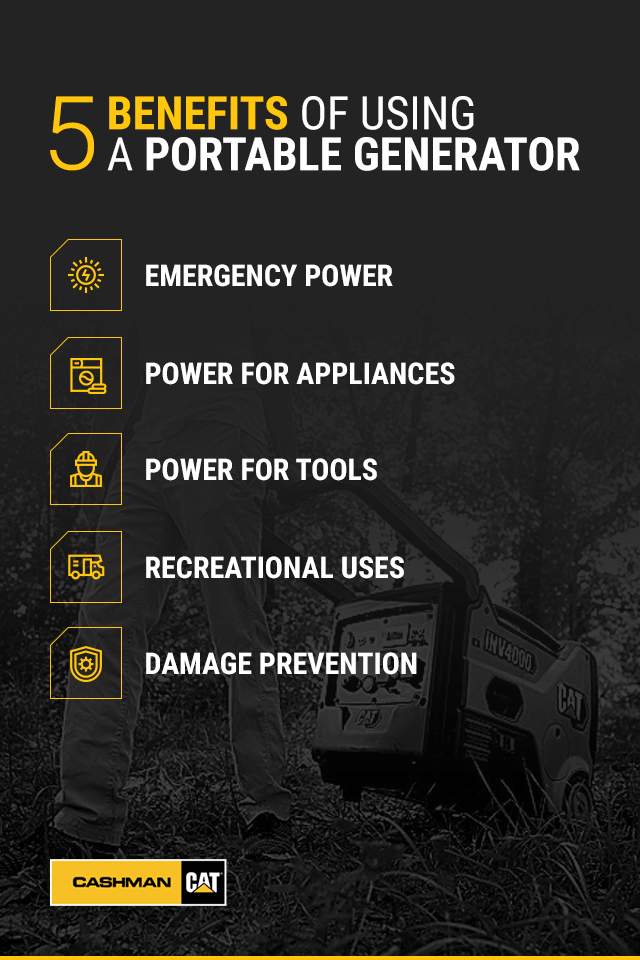 1. Emergency Power
If your business provides an essential service, you can't afford to be without power at all times, especially in times of natural disasters. Portable generators are great for providing power to first-responders and other medical front-line staff, so they can provide patients with quality care using state-of-the-art equipment. Inside hospitals and clinics, portable generators can save lives.
Even if your business isn't an essential service, you likely can't afford to lose time or money in a sudden power outage. A portable generator is the perfect piece of equipment to keep the lights on and machinery running.
At home, a big worry during a power outage is food waste since the fridge and stove are out of commission. Aside from being unable to cook the food that exists, there's a risk of perishable food rotting and going to waste, especially if the power outage is prolonged. A portable generator helps prevent waste by keeping essential household appliances working, saving you money in the long run.
2. Power for Appliances
In this technological age, we rely on computers and tablets to do a lot of our work, and even if we don't, these electronics are staples in our everyday routine. An electrical blackout can be short, or it can last for days, forcing those in your household to find ways to entertain themselves. With a portable generator, you can easily power computers, lights, and even television sets, allowing you to ride out any power outage in comfort.
Similarly, if you live in areas that are prone to storms that can knock out the power, a portable generator is a wise investment. With a generator present for emergencies, you don't need to go to a hotel to ride out the storm. Instead, you can stay in the comfort of your own home and even ensure that appliances essential to your household — whether it's the sump pump or the garage door or the oven — will continue to work.
3. Power for Tools
It may seem like the main reason to have a portable generator is to have power during emergencies, but the benefits of having a portable generator extend to non-emergencies, as well. Contractors working on a site need to use electrical tools, and a portable power generator is the best and most convenient solution. The portable part of the generator comes in handy in this case because it allows the generator to move over multiple sites with relative ease.
Plus, construction work during nighttime becomes much easier, thanks to the portable generator, which can easily power adequate lighting for the job in addition to providing power for tools.
4. Recreational Uses
The ease of use of portable generators makes them an ideal addition to any outdoor activity. A family camping trip can make use of a portable generator to power a mini-fridge to keep meat and fish fresh or provide some light at nighttime. If you have a recreational vehicle, a portable generator is an excellent investment because it can allow you the comforts of home wherever you are.
Additionally, since we do live in a technology-obsessed world, it can be out of the question to go camping or on a long road trip with no access to work emails or without communication with colleagues, and a portable generator takes the worry out of extended trips since it can easily power computers and tablets as needed. Or, if you and your family just feel like having a night watching a movie in your tent, a portable generator is more than capable of making that happen.
But, it's not just camping trips that are great uses for a portable generator. Any outdoor event can be improved with the comfort and convenience that portable generators provide. Upgrade a regular backyard barbecue to the event of the season with string lights, a screen projector, or a bouncy house added to the mix. Or take your party to the beach or a park and bring along any electric necessities to enjoy the day in comfort.
Similarly, have that dream outdoor wedding by using a portable generator to power a fog machine, a stereo, and unique lighting. Or bring a portable generator to power a scoreboard for a sporting event. It can even help provide light for night games. Or enjoy a tailgate party using a portable generator to get live updates on the game on television sets, or use it to power accessories like an electric blanket or a portable stovetop to easily whip up some snacks.
5. Damage Prevention
A power outage or another electrical mishap when you're away from home can be costly. The great thing about generators is that they can be programmed to come on as soon as the power goes out, allowing for nearly seamless electricity. While this is very convenient when you're stuck at home, it's a lifesaver when you're out of town and unable to check up on your home.
Aside from the obvious benefit of keeping your kitchen appliances running, so you don't return home to a fridge full of rotten food, a portable generator can also power your sump pump, preventing you from coming home to a flooded home. Or, it can keep your HVAC system going, so the indoor air quality of your home doesn't deteriorate while you're away. Keeping the HVAC system running has the added benefit of keeping your home clear of mold and mildew, especially if you live in a humid area.
What Size Portable Generator Do I Need?
There are several sizes of portable generators available, and figuring out which size is best suited for your needs can be tricky. If you're buying a portable generator to be prepared for power outages or other emergencies, you may need a different size generator than if you plan only to use the generator for using power tools while working on a job site.
The key is to figure out what you plan to use your portable generator for. Generators are measured by wattage, so if you're unfamiliar with sizing in watts, it's a good idea to seek the professional expertise of a generator salesperson. They'll ask you what you plan to power with your generator and calculate the wattage needed to make that happen. Then, they'll recommend the best portable generator for your specific needs.
If you're the sort who prefers to do some research ahead of time, you can use the portable generator sizing calculator provided by Cat® and get an accurate idea of what sort of wattage is needed. The free calculator asks you to check all the appliances and accessories you want to be powered by the generator and then suggests the size of the generator best suited for your needs.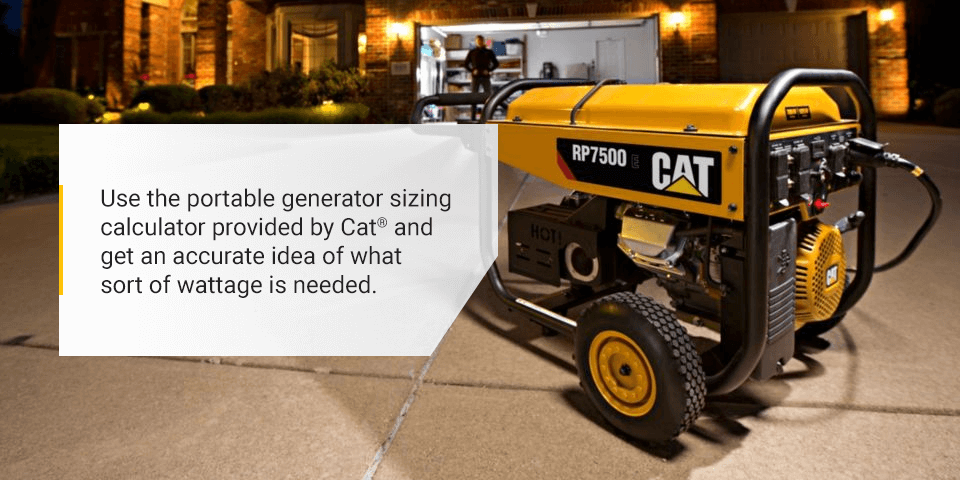 The calculator also allows you to choose a portable generator for use at home, at a worksite, or for recreational activities.
Generally, smaller portable generators are best used for the bare minimum, such as keeping lights or small appliances running. Medium-sized generators can handle a bit more, often easily powering multiple small appliances or a couple of large ones. Larger generators offer the most freedom when it comes to what can be powered. With small or medium-sized generators, you may have to economize, picking and choosing to power only the essentials, but that's less likely to be an issue with larger generators.
However, though the size of a generator tends to refer to its wattage, its physical size and weight also change with the wattage. Smaller portable generators are likely to easier to transport than medium-sized or large ones. The size of the generator also impacts how much noise or vibration it will make, which is something that should be considered, especially if you're buying a generator for your home. Depending on how close your neighbors are, they may find the noise or the vibrations from your generator to be a nuisance. Similarly, if you're buying for your business and it happens to be located close to a residential area, you may want to consider how much noise the generator is likely to make and whether it will be a problem.
A good power generator professional will be able to guide you through all the pros and cons to consider before buying a portable generator, so it's always a good idea to seek the advice of a professional.
Why Choose a Cat® Portable Generator?
Cat is renowned for its top-quality equipment, and its portable generators are no different. Featuring an all-steel construction that's 32 millimeters thick and heavy-duty wheels, Cat portable generators are made to last. An oversized fuel tank allows up to 15 hours of run time, and portable generators come with a foldable handle for easy mobility and storage.
Cat portable generators also consist of an overhead valve engine, auto-charging batteries on the E models, and compact wiring to prevent safety hazards. The control panels make it easy for any user to operate the generator at any time.
Other benefits of choosing to invest in a Cat portable generator include: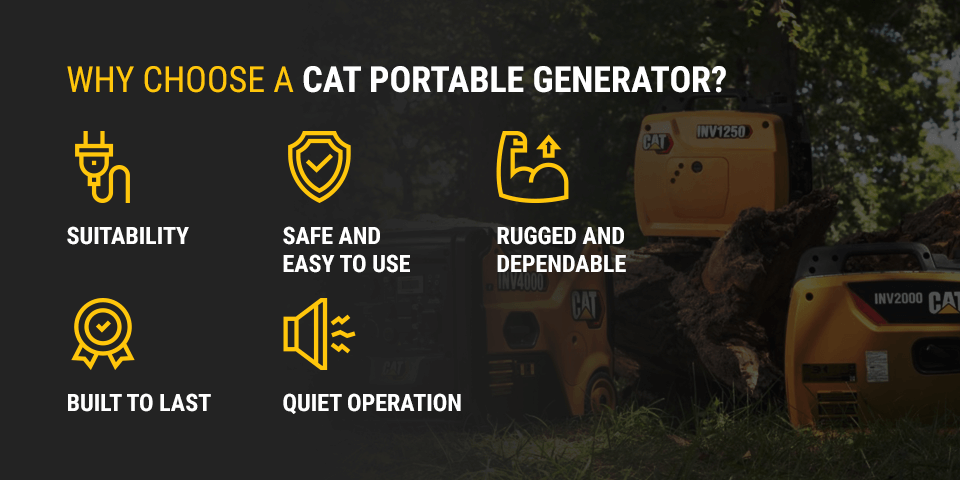 1. Suitability
Whether you're seeking a portable generator for your home, for your business, or for recreational activities, Cat portable generators are flexible and easy to transfer as needed. You don't need to buy three different portable generators for three different uses. Instead, one portable generator can be used to power your home during emergencies, power your business during a blackout, or make your beach party a little extra special and memorable.
2. Safe and Easy to Use
Cat portable generators are designed to be user-friendly. Some people may be concerned about what is essentially a box of electricity, but Cat generators are built with user safety in mind, as well. From how they're wired to how they're made to operate, Cat portable generators are made to be easy to operate. Simply follow the instructions on how to properly fill it with fuel, and you're good to go.
Safety is paramount, which is why portable generators come with circuit-breaker protection, which means that you don't have to worry about it getting overloaded. They're also designed with low-oil protection. When fuel is running low, instead of continuing to run and damaging the hardware, Cat portable generators will automatically shut off, ensuring your equipment stays in tip-top shape and lasts you for years to come.
3. Rugged and Dependable
Peace of mind is the goal with Cat portable generators, which is why they're built to be durable, long-lasting, and dependable. You can rely on your Cat portable generator to switch on as soon as the power goes out and power your home or work as long as you need it too.
The days of worrying and discomfort are gone thanks to Cat portable generators, which allow you to work at the job site at all hours of the night, enjoy the creature comforts of home when driving your recreational vehicle across the country or when those pesky storms knock out the power again.
4. Built to Last
A portable generator — like a standby generator — should be looked at as an investment, because that's exactly what it is. Cat portable generators are designed to be worth every cent of their price by delivering power whenever you need it, wherever you need it.
In addition to that, Cat offers a line of accessories to further help keep your portable generator working for years to come.
5. Quiet Operation
Small portable generators have the added benefit of being much quieter than standby generators. With a Cat portable generator, you can be sure you're getting the power you need without worrying about excessive noise or vibrations disturbing your neighbors, guests, or wildlife.
Contact Cashman Equipment for More Information About Cat Portable Generators
Providing the big power you need, Cashman Equipment has multiple convenient locations to help you get the Cat portable generator that's right for you. Get in touch to speak to one of our seasoned professionals to find the portable generator best suited for your needs — we'll help you figure out what size is best for you and suggest possible options for you to consider.
Contact us via our online contact form or by calling 800-937-2326.