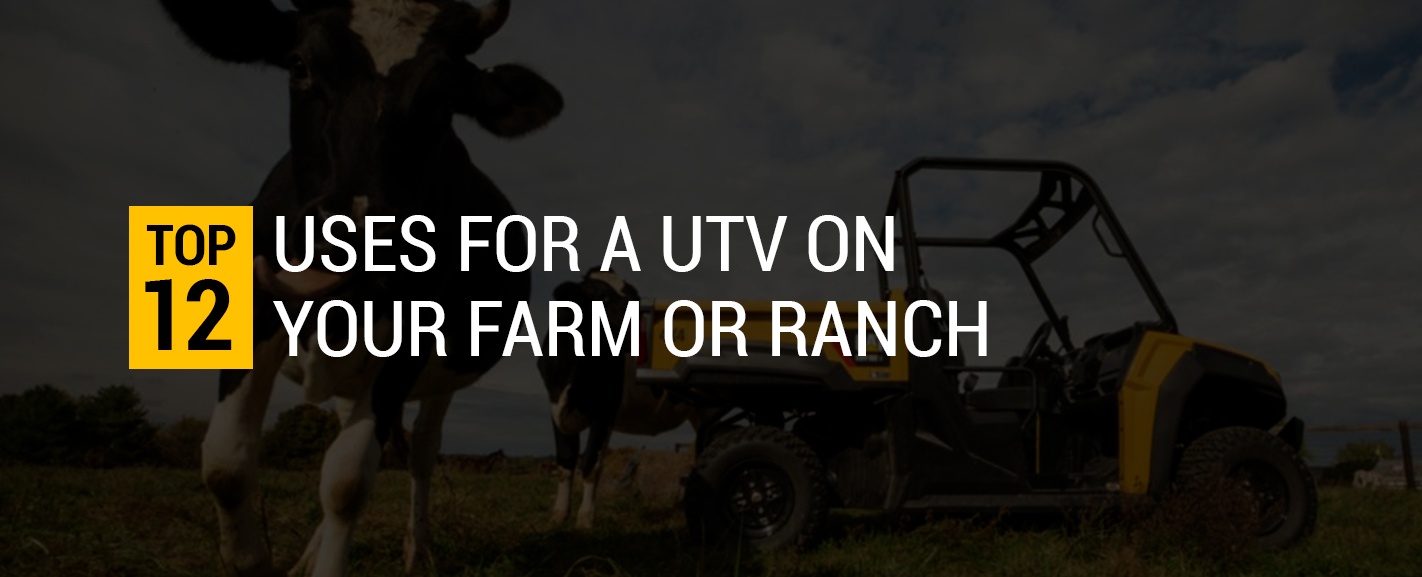 On a farm or ranch, there's always work to do, and you need efficient tools to help you accomplish it all safely, efficiently, and effectively. Utility terrain vehicles (UTVs), also known as utility task vehicles or side-by-sides, can help.
UTVs are like larger all-terrain vehicles (ATVs) that often offer a covered, multi-passenger space, powerful engines, cargo beds, and other practical features that suit them for the demands of agricultural work. They are incredibly versatile and can help you accomplish tasks from feeding to mending fences, from plowing fields to plowing snow. They offer ample opportunities for recreation at the end of the day as well.
In this guide, we discuss some benefits of side-by-side UTVs for farm use and offer ideas about the best uses for a UTV on your ranch or farm.
ATV vs. UTV — Which Is Better for Farming?
The first question to ask yourself is this: Should you get an ATV or UTV for your farm or ranch?
Unlike ATVs, which users often buy for sport and pleasure, the majority of UTVs — 64% of them — become work units for farming, ranching, fishing, landscaping, and other outdoor pursuits. But ATVs have their advantages in the industry as well. Below are some of the benefits of ATVs vs. UTVs for farming.
ATVs offer several advantages for farming because they are versatile and light.
Compact size: ATVs' lighter weight has minimal impact on the environment, and they take up comparatively little room in the barn or garage. Because they are so light, they are also easy to steer and handle.
Minimal fuel consumption: ATVs also use little fuel, so they are easy on the environment and help you save on fuel costs.
Practicality: ATVs are practical for many tasks, from feeding stock to towing loads to joyriding with a farm dog or two.
Price: ATVs are also great for farmers who are looking for more affordable options.
ATVs do have a few drawbacks, however. Because they are open vehicles, they offer no protection in inclement weather. They are prone to tipping when mishandled, so they could seriously injure careless or inexperienced users. They also lack the power and payload capacity of UTVs. To carry any substantial loads, they'll require trailers, but they can be difficult to maneuver over uneven terrain with trailers attached.
In general, UTVs generally offer superior performance abilities:
Payload: UTVs tend to have greater payloads, so they help make your agricultural work easier by hauling more gear more easily.
Power and maneuverability: UTVs are more powerful and still extremely maneuverable, even over uneven terrain and in the woods.
Carrying capacity: Because a UTV has so much carrying capacity built-in, you'll rarely need to attach a trailer. It can hold up to six people comfortably — or a few people and a few dogs.
Stability: The bed of a UTV provides a stable platform for activities like feeding, spraying, and shooting.
Convenience: UTVs' coverings offer convenient shelter from the weather, and their optional enclosed cabs and windscreens are also convenient features.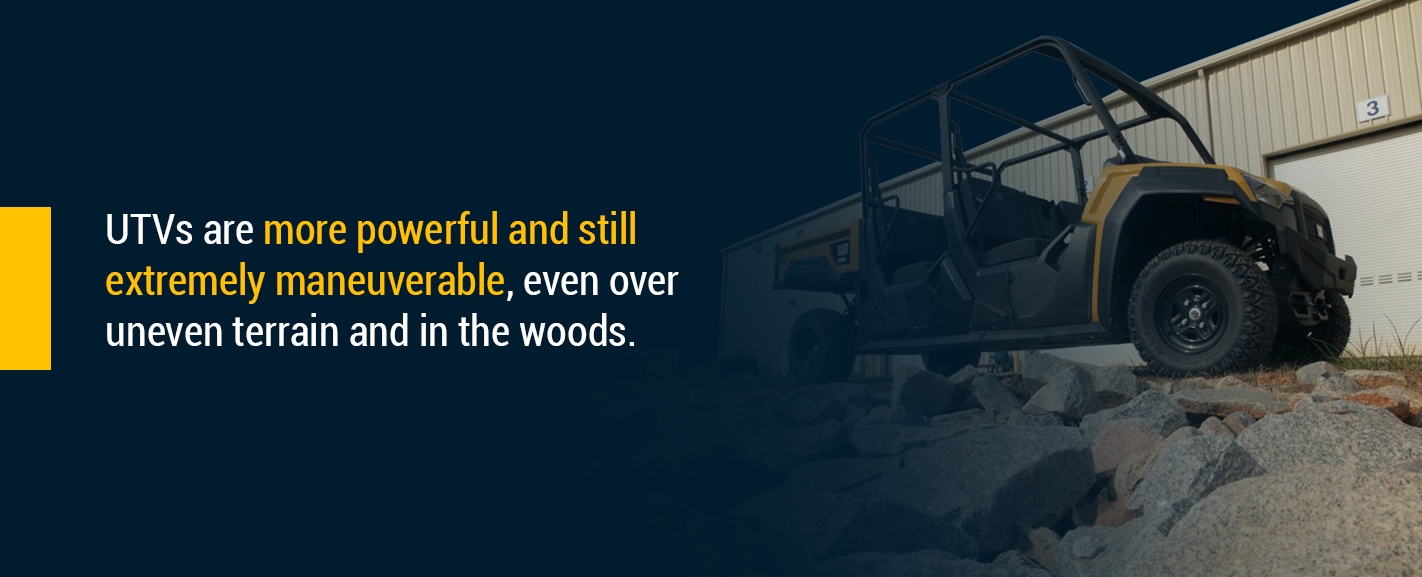 UTVs can be more expensive and have more impact on the environment, but overall, their performance, handling, and convenience are exceptional for farm and ranch work.
How to Choose the Best UTV for Your Farming Needs
When you're choosing the best UTV for your farm or ranch, here are a few essential considerations to keep in mind:
Gas vs. diesel: The fuel you need for your UTV depends on how heavy-duty the vehicle is and what loads you intend it to carry. With a heavier vehicle that will haul larger loads, optimal performance will require diesel, which makes more efficient use of its higher-energy fuel. With a smaller vehicle and lighter loads, gasoline should be sufficient.
Two-seat vs. four-seat: The number of seats will depend on the priorities of your work. If the ability to carry multiple passengers would be helpful — say for hunting trips — spring for the four-seat option. On the other hand, if hauling capacity is more important, go with two seats to give yourself extra cargo space.
Two-wheel vs. four-wheel drive: The terrain where you plan to drive your UTV will help determine whether you need two-wheel drive or four-wheel drive. If you often drive in snowy or muddy conditions, especially on hills or uneven terrain, four-wheel drive will improve handling ability and confidence and help get your farm or ranch loads safely to their destination.
Load and haul capacity: When you're looking for the best UTV for your farming operation, load and haul capacity are essential. A hauling capacity of about 1,000 pounds is standard in the industry, and many Cat® models offer this capacity, along with a towing capacity of 2,000 pounds. But you may choose a different option depending on your specific hauling needs.
Speed: You may end up making compromises on speed and power for your UTV. A stronger, heavier, diesel-powered UTV may have a speed of only about 25 miles per hour, whereas a lighter, gas-powered UTV may reach speeds of up to 45 miles per hour. Figuring out which you tend to prioritize in your agricultural tasks can help you make the best decision.
Top 12 Uses for a UTV on Your Farm or Ranch
Below are some of the top uses for a UTV in agricultural or livestock operations:
1. Livestock Feeding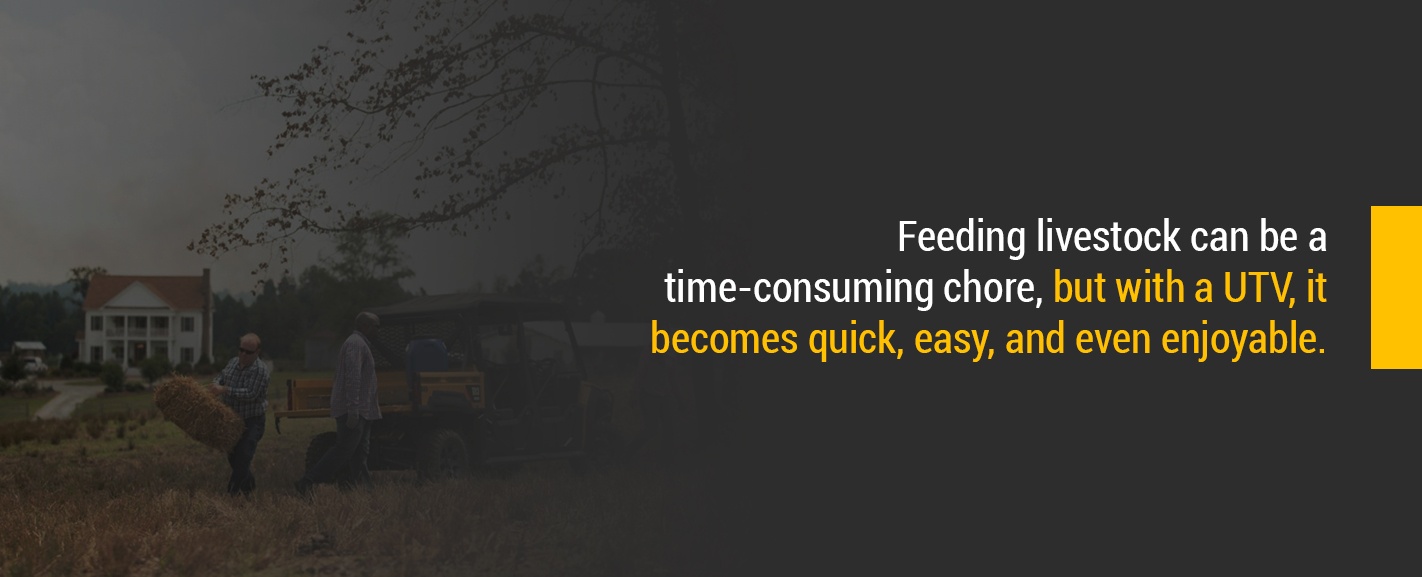 One of the great uses for a UTV on your ranch or farm involves feeding. Feeding livestock can be a time-consuming chore, but with a UTV, it becomes quick, easy, and even enjoyable. Load a bale of hay or some bags of feed into your UTV and drive it to your stalls or feeding stations. Because a UTV is smaller than a pickup, it can easily maneuver in the tight confines of a barn. And its significant hauling capacity means it can handle heavy loads of feed with ease.
2. Plowing and Harrowing
UTVs are ideal for streamlining operations at plowing time. You can add a disc plow or chisel plow attachment to your UTV and use it in addition to your regular tractor to help accelerate progress. You can also get harrowing attachments like disc and drag harrow attachments to help you use your UTV to prepare your fields.
3. Spreading Seeds and Fertilizer
Once your fields are ready, you can use a spreader attachment on your UTV to helps spread seeds. The load-bearing capabilities of the UTV will help you carry substantial quantities of seeds and fertilizer, and its maneuverability will help you spread them efficiently.
4. Cleanup Duties
A maneuverable UTV makes cleaning easy as well. You might be hauling garbage to the burn pile or clearing stumps and logs out of a pasture. Maybe you're mucking out a pen several inches deep in wet, heavy straw. Whatever the cleanup job at hand, a UTV is rugged enough to carry multiple loads and come back for more.
5. Off-Road Jobs
It's convenient if a tree falls near a road your pickup can access, or if the cows break through a section of fencing you can easily reach. But in many cases, you need to get work done on parts of your land that even the most rugged pickup can't get to. These scenarios are what your UTV was made for. The maneuverability and off-roading abilities of your UTV mean you can use it to access hard-to-reach places and get all your pressing tasks accomplished.
6. Hunting Trips
A hunting trip requires hauling people, gear, and potentially dogs. When you need to get out to a hard-to-reach deer stand or duck blind, your UTV makes the perfect conveyance. And if you have the good luck of ending up with a mountain of meat to take home, the capacity of your UTV means you'll be able to get it there easily.
7. Hauling Loads
UTVs are exceptional for hauling jobs — they provide the horsepower you need to haul heavy loads with ease. Whether you're quarrying stone, mowing fields, carrying firewood, or carting grain, your UTV has the performance abilities to keep up with the challenge. Quarries and woods may be challenging for larger pickups to navigate, but a UTV can power between rocks and zip around trees.
8. Towing Loads
UTVs are equally suited for towing heavy cargo. More powerful than their ATV counterparts, which may not have large enough engines to provide reliable towing capacity for large trailers, UTVs are designed with towing in mind. Whether you're using it to haul equipment or pull trailers full of debris or building materials, your UTV will haul as reliably as a pickup and give you more access and off-roading options.
9. Snow Plowing
UTVs are great for helping you plow your fields, and they're equally useful for plowing snow in the winter. All you have to do is outfit your UTV with a snowplow attachment — and possibly some wheel weights and sandbags — and set to work. A UTV has the power you need to plow deep snow without straining your engine, and it will maneuver into tight corners to clear snow a pickup might not be able to reach.
10. Fencing Projects
A UTV is useful for fencing projects because it can carry all the supplies and tools you need and power nimbly over fields and hills. If you plan to build wire fencing, you can also mount a wire unroller in the back and let wire unspool as you drive along.
11. Calf Catching
One of the surprising benefits of UTVs for farmers and ranchers is that you may be able to use your vehicle to catch calves for tagging, branding, and vaccinating. You'll need a specific attachment — a metal enclosure with gates you can open and close to keep calves in and let them out. This attachment makes catching calves easier and safer for ranch or farm personnel.
12. Fun and Adventures
Farming and ranching don't have to be all work all the time — everyone deserves a break, especially after a long day or exhausting harvest season. Celebrate your operational successes by using your UTV to have some fun. Whether you're towing a boat, hauling camping gear, or using your UTVs to do a little off-road adventuring, you'll have the power and dependability to travel far, recreate safely, and have fun.
Why You Should Consider a Cat® UTV
To see all the benefits farm utility vehicles can offer for your agricultural applications, look no further than Cat UTVs. Cat UTVs offer many different advantages for farm or ranch use: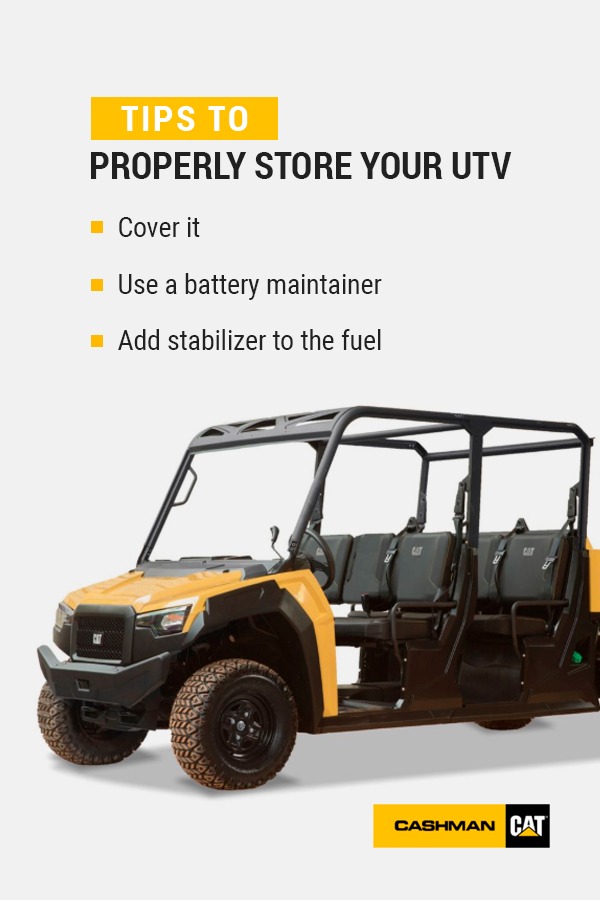 1. Reliable Performance
Cat UTVs offer the utmost in quality and performance features, so they help you get more done on the job. Their tremendous hauling and towing capabilities make them the workhorses you need to keep your farm or ranch operations running at full power.
2. Specific Work Features
Cat UTVs have unique features designed specifically to boost their performance on the job. Features like smooth acceleration, clear lines of sight, all-steel cargo beds, engine braking, and a variable transmission tuned for work performance mean your UTV helps make your job much easier.
3. Rugged Durability
Cat UTVs are built to work hard and play hard. They can withstand tough working conditions and high payloads without breaking down. And when your Cat UTV does require a repair or tune-up, the maintenance is relatively straightforward and cost-effective.
4. Stability
When you're riding in a UTV, you need to know it offers a smooth, safe ride, even over rocky or hilly terrain, and even if you don't have a full load to stabilize the vehicle. Cat UTVs come with quality suspension systems that help ensure a safe, stable ride.
5. Versatility
Cat UTVs give you options. You can choose two-wheel drive, four-wheel drive, or four-wheel drive with lock mode to help adapt your UTV to the driving conditions. You can select two-seat options or four-seat options if you need more room for passengers. You can also choose the load and haul capacity to get the UTV that's best suited to your operation's needs.
6. Expert Customer Service
Cat customer service is unparalleled in its professionalism and expertise. If you need to solve a problem with your UTV, our team will be here to help you with support and service.
7. Quiet, Comfortable Ride
Cat UTVs aren't just about work — they're also designed for the optimal rider experience. The design of these UTVs helps minimize vibrations and reduce engine noise to give you a reliable vehicle you'll enjoy working in every day. You can even adjust the steering wheel and driver's seat for extra comfort.
8. Customization and Accessories
It's easy to customize your Cat UTV with the accessories you need for success on the job — and 76% of UTV owners who use their UTVs for utility purposes do accessorize. Whatever you need, from a snowplow, a heater, or a front winch to a beacon light, off-road tires, or a rearview mirror, your local Cat dealer has you covered.
Contact Cashman Equipment for More Information About Cat UTVs
To see the benefits of Cat UTVs on your agricultural operation, get in touch with Cashman Equipment. Our UTV models provide the stability, load-hauling capabilities, and straightforward maintenance procedures you need to help your farm or ranch run successfully. And our experienced, friendly customer service staff members are here to answer questions about the best UTVs for farms and ranches.
Contact us online today to learn more, give us a call at 800-937-2326, or stop by one of our convenient locations.