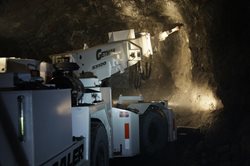 Tuesday, December 17, 2019 (Las Vegas, Nevada) Cashman Equipment and the Getman Corporation are pleased to announce the formation of a business partnership effective immediately. Cashman Equipment will become the exclusive dealer and distributor of Getman's underground, mining-specific equipment throughout their territory in Nevada and the Eastern Sierras.
The Getman product line complements Cashman's line of Caterpillar Underground Mining equipment. Getman's diesel-powered equipment is designed specifically for hauling, building, and supporting underground mining operations in a safe and efficient manner. Experienced mining service technicians and knowledgeable parts ordering specialists from Cashman and Getman will collaborate with locally based parts warehouses throughout Nevada to provide total customer support.
"As the underground mining industry continues to evolve," stated Todd Gilligan, general manager of sales, marketing and rental of Cashman Equipment. "The need for reliable, advanced support equipment like Getman will become an even more critical tool for the success of a mining operation."
In addition to Getman's full suite of underground support equipment, a particular product line that Cashman and Getman believe mining customers will benefit from is the support manufacturer's line of shotcrete spraying and transport vehicles. Their current sprayer is designed and proven to deliver smooth, consistent application of shotcrete in any stage of the underground mining cycle. With shotcrete playing such a significant role in the mining cycle, Getman is committed to continuously improving their offerings, shown through their dedication by introducing innovative products and features for their shotcrete sprayer customers in the near future.
"We are excited about this relationship. Combining Getman's world-class equipment with Cashman's proven service and support will create unmatched performance and availability for our customers," added Erik VanAllen, CEO of Getman Corporation.
Cashman and Getman already have a strong working partnership underway, and both companies are well positioned to provide the sales, parts, and service needed for all of the Getman underground mining support products.
###
About Cashman Equipment Company… Founded in 1931 by James "Big Jim" Cashman, Cashman Equipment is one of the highest-rated Caterpillar equipment dealers in North America. A full service dealership, Cashman provides new and used equipment for sale and rental, as well as high-quality parts and service to construction, paving, mining, truck engine, technology, and power system industries throughout Nevada and the Eastern Sierras. For more information, visit www.cashmanequipment.com or follow Cashman on Facebook (@CashmanEquipment), Twitter (@CashmanCat), LinkedIn (/company/cashman-equipment/), or Instagram (@CashmanEquipment).
About the Getman Corporation… Based in Bangor, MI, Getman Corporation is a market leading supplier and worldwide of production and production support equipment to the underground mining industry. With a focus on helping miners work safely and efficiently in their everyday roles, Getman has spent over 65 years bringing high-quality, long-lasting solutions to underground mines. Getman's product range includes scissor lifts, explosive chargers, logistic support vehicles, lubrication trucks, multi-application pallet handlers, mechanical scalers, concrete spraying and transport vehicles, and custom design support vehicles. Over the years, Getman has delivered thousands of products to hundreds of underground mines throughout the world.