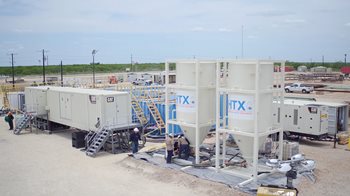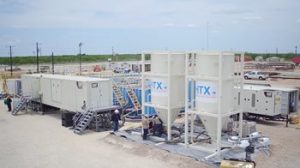 Friday, December 21, 2018 (Las Vegas & Houston) – Cashman Equipment has begun a strategic partnership with an innovative wastewater treatment company, HTX Solutions. This privately held Australian company offers Cashman's customers patented solutions for complex wastewater challenges, using electrochemistry to turn contaminated wastewater into water that meets Environmental Protection Agency (EPA) standards or client-specified water quality targets. Manufactured by Caterpillar Inc. in Illinois, the HTX Solutions' wastewater treatment solution is portable, allowing the efficient treatment of wastewater to occur in customers' remote locations such as a mine site or a landfill.
"Wastewater is becoming a bigger issue for our customers every day," stated Todd Gilligan, Cashman Equipment's general manager of sales, rental, and marketing. "Particularly for our mining and landfill customers, wastewater is a serious, ongoing issue they need to resolve. Partnering with HTX Solutions means we can offer them not only a solution, but one that offers superior operational, economic, commercial, and environmental wastewater treatment results not previously attainable."
HTX Solutions is leading a global paradigm shift in water and wastewater treatment with their Advanced ElectroChemical and Catalytically Enhanced Oxidation process. These technologies are the driving force behind HTX's closed-loop water recycling service, which enables a cost-effective process for turning contaminated water and wastewater into water ready for reuse or release into the environment—ending the cycle of fresh water to wastewater so common in industrial water usage.
The wastewater treatment service is offered by Cashman Equipment and HTX Solutions as an on-site, turn-key, mobile, re-locatable, and fully scalable wastewater treatment service with a small operational footprint. This "water as service" business model allows customers to pay per volume of wastewater treated without any capital investment required. Additionally, the service improves water use and management logistics, offering zero liquid waste stream, benign solid waste (<1 % of water volume treated), and eliminating costly third party treating and disposal charges.
"We have engineered technology that sets new benchmarks for cost-effective treatment enabling reuse, sale, or safe environmental release, as well as the recovery of saleable minerals and other value add commodities," explained David Cam, HTX Solutions' chief operating officer. "The HTX Solution removes complex wastewater contaminants that other removal systems cannot thereby providing customers a total treatment solution with a minimal amount of non-hazardous waste."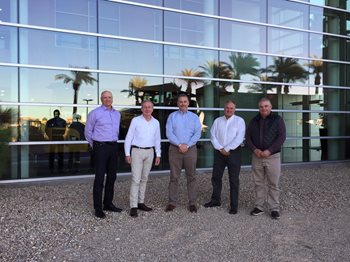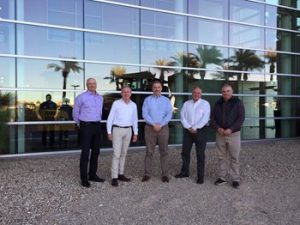 Hydrus Technology Holdings Pty Ltd developed a strategic partnership with Caterpillar, Inc. in May 2016, working with the Peoria, Illinois-based heavy equipment manufacturer to build the HTX equipment. With Caterpillar producing the units for HTX Solutions, a natural extension has been to collaborate with targeted Cat dealerships. Cashman Equipment is the third Cat dealership worldwide to partner with HTX Solutions and is offering the wastewater treatment solution in the western portion of the United States.
###
Cashman Equipment Company… Founded in 1931 by James "Big Jim" Cashman, Cashman Equipment is one of the highest-rated Caterpillar equipment dealers in North America. A full service dealership, Cashman provides new and used equipment for sale and rental, as well as high-quality parts and service to construction, paving, mining, truck engine, technology, and power system industries throughout Nevada and the Eastern Sierras. For more information, visit www.cashmanequipment.com.
About Hydrus … Hydrus Technology Holdings Pty Ltd is a technology company founded in Australia with its U.S. headquarters in Houston, Texas. Hydrus is the parent company of HTX Solutions LLC (HTX). HTX is at the leading edge of a paradigm shift in wastewater treatment. The company has developed advanced, resource-efficient, flexible electrochemical technologies with broad application across industries including landfill, mining, industrial, oil and gas, food production, and other applications. The company's technology has positioned Hydrus to address some of the world's toughest commercial, natural resource, and environmental challenges. For more information about Hydrus Technology, visit hydrustech.com.