How much is your safety worth to you? How much is the safety of your coworkers worth to you? Your employees?
Fortunately, the answer in this day and age is typically, "Priceless."
The wearable technology industry has been placing a price on it, however. Every single day, companies are coming out with new wearable technology that enhances the personal safety of the individual. Just as often, other companies are purchasing that technology to help keep people safe on the job. According to the Occupational Safety and Health Administration (OSHA), "struck-by objects" is a leading cause of construction-related deaths and is consistently one of OSHA's "Construction Fatal Four" every year. Approximately 75% of struck-by fatalities involve heavy equipment such as trucks or cranes.
The desire to prevent such incidents has collided with wearable technology advancements. The field of wearable technology has grown from its obscure origins in hearing aids and calculator watches to its more recognizable explosion into the health and fitness monitoring area. An obvious offshoot has been into the area of personal safety at work.
For companies like Kiewit, a 133-year-old construction, mining and engineering organization, safety is of the utmost importance. With a safety motto of Nobody Gets Hurt, the North American-based company is constantly looking for ways to ensure that there are no incidents and no injuries, no matter how seemingly minor.
On a busy jobsite, Kiewit is constantly concerned about potential safety incidents involving moving heavy equipment. With equipment like the 56-ton Cat 966K Wheel Loader operating at speeds up to 25 miles per hour, the potential for a serious injury is high if operators are unaware of employees' locations on the jobsite.
Cat Detect for Personnel uses Radio Frequency Identification (RFID) technology to detect ground workers in an unsafe area, typically behind the equipment. RFID tags can easily be placed within personal protective equipment (PPE), which then communicates with an antenna on the machine.
If an operator reverses a piece of equipment installed with an antenna, they will be alerted inside the cab with a visual and audible alarm when a ground worker is behind them. The loud audible alarm outside of the cab also alerts the ground worker of their interference of the detection zone behind the equipment.
"You can stick the RFID stickers inside a hard hat in seconds," said Kevin Jones, Kiewit equipment superintendent in Las Vegas. "The hardware for a machine takes a few hours. It's something very easy to do that fights complacency on the jobsite."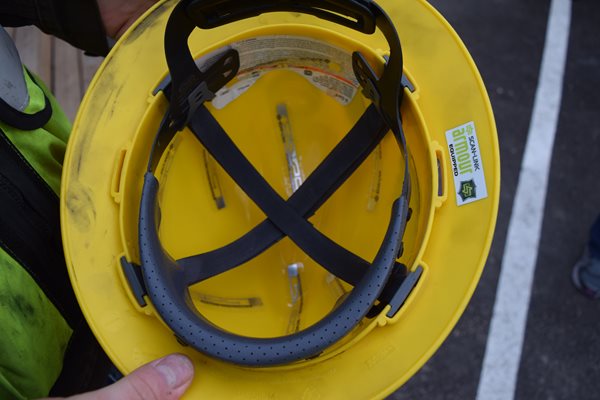 Jones works for the international Kiewit Corporation in their Las Vegas, Nevada location, which is currently the design-build team for Project NEON, the largest public works project in Nevada history. In partnership with Nevada Department of Transportation (NDOT), the Federal Highway Administration (FHWA) and the City of Las Vegas, Kiewit will design and build 3.7 miles of Interstate 15 (I-15) between Sahara Avenue and the "Spaghetti Bowl" interchange in downtown Las Vegas. It's currently the busiest stretch of highway in Nevada with 300,000 vehicles daily, or one-tenth of the state population, seeing 25,000 lane changes an hour. Traffic through the corridor is expected to double by 2035.
While designing and constructing express lanes, exchanges, interchanges, flyways, and extensions of the I-15 and U.S. 95 highways, Jones' office is responsible for 20 different work zones where up to 400 employees work.
The size of Kiewit and their record-breaking, industry-respected interest in safety means their organization was ideal for the Cat Detect for Personnel technology. When Jones was talking to his representative from Cashman Equipment, Nevada's Caterpillar dealership, he asked about any relevant safety technology. Roy Cooper, Cashman Equipment product support sales representative, had heard about various technologies but wanted to present Jones with in-depth knowledge so he sought out Cashman Equipment's condition monitoring analyst.
"I look at equipment information all day," the analyst said. "Systems like VisionLink provide electronic data, site conditions, inspection information… all the things that let a customer like Kiewit make proactive decisions about their machine in order to increase machine uptime. Technology like Cat Detect provides them with even more data on machine operation, but in the realm of hazards."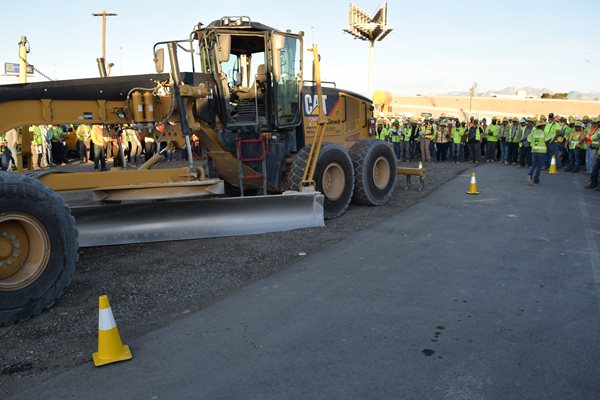 By having a safety fault code in the system from Cat Detect, Kiewit can review the jobsite areas that frequently trigger an alarm or work with employees who are unaware of a particular hazard zone. Cat Detect lets a customer take corrective action before an accident occurs.
"Our goal is to be proactive in eliminating hazards" said Jones. "Our safety culture isn't based on a regulatory agency – it's based on wanting to keep our people safe."
By installing Cat Detect for Personnel, Kiewit has effectively created a convenient, transportable, dynamic "dangerous work zone." Think red-taped perimeter demarcated with invisible, but audible "tape." This RFID proximity detection technology provides a real-time warning to ground workers who have "ducked under" that invisible tape and entered the dangerous work zone. The machine operator and the ground person are then both alerted that someone has entered an area that may be in a fixed blind spot and pose a hazard.
"Safety awareness on the jobsite has gone up just by installing Cat Detect RFID tags on the hard hats," Cooper stated.
Although this specific installation of Cat Detect was the first in the state of Nevada, Kiewit recently purchased five more Cat Detect for Personnel kits to be installed on machines working at the Project NEON jobsite. Kiewit's Reno office also ordered a new 966M Wheel Loader for a Lake Tahoe project with Cat Detect for Personnel on it. The safety of their employees is such a high priority for Kiewit, the company put the system on their discussion agenda at its national safety summit in Denver and will be evaluating making Cat Detect for Personnel a requirement for any new equipment.