Cashman Equipment, the state's Caterpillar dealership, hosted keynote speakers MaryKaye Cashman, the company's Chairman and CEO; Mike Pack, Cashman Equipment's President and COO; Henderson Mayor James B. Gibson; Ron C. Hall, SH Architecture's Chairman; Kevin Burke, Burke & Associates' President and CEO; and, James Parker, Caterpillar's Vice President (Americas Division). The event also featured a ceremonial ribbon-cutting by Cashman and Pack.
"As we stand here today, I cannot express to you how pleased I am with this facility. Our state and our community benefit exponentially as corporations choose to grow with regard for how the actions of today impact the present and shape the future," said Cashman. Hall attributed the project's direction to Cashman, stating, "Great design only comes from great clients. MaryKaye's vision from the beginning was to design a sustainable facility that was responsive to the community, the employees, and the environment. Our job was made easy because the answer from MaryKaye was always, 'Do the right thing.'"
Mayor Gibson commented that Cashman Equipment's move from North Las Vegas was the right thing for the City of Henderson, stating, "Cashman Equipment is a wonderful addition to the City of Henderson. We are excited about the grand opening because of what it means to our city in terms of job creation and economic development. In addition to the diversity they bring to our economy, Cashman has always been a company committed to community involvement. They have really demonstrated initiative in building their new headquarters to meet the highest LEED standards for sustainability and efficiency, and we are excited to have them as community partners."
"Not only has it been a great honor to construct a project of this magnitude and specificity, but also a high point in Burke & Associates' 25 year history. MaryKaye Cashman's long standing commitment to our community and vision for sustainable development serves as an inspiration for all of us," stated Burke.
He further added, "In order for a vision to become reality however, one must first have the courage to pursue that vision and the determination and skill to make it so. MaryKaye Cashman is known for many things, CEO, philanthropist, community leader; the list of attributes goes on. Today, we can add one more accolade – 'visionary.'"
That vision led to a 53-acre site featuring seven buildings (administration, parts and service, rental, power, central plant, security, and equipment wash), constructed with sustainable materials such as concrete tilt-up panels containing 15% fly ash; terrazzo tile containing 50% recycled glass; and, more than 3,500 high-performance glass panels. Cashman Equipment receives points from the US Green Building Council (USGBC) for those "green" elements, as well as for how the project affects the local region. During construction, 40% of all materials used came from the local region, and 818 tons, or 11 Cat D10 Track Type Tractors, of construction debris was diverted from local landfills and recycled.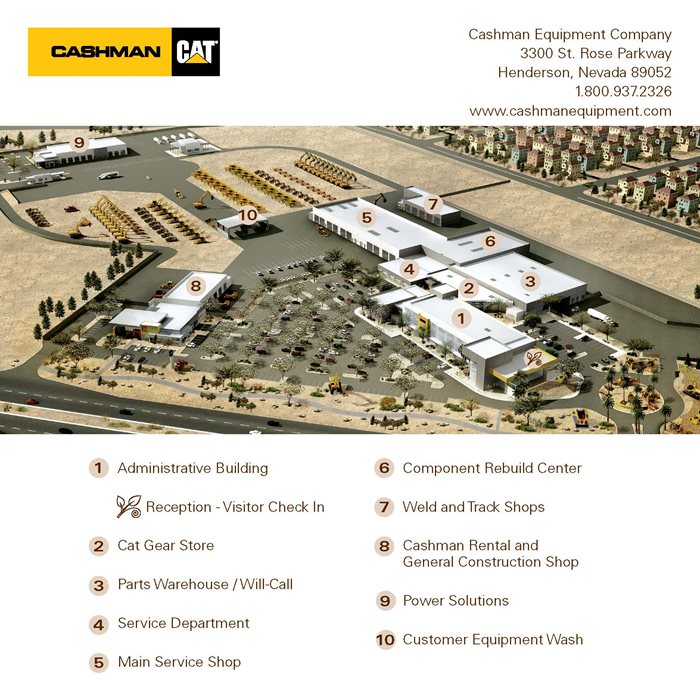 "The new headquarters facility is a testament to the Cashman organization's tremendous respect for the environment and their intent to provide customers the highest possible level of support," said James Parker. Cashman Equipment will be among the first Caterpillar dealerships in the world to receive LEED certification. The official LEED Gold designation from the USGBC is expected in early summer 2009.
The 308,000 square foot campus enhances Cashman Equipment's customer service through changes including, greater parts capacity, additional service bays, new component rebuild capabilities, and expanded training areas. Mike Pack summed up the campus by stating, "This facility as a whole has far exceeded our initial expectations. We're confident our sustainable corporate headquarters will be a benefit to our customers and employees for the next 40 years."
Cashman Equipment Company…Founded in 1931 by James "Big Jim" Cashman, Cashman Equipment is one of the highest rated Caterpillar equipment dealers in North America. A full service dealer, Cashman provides new and used equipment for sale and rental, as well as high-quality parts and service to construction, paving, mining, truck engine, and power system industries throughout Nevada and parts of California. With LEED certified corporate headquarters Henderson, Nevada, Cashman is one of the largest privately-owned employers in the state.
Burke & Associates, Inc. Burke & Associates provides clients with award-winning construction and construction management based on a wealth of experience in building throughout a large diverse market over the past 25 years. They are committed to utilizing advanced technologies in estimating, value engineering, scheduling, project management, document control, cost control and supervising a dedicated labor force.
Caterpillar…For more than 80 years, Caterpillar Inc. has been making progress possible and driving positive and sustainable change on every continent. With 2008 sales and revenues of $51.324 billion, Caterpillar is the world's leading manufacturer of construction and mining equipment, diesel and natural gas engines and industrial gas turbines. The company also is a leading services provider through Caterpillar Financial Services, Caterpillar Remanufacturing Services, Caterpillar Logistics Services and Progress Rail Services. More information is available at Caterpillar.com.
Henderson, Nevada…The City of Henderson was officially incorporated on April 16, 1953 with approximately 7,000 residents. Originally about 13 square miles in size, the City quickly began to grow and flourish. The City of Henderson has grown to more than 103 square miles and is the second largest city in Nevada, located just a few miles from Las Vegas, McCarran International Airport, and the Henderson Executive Airport. Today, more than 272,000 residents call Henderson home.
SHARCHITECTURE…The recognized leader in the contemporary practice of design, creating responsible, client centered architecture evoking a shared passion and excitement. Now in its third decade of operation, the team of talented and innovative professionals is passionate about unleashing the power of design in all aspects of business. The consistent results are projects that provide the maximum value to clients, while benefiting communities and addressing critical issues of the environment.