Cashman Equipment and a 1936 Cat Twenty-Two Stand the Test of Time
By Kate Gallagher, Cashman Equipment Marketing Communicator
The 1930s were not an easy time in the United States. The Stock Market Crash of 1929 left everyone reeling and, in the Great Depression that followed, 15 million people were unemployed. President Franklin D. Roosevelt was elected and began making all sorts of New Deals to rebuild the economy – many of which included building in general. The economy and the people both needed strong equipment to support these initiatives, and the newly-formed Caterpillar tractor company and the Cashman Equipment dealership answered that demand with built-to-last track-type tractors. As Cashman Equipment turns 85 years old today, August 5, 2016, we look at both the past and the present with the rebuild of a Cat Model Twenty-Two Tractor…
In 1934, Caterpillar debut a new track-type tractor, the Cat Model Twenty-Two. Replacing the Cat Model Twenty, the Twenty-Two's 1934 spec sheet indicated that the tractor had a 4-cylinder, 4×5-inch bore and stroke engine rated at 23.69 drawbar horsepower and 29.39 belt horsepower. More than 15,000 of these 6,150 pound tractors were built from 1934 to 1939.
One of those 15,000 tractors found its way to Sierraville, California, where Cashman Equipment customer Mike Faretto, owner of Peavine Construction in Reno, Nevada, purchased it from Lloyd and Joe Parlanti in 2001. A long-time collector of antique tractors, Faretto wanted to fix up the Cat Model Twenty-Two so he could thrill his grandkids with a ride on an old Cat tractor at his Yerington, Nevada farm. Faretto brought the machine to Cashman's Reno service shop and tasked the technicians with restoring the Cat Twenty-Two to its former glory.
Experienced Reno main shop lead technician Frank Williams took charge of the project. Although the 1936 Cat Twenty-Two track-type tractor was in very good condition for its age, it was still eight decades old. Williams began disassembling the machine and made some minor repairs. As you can imagine, many of the parts he needed were discontinued, but a few were located through Cashman's parts department – gauges, control handles, gaskets, etc. A basic carburetor kit was also found online, but Williams had to have a brand new diaphragm made for the 80-year-old fuel pump.
The next steps involved draining the engine oil, removing the valve cover, and washing the slightly rusty engine interior with solvent. Unfortunately, at this point, it was discovered that the bottom of the fuel tank had rusted away and had little hope of replacement – at least not a cost-effective one. Not daunted in the least, however, Williams used the auxiliary fuel tank that was actually part of the original fuel tank, as a fuel cell. A few plumbing modifications with the assistance of Cashman welder Ken Lee, and Williams was ready to test out the antique tractor.
Hopeful, Williams and Lee primed the fuel system and got ready to crank the engine over. (Cat Twenty-Two tractors didn't have a distributor, but rather a magneto driven by the front gear train, which created the spark of electricity to ignite the fuel in the cylinders via spark plugs.) As they began cranking it over, Williams and Lee were thrilled to hear it fire right up!
Williams and Lee drove the 80-year-old tractor around the yard a bit and then right over to the sandblasting booth. With the first half of the customer's wish complete, now it was time to make the tractor look as good as it sounded. After sandblasting the undercarriage and some other take-off parts, the Cat Twenty-Two tractor was painted Old Cat highway yellow with contrasting black lettering for the hardnose.
With the machine looking as fine as it did 80 years ago, Cashman's product support manager Lance Pecetti, sales manager Mike Brenner, service manager Andy Butts, and product support sales representative Lyle Kibbe welcomed Faretto back to Cashman for the machine presentation. Faretto and Peavine Construction Equipment superintendent Curtis Newmeyer walked into the paint booth to examine the Cat Twenty-Two. As soon as Faretto saw it, his face lit up and he said, "It looks brand new!" With that high compliment to Williams's amazing rebuild, Pecetti and Faretto began reminiscing about machines gone by and the good old days as they stood over a genuine piece of our industry's history.
Many thanks to Williams and Lee for restoring this gorgeous piece of equipment. Cashman Equipment could not have achieved 85 years of success without dedicated employees like this!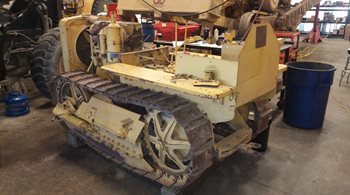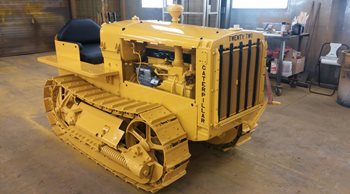 Other Cat Model Twenty-Two Notes from Caterpillar
The Twenty-Two was a versatile machine, as it was paired with a wide variety of other equipment depending on the job at hand. Most notably, the tractor was available as an orchard model, with fenders mounted over the tracks to keep branches out of the tracks as the tractor moved through the orchards.
On a farm it would have been paired with a 12 to 15-foot engine driven combine, 3 or 4 plow bottoms, one 10-foot disc harrow, a mower or 20 feet of grain drills. In logging or industry applications, it would have been able to handle small wagons, sleighs, logging winches or oilfield winches.
For construction and roadwork, it would have been paired with the Caterpillar No. 22 Blade Grader, No. 22 Terracer, No. 4 Hi-Way Patrol or No. 1 Terracer. It could have also been paired with ½-yard rollover scrapers or small bulldozers built by other manufacturers.