Making the choice between new or used heavy equipment depends on your unique position and what's in your company's best interest. That includes both short-term and long-term equipment inventory requirements. Each purchasing route has its pros and cons.
The good news is, you're not the only one weighing these options, and you're not on your own when it comes to getting information on the benefits of buying new or used equipment. The global heavy equipment industry is massive, and many business owners face the daunting choice of investing in new machinery or purchasing older equipment. Worldwide, the heavy equipment industry generates approximately $192 billion annually. The United States accounts for 21 percent of the market, equating to $40.3 billion. In the U.S., Caterpillar® has the largest market share.
Cat® dealers such as Cashman Equipment in Nevada know the heavy equipment market inside out. With years of experience in the construction equipment and mining equipment arenas, we are perfectly positioned to help businesses like yours. We'll work alongside you while you decide whether to purchase brand new machinery or buy an excellent, used machine.
Understanding the pros and cons of each option can be an enormous help in giving you factual and practical information. After all, we know it's a tough choice and that's why we offer a full line of both new Cat equipment and used Cat equipment. In the end, it's your choice, and we want to make sure you're making an informed one.
Pros of Buying New Heavy Equipment

In a perfect world, where money is no object, there's little doubt you'd buy brand new heavy construction equipment or mining equipment. You think of your company image and the professional impression you give by operating a shiny, trouble-free new fleet. You'd have the latest technology at your fingertips, not to mention the "new equipment smell." Here are more advantages to buying your equipment new:
Trouble-free operation: New machines are far less likely to give you operating troubles. Routine maintenance costs are part of being an equipment owner, but your repair expenses will be a lot lower, for a lot longer, if you buy new heavy equipment. For this reason alone, it makes sense to acquire new machines and enjoy maximum productivity without worrying about a potential breakdown and expensive repairs. You can depend on a new machine to start in the morning and work all day without protest. You can also depend on a warranty backup should something go unexpectedly wrong.
Warranty: All new machines have warranty coverage, but not all manufacturers offer the complete and comprehensive warranty package that comes with Cat equipment. With Cat OEM Solutions Warranty, you can rest assured that you're covered by the best policy in the heavy equipment industry.
Technology: There are major technological breakthroughs all the time in heavy equipment engineering and design. When you buy a new machine, you will get the very latest in high-tech developments. Used machinery rarely has the same "latest and greatest" features as you get when you buy new. Compare the advanced features in safety and comfort you'll find in today's new Cat equipment from telehandlers to wheel loaders to used machines that are just a few years old. There's no substitute for the advanced technology in new equipment.
Selection: When you buy new heavy construction equipment, you get exactly what you want. There are always advances in heavy equipment design and manufacturing techniques, as well as new models that out-perform and take on tasks that older machines can't handle. In the Cat product line, you have a wide selection of equipment from small compact track loaders to huge scrapers and off-highway trucks.
Tax advantages: Buying new machinery is considered a capital asset investment. As such, the IRS allows you to deduct or write-off certain amounts related to your new equipment purchase price. Your machinery becomes a company asset and is eligible for tax privileges. These tax savings could be a considerable capital offset and make it completely worthwhile to buy new. Contact your accountant and get their help weighing the possible tax advantages.
Cons of Buying New Heavy Equipment
While there are numerous pros to buying your heavy equipment in a new and pristine state, there are also some cons. Let's explore the other side of the argument to make sure you're on the right track and arriving at an informed decision. Here are some downsides you should consider if you're serious about buying brand new heavy construction machines:
Capital outlay: New construction equipment costs money. Some landscaping pieces such as skid steer loaders are relatively inexpensive, but road-building equipment such as articulated trucks, asphalt pavers, and vibrating drum compactors are big-ticket items requiring a major capital outlay investment. If you can't pay the full cost up front, you'll need to arrange financing, meaning you'll pay even more in interest and fees.
Depreciation: It's a harsh reality that new construction equipment depreciates far faster than used machinery. Although there's no universal depreciation rate, your accountant will tell you that new equipment resale values drop further in the first few years after purchase than in mid and late lifespans. That hard depreciation, combined with a pressing capital outlay, might be more of a financial burden than you're willing to accept. Depreciation is another topic to take up with your accountant before buying your heavy equipment brand new.
Return on investment: Buying new heavy construction equipment or mining equipment is an investment. And anytime you're making an investment, you have to consider the return you're getting. By losing resale value due to depreciation and having your working capital tied up, you might be compromising your overall return on investment when buying new. This judgment call is based on your experience and input from those you trust such as your financial support team and your equipment dealer. Ultimately, you'll have to decide if risking an investment return is a real con impacting your decision to buy new.
Availability: This is another con affecting the new-purchase dilemma. It's one thing to shop the Cat store and be tempted by the huge selection of machines such as drills and draglines or handy attachments such as augers, backhoes and brooms. It could be something else entirely to get them within a reasonable time. Many new equipment pieces are listed for sale, but they don't actually exist yet. Specialty orders aren't readily available and usually have to be ordered and then built. This could be a delay of months from the time you decide to buy new equipment until its delivery date. That might be an unacceptable time gap when you have to be working.
Pros of Buying Used Heavy Equipment

America's used heavy equipment market is alive and thriving, thanks to the vast inventory of quality machines from top manufacturers like Cat. Even if you'd prefer new heavy construction equipment or mining equipment, there are some pros to buying used that you just can't pass up. Many excellent deals await you in the used Cat market. Here are some of the top reasons why you should consider buying used heavy equipment:
Lower upfront cost: Used construction equipment or mining equipment is going to cost you less than buying new, and, in many cases, used heavy equipment will return the same work revenue at a fraction of the new equipment cost. You might be better off saving the difference and reinvesting it in other parts of your business. You may even be able to buy multiple used machines for the same price as a single piece of new equipment, which means you can expand your fleet faster and get more work done.
Depreciation avoided: Suffering new-equipment depreciation can be a real hit. There is no escaping depreciation, but if you buy a used machine, someone else has suffered the expensive initial hit. Whether you're looking for a small skid steer or a large excavator, your used heavy equipment won't depreciate at anywhere near the rate as new, especially if you take care of it.
Holds its value: Because used equipment doesn't depreciate as quickly as new equipment, it holds its value, especially if you keep up on regular maintenance. When it's time to upgrade, you have a much greater chance of selling used equipment for close to what you paid for it, giving you an excellent return on your investment.
Greater selection: Nationwide, there's a massive inventory of used heavy equipment, from boom lifts and backhoes to industrial loaders and compactors. There are thousands of used machines available, from older equipment that can handle the basics to last year's models that are likely as good as new at a fraction of the cost. If you shop the used machine market, you'll have an excellent chance of finding what you need. You'll also be able to get your equipment when you need it and not have to wait months for your machine to be built. Flexibility can mean the difference of quickly putting a used machine to work rather than sitting idle, waiting for the inflexible luxury of new.
Lower insurance costs: This is a used equipment advantage you might not have thought about. Because your heavy equipment's value will be lower with a used machine, you're going to pay lower insurance premiums. New equipment insurance will assess replacement cost at a new machine value, even if it's experiencing normal depreciation. You'll likely overpay for insurance premiums with a new machine while a used model will have its premium adjusted.
Cons of Buying Used Heavy Equipment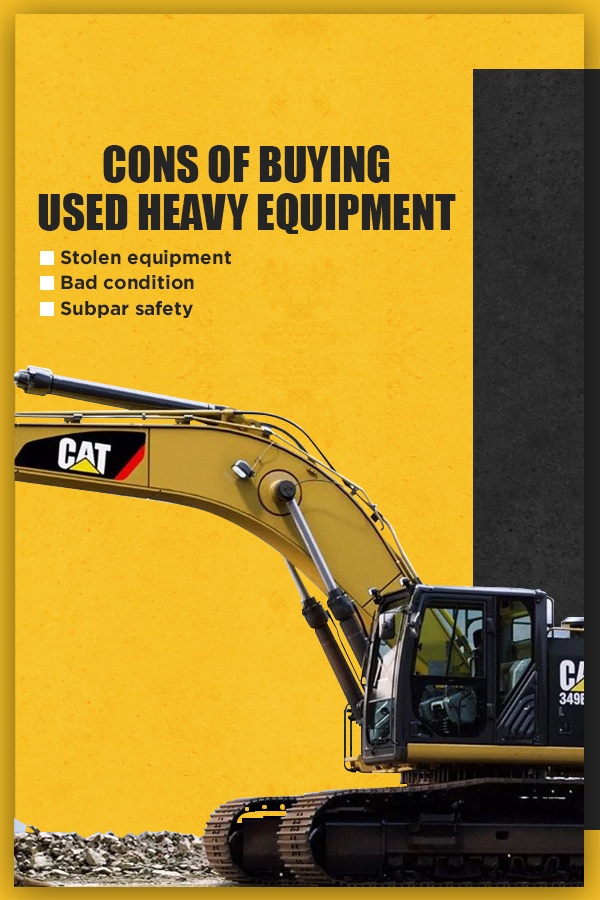 The best piece of used equipment advice we can give you is "buyer beware." If you invest in used heavy machinery, you need to do protective due diligence and make sure you know what equipment you're planning to buy. You also have to know who you're buying it from. Here are some disadvantages to buying used heavy equipment from unauthorized sources:
Stolen equipment: As with any industry, there are some unreliable businesses out there with heavy equipment for sale. Some of it is undoubtedly stolen, and that will cause you more grief than you can imagine. You also have to be worried about liens on machines and waiting for repossession. When you buy used equipment from a reputable dealer such as Cashman, you have no worries that any inventoried machine is "hot" or "sought."
Bad condition: Be aware of what shape a used equipment piece is in. You might be mechanically inclined or have a good mechanic friend who can take a look at the equipment before you purchase it. But for real assurance about a machine's condition, it's best to work with an authorized, reliable dealer who has a reputation for honesty.
Subpar safety: You can't really know if the used equipment you're looking at is safe without a thorough maintenance record and product history. Unless you're purchasing from an authorized equipment dealer who has a true safety conscience, you might end up with a machine that could cause property damage or even injure someone.
Buy Your New or Used Heavy Equipment From Cashman Equipment
Buying heavy equipment is a major consideration, and you need to go into the venture informed. Should you buy new heavy equipment or used heavy equipment? That's a question only you can answer because no one knows your company's needs better than you.
You can go a long way toward making the right decision when you partner with an authorized dealer such as Cashman Equipment of Nevada. We are a full-service dealer offering sales, rentals, parts, service, technology, and power solutions. We are your local, one-stop-shop for whatever you need. It's our mission to ensure your satisfaction, and we offer only the highest-quality products, whether that equipment is new or used, then provide the support and service you need to keep your machines — and your business — running smoothly. To that, we pledge our employees' expertise and their integrity.
Contact Cashman Equipment today to learn more about how we can help you make the right decision between buying new or used heavy equipment. Call us at 800-937-2326.