Henderson – Corporate HQ
3300 Saint Rose Parkway, Henderson, NV, 89052
(702) 649-8777
(800) 937-2326 Toll Free
Get Directions
Leave Us a Review on Google Here!
Sales Hours:
7AM – 5PM, Monday – Friday
Rental Hours:
7AM – 5PM, Monday – Friday
Parts Hours:
6AM – 5PM, Monday – Saturday
6AM – 5PM, Sunday (Will Call Only)
Service Hours:
6AM – 5PM, Monday – Friday
Truck Shop Hours:
7AM – 3:30PM
SITECH Southwest Hours:
7AM – 5PM, Monday – Friday
Cat Gear Store Hours:
6AM – 5PM, Monday – Friday
800-937-2311
Cashman Equipment – Henderson, NV — Corporate HQ
Cashman Equipment in Henderson, NV, supports every industry — including agriculture, forestry, construction, landscaping, and mining. Operating in the Henderson area gives you ideal solutions when it comes to needing heavy equipment sales, rental, parts, service and truck repairs.
Many of our more than 700 dedicated employees serve at our HQ site and share our commitment to delivering world-class customer service. We're proud to be a local, family-owned and operated business that understands the needs of every customer — no wonder Cashman Equipment has become one of the top Cat dealers in the United States!
At Cashman Equipment, our mission is to satisfy you on every level by providing superior products and services, and we partner with each of our clients in Nevada and the Eastern Sierras. If your business is in or around Henderson, take a look at what our location provides to increase your company's uptime and lower your operating costs.
We Offer an Extensive Selection of New Products From Cat in Henderson
Cat products are renowned for their ability to produce in even the most challenging conditions. Our lineup of brand-new Cat machines includes products for applications such as construction, power generation, mining, forestry, and landscaping. As you would expect from any machine that bears the Caterpillar brand, our new equipment includes the latest innovations that ensure maximum performance, fuel efficiency, safety, and operator comfort.
Check Out Our Selection of High-Quality Used Equipment in Henderson
If a brand-new product isn't the best option for your company, Cashman Equipment can offer a reliable pre-owned alternative. We carry a vast inventory of late-model and "veteran" Cat products at budget-friendly prices, as well as several machines from allied manufacturers when available. We rigorously inspect all our used equipment items before offering them for sale to ensure they're in peak operating condition and ready to perform at your job site.
New, Used and Attachment Sales Near You
Investing in new equipment from Henderson helps you receive the right piece of equipment for your project. You can enhance the diversity of your fleet by adding equipment like: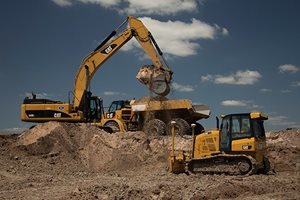 We offer streamlined financing solutions when you're ready to make a new purchase.
Used Henderson equipment is a cost-effective solution if buying new isn't in the budget. You can remain competitive with our pre-owned machines because we understand quality is one of the most vital considerations. You can choose from our massive selection of Cat® and allied machines that are durable enough for any industry. For example, we have the following depending on your requirements:
Our specialists ensure dependable pieces of equipment that will exceed your performance expectations. We inspect each machine to live up to its peak operating condition.
Attachment sales at Cashman Equipment Henderson help increase your company's machine utility and productivity. By implementing an auger, blade, bucket, or coupler, your operators can complete a range of tasks. We have more than 60 attachments available so you can apply diverse solutions with quick changes for various jobs.
Parts From Cashman Henderson
At our 32,000-square-foot Henderson facility, we offer clients new, used, and remanufactured parts with more than 7,800 items in stock to sustain your machines. Our engine and equipment inventory includes:
Machine parts and supplies
Exchange and remanufactured parts
Truck engine parts and supplies
Maintenance supplies
Cat® hose & couplings for any brand
We fulfill 98 percent of orders within 24 hours and you can request parts online 24/7. Cashman also provides 24-hour emergency services and Parts.Cat.Com, which is a streamlined web-based ordering system. Other parts we carry include batteries, brake wear indicators, exchange components, filters, and rubber tracks.
Expert Service Solutions
Our trained professionals offer equipment maintenance, repair, and service. We have the resources to perform solutions for engine repairs, transmission, powertrain components, hydraulics, and painting. Our Henderson service shop has modern diagnostic tools to troubleshoot any repair, and our services include condition monitoring, field service, hydraulics, machine inspections, planned maintenance, and product rebuilds.
Renting Equipment for Any Industry
From air compressors, aerial lifts, and compact track loaders to forklifts, excavators, wheel loaders, and attachments, you can rent from a vast selection of high-quality machines. Cashman offers the most extensive line of equipment and tool rentals to increase your fleet's versatility. We provide you new or low-hour rental machines which we keep well-maintained for optimal operating condition. We also deliver flexible and affordable rental agreements to meet your budget and time frame.
Truck Repair
Cashman Henderson is a full-service truck repair facility near you that offers service, repairs, and maintenance for all makes of trucks, engines, and RVs. Our truck repair services include components like: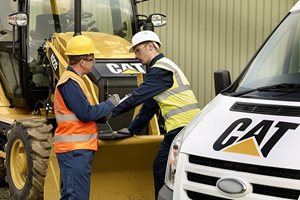 Axles
Brakes
Drivelines
Exhaust
Steering
Suspension
Transmission
With our extended services, you can choose a cost protection plan for your truck or commercial engine that can cover 100 percent of the labor and parts costs. We even have chassis dynometers to perform horsepower checks, measure engine and wheel horsepower, and intake and engine coolant temperatures to ensure your equipment is operating at peak conditions. If you need an RV engine, truck engine, or generator repaired, Cashman can troubleshoot anything to keep you working.
SITECH Southwest
SITECH Southwest is the leading provider of technology solutions throughout Arizona, Nevada, parts of Eastern and Southeast California. We partner with construction companies and specialize in applications such as earthmoving, agriculture, landfilling and other related industries. We offer mining technologies from several brands such as Rajant, Wingtra, and Trimble; while we partner with Empire's embedded mining team for Cat mining technology solutions.  We offer products and software technology from the top manufacturers.
As an authorized Trimble dealer, we have all the equipment to help you resolve even the most complex challenges you face on the construction site.
Henderson Department Hours
Sales: Monday – Friday, 6AM – 6PM
Rental: Monday – Friday, 7AM – 5PM
Parts: Sunday – Saturday, 6AM – 5PM
Service: Monday – Friday, 6AM – 5PM
Truck Shop: 7AM- 3:30PM
SITECH Southwest: Monday – Friday, 7AM – 5PM
Request a Free Quote From the Experts
Cashman Henderson, NV, is a full-service provider of sales, parts, service, rental, and truck maintenance. We have the equipment you need, brand-new or available to rent for specific jobs. With cutting-edge technology, our professionals support every machine with comprehensive parts, maintenance, and repair services.
Call our Henderson location at (702) 649-8777 or our toll-free number at (800) 937-2326 for a free estimate. You can also reach out to us online to learn more about how we can support you or view our other locations near you!