If you're looking to order Cat® heavy equipment parts quickly and efficiently, you're in great company — and shopping online offers unique advantages. Online ordering is a hot market that is only getting hotter. What are the benefits of ordering parts online, and how can you sign up to take part in this market? We'll answer these questions below.
10 Benefits of Ordering Heavy Equipment Parts Online
There are many advantages to ordering heavy equipment parts online. Here are the top 10 benefits:
1. Convenience
One primary advantage of ordering heavy equipment parts online is convenience. Making a trip to the store isn't always convenient, especially if the commute is a substantial one and you have pressing responsibilities at your business or job site. But ordering parts online is quick and painless. You can search for parts from the comfort of your home or shop and have the entire catalog of Cat parts at your fingertips.
2. Speed and Quick Turnarounds
When you order online, there's no need to wait until the store is open or you have time to visit. You can go online right away and order the parts you need. Ordering online also offers quick turnaround times, so you won't lose valuable time to delays.
3. Intuitive Browsing and Searching
Online parts websites like the Parts.Cat.com are easy and intuitive to use. You can search, browse, and order through the user-friendly platform that makes it easy to find what you need.
4. Extensive Inventory Availability
When you go to a brick-and-mortar store, it may not always have the parts you need. So you end up making a trip and then having to order parts anyway. The Parts.Cat.com website features the full catalog of 1.4 million Cat parts, so you can find the parts you need.
5. 24/7 Availability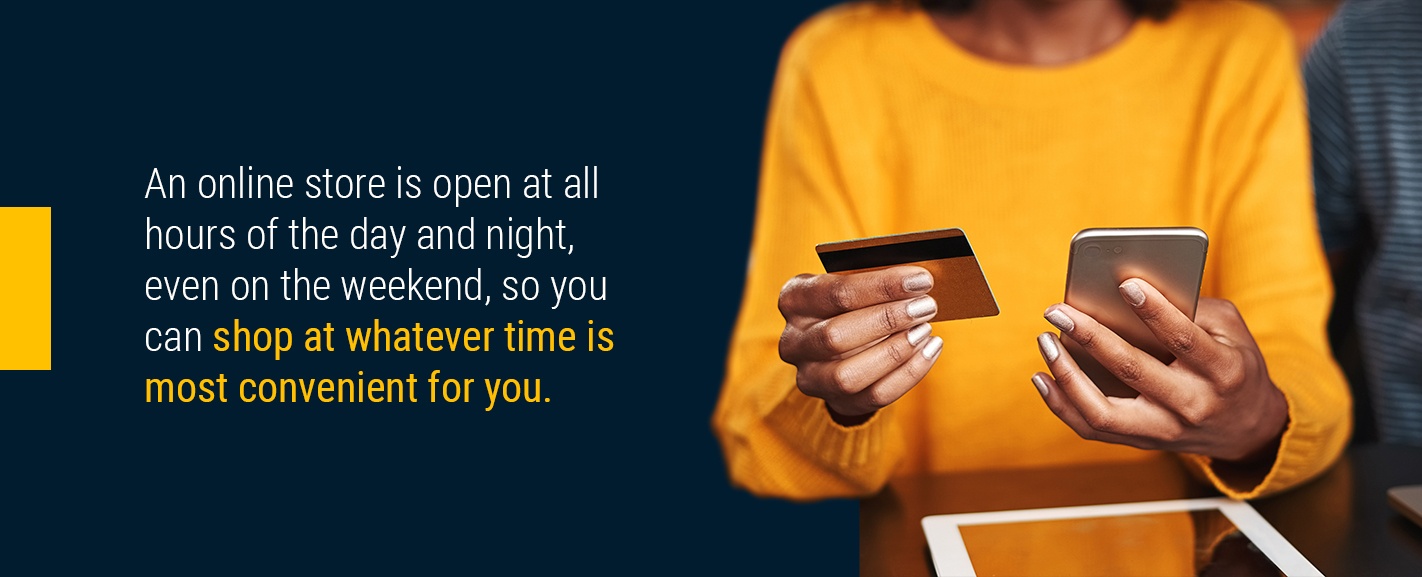 A brick-and-mortar store is open several hours a day, but those hours don't always line up with your busy schedule. You may be on the job during typical business hours, and by the time you're available for a run to the store, it's closed. An online store is open at all hours of the day and night, even on the weekend, so you can shop at whatever time is most convenient for you.
6. Real-Time Pricing
The pricing in an online catalog is up-to-date and reliable. You can check prices without having to call and inquire about them or drive to the store to confirm.
7. Built-In Check Features
If you're new to ordering parts through Parts.Cat.com, you might worry that you'll accidentally order the wrong part and then have to send it back when it arrives. But the "Will it fit my equipment?" feature helps prevent mistakes like these. You can use this feature to make sure the part you're considering will fit your equipment, so you won't have to worry about returns and exchanges that can cost you valuable time.
8. Minimized Delays
Parts.Cat.com's fit checks, convenient ordering, and rapid turnaround times mean reduced downtime for you. If a piece of equipment breaks down at your business, ordering through Parts.Cat.com helps make sure you can have it up and running again quickly. Or if a machine breaks down, you can buy construction equipment parts online and have them shipped directly to your job site to ensure that your project remains on schedule.
9. Email Confirmation, Order Management, and Tracking
Online ordering comes with a suite of virtual tools to help you manage your order. When you place an order online, you'll get an email confirmation, and you'll be able to manage and track the order from the comfort of your home. You can review past orders and invoices, make frequent-order lists to help save time, check the status of your current order, and confirm when your latest shipment will arrive.
10. Friendly, Expert Customer Service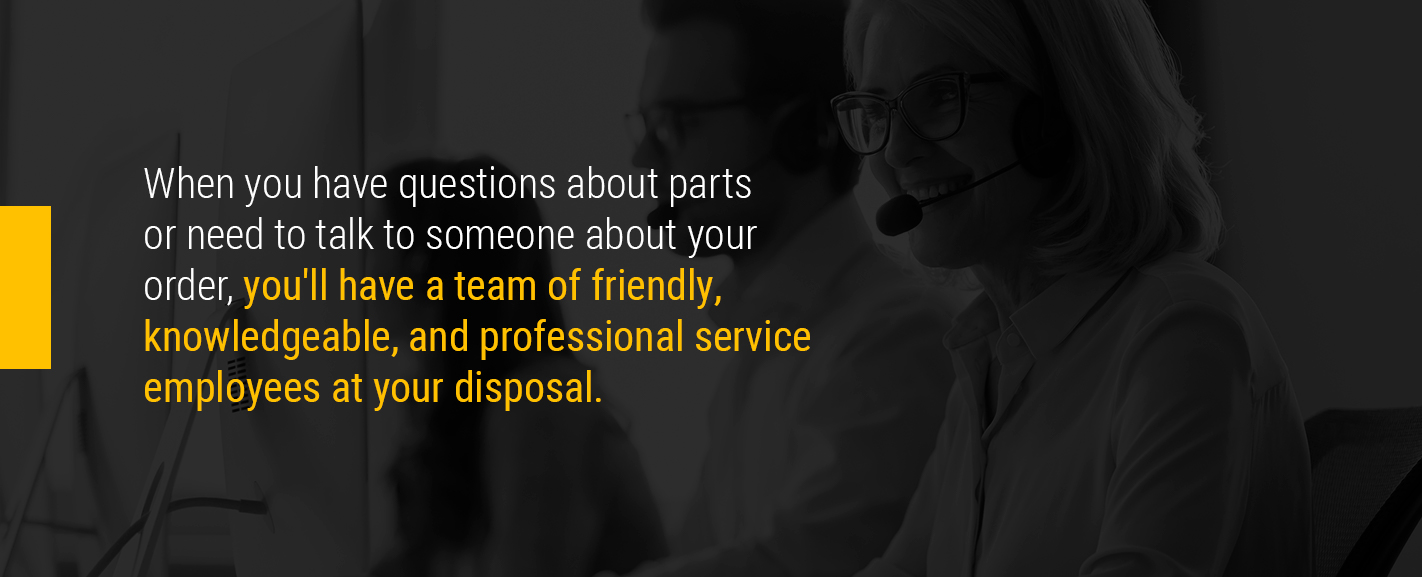 Even when you order online, you still have the option to talk to a Cashman Equipment representative who can answer questions and help you make the right decisions for your business. When you have questions about parts or need to talk to someone about your order, you'll have a team of friendly, knowledgeable, and professional parts employees at your disposal.
Why Choose Genuine Cat® Parts?
Choosing genuine Cat parts offers several benefits for your equipment and business:
Reliability: When you operate heavy equipment, you need to know you can depend on it to get the job done, day in and day out. Cat parts are rugged and durable. You can rely on them to keep your machinery running for years with minimal repairs or replacements needed.
Functionality: Using Cat parts helps keep your equipment in top shape and operating at peak performance. Whether you need your equipment to lift heavy loads, bulldoze dirt, excavate rubble, or drive mile after rugged mile, Cat parts help keep it performing at its best for you and your business.
Trusted fit: When you purchase Cat parts, you can trust them to fit perfectly. Cat parts integrate seamlessly with your machine, so you can rely on them not to slip or loosen during critical tasks, and you won't have to spend time tinkering with them to get the secure fit your equipment requires for safety and performance.
Client relations: If you use heavy equipment for your business, its quality has a direct effect on your clients. Clients expect timeliness and quality results. If you use Cat equipment and parts, you increase your ability to provide timely, quality solutions to your clients, whether that means shipping quality agricultural products on time or having construction projects completed before the deadline.
What Is Parts.Cat.com?
Parts.Cat.com is the official Cat online parts store, where you can access the entire Cat catalog of parts and place orders online. You can use this site to browse over 1.4 million Cat parts to find the right replacement for your equipment.
To use Parts.Cat.com, you can shop by category — this feature is useful if you're browsing for specific parts, from attachments, undercarriage parts, and tires to engine parts, sensors, and more. Or you can use the online parts manuals to look up specific parts by part type and serial number. This feature is useful if you already know the exact part you need.
Parts.Cat.com also offers generous warranties and return policies. Unless otherwise noted, most items on the site are eligible for returns and 12-month warranties starting from the invoice date.
How to Sign Up for Parts.Cat.com
If you have a Cashman account in good standing, you can sign up for Parts.Cat.com by clicking on the "Sign in/Register" button and then creating an account. Once you're done, you'll receive an email with your access information. Then you can log in and shop for parts. Registering also allows you to use the "Quick Order" feature on the site.
If you have questions about how to order online with Parts.Cat.com, check out our series of helpful videos.
Contact Cashman Equipment for All Your Equipment Parts Needs
Now more than ever, ordering online is a safe, fast, and convenient option for getting the parts your business or job site requires. Buy heavy equipment parts online to experience a speedy, efficient, and user-friendly shopping and buying process at the same time.
Contact us online today to learn more about buying Cat parts online, or give us a call at (800) 937-2311.