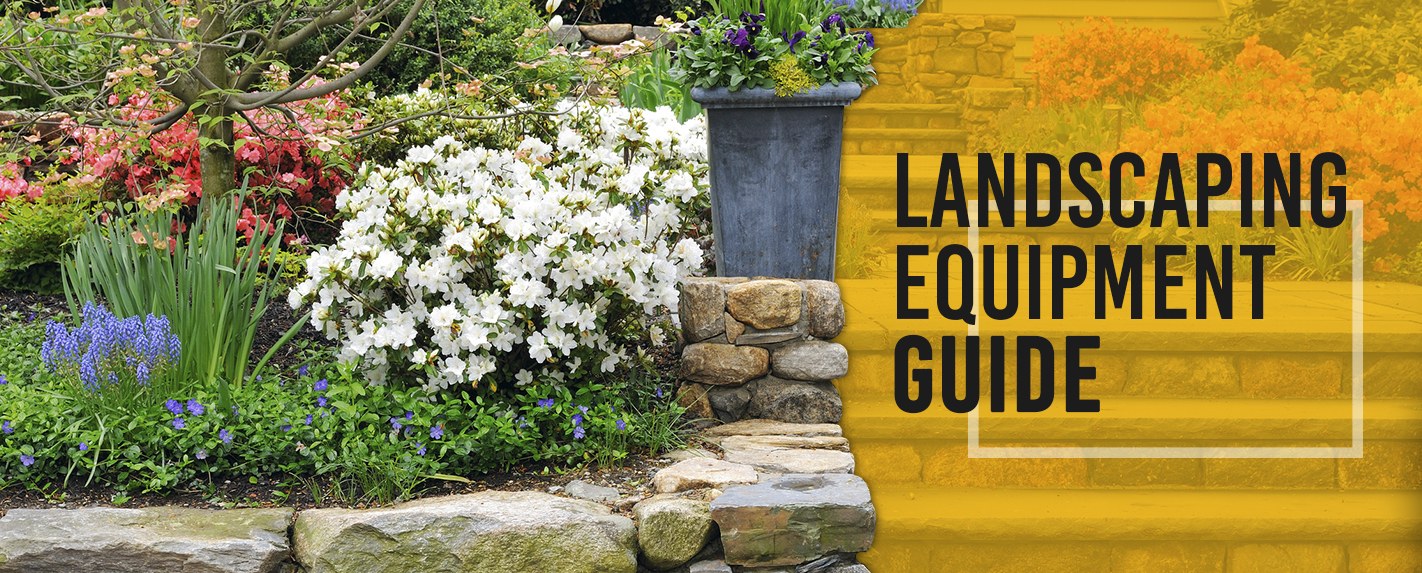 If you're a landscaping professional, landscape business owner, or manager of a landscaping equipment fleet, you know how important it is to have essential landscaping tools. That includes landscaping heavy equipment and lighter-duty landscaping tools such as the multitude of attachments available to make your jobs easier and more profitable. As a resource on what's new with the latest and greatest Cat® machinery, we've put together this handy equipment guide for landscaping businesses.
Commercial and residential property owners realize how essential professional landscaping is. Hiring a professional landscaping company can add significant value to existing properties. According to a recent survey, proper landscapes will improve property values by 10 to 12 percent. That's an astounding increase and well worth the investment.
Increased property values transpose to a healthy landscaping industry. An IBISWorld industry research market report states the American landscape business experienced a 5.8 percent growth rate in 2018. Nationwide, the industry generated $93 billion in revenue. Landscaping employment rose by 3.3 percent, and individual businesses increased by 1.9 percent. That expansion worked well for new, used, and rental machine suppliers like Cashman Equipment, which can supply you with essential landscaping equipment.
In this landscaping tool guide, we'll look at what Cat brand landscaping equipment and attachments are the best values. We'll also provide an overview of your options between buying landscape equipment or renting it. Each acquisition method has its pros and cons. Ultimately, your decision on landscaping equipment and attachments has to be the one that best serves your needs.
Most Current Cat Landscaping Equipment
There are three main categories of landscaping equipment: earthmoving machinery, material handling equipment, and supporting attachments. There are so many handy attachments available to landscapers that they deserve special recognition.
Cat is a world-recognized leader in the machine industry. You'll see Cat yellow equipment with black accents on landscape projects across the United States, including hard at work in Nevada. Cat equipment has been around a long time but continually strives to improve through innovative designs and progressive technology. Here's an overview of the newest and most cutting-edge landscaping equipment.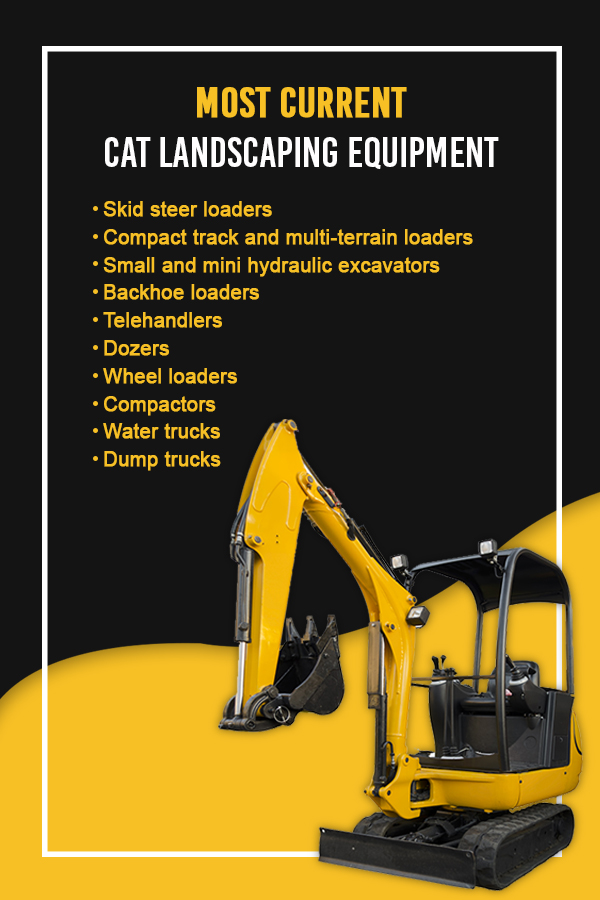 Cashman Equipment also has a large assortment of miscellaneous new and used landscaping equipment available for you to buy or rent. Your next landscape job might require an air compressor or a portable lighting system. You could be interested in a genset for temporary power or a pump for wet locations. Or, perhaps you are ready to rent a sweeper for final cleanup or any one of many of the newest Cat work tool attachment solutions for your landscape machines.
In-Demand Cat Landscaping Attachments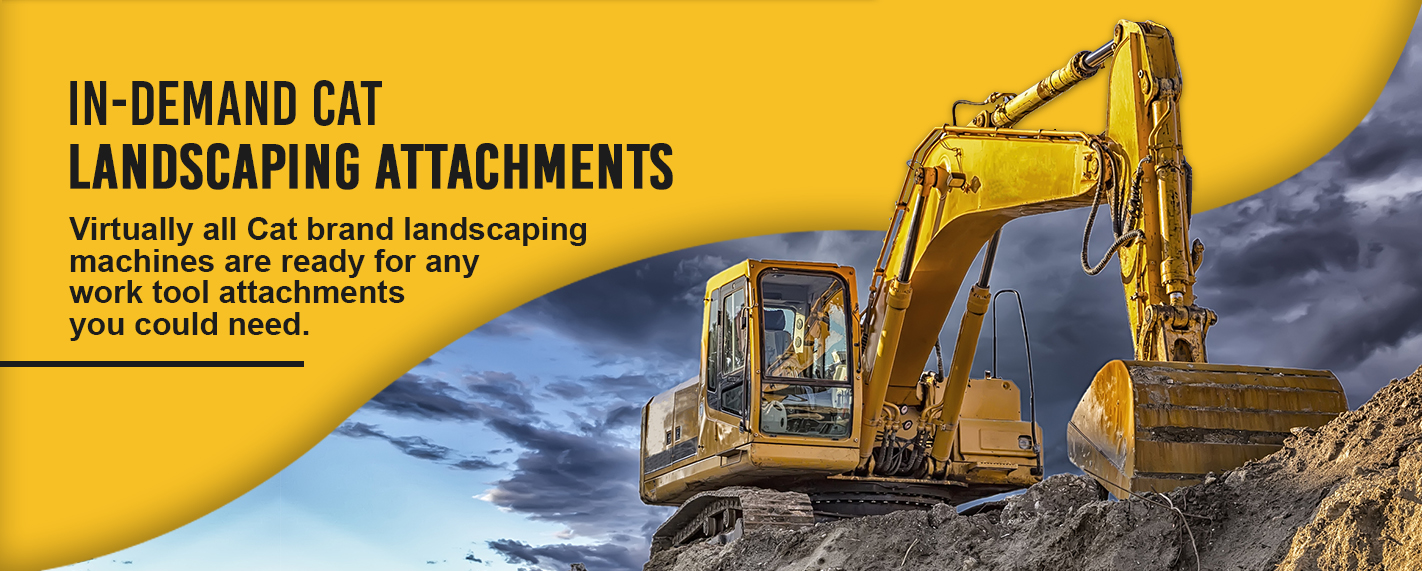 Virtually all Cat brand landscaping machines are ready for any work tool attachments you need. Those could include your new skid steer, all-terrain loader, or backhoe. You might want your mini excavator to pull double duty as a rock hammer. Or, you might see a profit center in turning your base equipment into a land clearing opportunity.
All Cat landscaping attachments are proven performers. Whether you purchase a new or used attachment or consider renting a landscaping tool solution from Cashman Equipment, you're guaranteed to multiply your equipment force to your financial advantage. Here is the lineup for the most sought-after Cat landscaping attachments you can shop by tool type, equipment type, or industry applications:
Augers for drilling post holes
Backhoes for trenching and ripping
Blades for plowing and smoothing
Brooms for final cleanup
Brushcutters for clearing and trimming
Buckets for bailing, cutting, and loading
Cold planers for breaking pavement and concrete
Couplers for switching tools quickly
Forks for lifting pallets and stacked goods
Hammers for rock and concrete smashing
Landscape tillers for breaking and blending soil
Material handling arms for extended lift and reach
Mulchers for cutting up vegetation and growth
Rakes for clearing land, piling brush, and gathering leaves
Sectional snow plows for cold-weather regions
Snowblowers for when plows are impractical
Shears for pruning and removing branches
Stump grinders for getting rid of tree evidence
Thumb attachments for gripping with buckets
Trenchers for pipe and irrigation work
Vibratory compactors for firming base materials
Wheel saws for precise and powerful cutting
No matter what task you have in a landscape challenge, it's reassuring to know Cashman Equipment has the right machine and attachment to simplify your job. You can always rely on Cashman Equipment to back you up in a pinch. However, your real dilemma might be deciding whether to buy or rent Cat landscaping equipment and attachments.
Should You Buy or Rent Cat Landscaping Equipment and Attachments?

Buying vs. renting is a crucial decision. You need to assess your personal needs and exactly what you require your landscaping equipment and attachments for. It's best to make a pro-and-con list of the benefits and drawbacks of renting equipment or buying it outright. Let's start this landscaping equipment guide portion with a look at renting Cat equipment.
Short-term use: If you only need a broom sweeper or a rock hammer attachment for short-term use, it makes more sense to rent it than buy it. You won't have the capital outlay and the unprofitable idle time that owned equipment involves.
Varying size requirements: On projects that require a dump truck, for example, you might have one job requiring a five-ton truck and the next needing something much more substantial. Renting solves that situation in a flash without expensive purchases.
Evolving technology: Cat equipment technology continually improves. If you rent from Cashman Equipment, you'll always be confident you have the newest, most current equipment on your job.
Service and maintenance: Cashman Equipment maintains and services the equipment we rent. You won't have the expense or inconvenient downtime of having to deal with repairs yourself.
Capital outlay: Renting requires no cash up front. You won't have to tie up valuable working capital with rental equipment.
Financing: Financing is one of the most expensive costs of purchasing equipment. Renting your landscape equipment and attachments alleviates that cost.
Storage: There's no storage problem when you rent with Cashman Equipment. When you're finished using a loader or mini excavator, Cashman picks it up, and you don't need to find a secure storage space as you do with purchased equipment.
Depreciation: All equipment depreciates over time, regardless of how well you take care of it. Brand-new equipment depreciates rapidly, and Cashman Equipment absorbs this cost when you rent.
Depreciation can be positive or negative, depending on how you look at it. Sometimes depreciation is an asset when you buy new or used Cat machinery and attachments. Let's look at some of the reasons you might want to buy your landscape equipment and attachments from Cashman Equipment.
Tax advantages: If you own your equipment, you'll be able to write off related expenses on your tax declarations. Those can include pro-rated depreciation, as well as operating expenses such as servicing and maintenance.
Availability: If you buy your landscaping equipment and work tool attachments, you'll always have them available when you need them. Even though Cashman Equipment has a large rental inventory, there could come a time when something you need is on loan to another business and not readily available. Buying prevents an equipment shortage.
Familiarity: Once you own an equipment piece or attachment, you'll be familiar with its operation, including any quirks. Your learning curve is over, and you have no training time as you do with an unfamiliar machine.
Credit rating: If you borrow to purchase landscaping equipment, you'll strengthen your credit rating, which improves your borrowing power and helps with future business development.
A sense of ownership: There's an intangible feeling of possession with purchased landscaping equipment and attachments. Once you've bought it, you own it. That satisfaction is hard to take away.
Where to Buy or Rent Cat Landscaping Equipment and Attachments
The question of the smartest place to rent or buy the tools in this equipment guide for landscapers is super-easy to answer. It's Cashman Equipment every time. Cashman Equipment is Nevada and the Eastern Sierras' oldest and most established dealer of new and used Cat brand machinery. We've been in business since 1931, and we've worked hard to earn and maintain our stellar reputation by serving customers like you with top-notch attention.
At Cashman Equipment, our mission is satisfying customers with high-quality products and superior support service from our employees' integrity and expertise. To learn more about how Cashman Equipment can support your landscape business, call us today at 800-937-2326, or reach us anytime through our online contact form. We also offer 24/7 online parts, fluids, and filter purchasing for your Cat equipment at Parts.Cat.Com. Register today.