By Kate Gallagher, Cashman Equipment Marketing Communicator
Where were you 45 years ago? Getting married? Starting out at your first job? Not even born yet?
In January of 1976, Lance Pecetti was driving down Glendale Avenue in Reno, Nevada looking for a job after graduating from WyoTech with a technical degree. He applied at John Deere and Cashman Equipment, Nevada's Caterpillar dealership. That was the first step on Lance's path to 45 years with Cashman Equipment before he retired in April 2021.
Lance came into the office all those years ago and met with Primo Quarisa, the service manager in Reno for 40 years. Lance and Primo chatted for a while, but ultimately Primo told Lance that he didn't have anything available at the moment but would keep him in mind.
Lance must have made some kind of impression on Primo, though, because he called shortly afterwards to ask him to come work on the steam rack. It was a moment Lance will never forget – not only was it the day that changed his professional life, but also because it was his first lesson in the "Now-Right Now!" philosophy of Cashman…
Primo: "Do you still want to work at Cashman, even out on the steam rack?"
Lance: "Heck, yes – is starting tomorrow too soon?"
Primo: "What's wrong with today?"
Suffice to say that Lance grabbed his steel-toed boots and headed over to Cashman to start working. Between January 1976 and April 2021, Lance held 10 different positions… we think.
"Kate, you have to remember," said Lance when interviewed. "There wasn't any human resources back then – not like we have today. It wasn't as formal, and there wasn't all this paperwork."
After starting on the steam rack, Lance worked in the track shop, paint shop, main shop, and field service before it became apparent that the company needed technicians dedicated to working on components like engines, transmissions, wheel groups, etc. As Lance had become very experienced with building Cat D3 dozer engines and Cat 777 engines, he became Cashman's very first dedicated Component Rebuild Center (CRC) technician in 1984.
He spent three years helping the company build up the CRC, working with other technicians to ensure the new component shop was functioning successfully before he accepted a product support representative position. While Lance dedicated all of his early career to service, this was the turning point for him to use all that knowledge and start exploring other positions.
Lance had a huge territory, spanning from the Nevada/Oregon border to Golconda, Nev., and down to Mammoth Lakes, Calif. And this was back in the days of microfiche in the parts department and no cell phones – just the product support rep and their company vehicle. In order to support the customer, you literally had to drive hundreds of miles all across Northern Nevada to visit all the mines and the construction customers in his enormous territory. Lance basically knew every single restaurant and pay phone location along Nevada I-80, I-95, and I-395.
"When I was in the field as a PSR, you have to remember – there were no cell phones," Lance stated. "No 9,000 daily emails to slog through. Customer interaction was simply face-to-face – calls to the office were done via pay phones. Those were actually dang good days that I still miss."
Lance spent a few years on the road for product support, but eventually felt the call back to the service department. Over the next decade, Lance would take on various service management jobs, including becoming the service manager for Cashman's Winnemucca location as well as the Reno offices in the early 2000s. However, in 2003, the CRC had grown to the point where it was impractical for the main shop and the CRC to be managed by one person. Lance continued to manage Winnemucca service, but also became Cashman's very first CRC manager.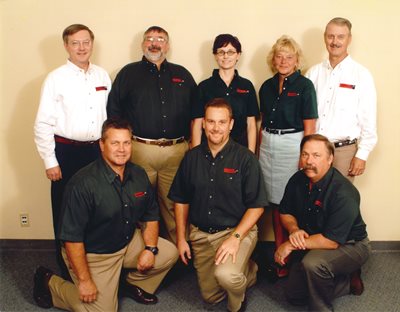 Successfully managing the CRC for five years, he was promoted to Reno service manager. However, in 2011, Lance felt the urge to take his service and product support experience and leverage it in a management position. That year, he became the Reno product support manager – a position he would hold for the remaining 10 years of his career at Cashman.
"I had built so many relationships with customers over the first 30, 35 years of my career," said Lance. "Becoming the product support manager was just another way to take care of the customer. And that's your first priority – always, no matter what you have to do or who you have to chew out to get it done."
Those who know Lance best can tell you that is 100% truth… while Lance often stated it was a "peach of a day," there were lots of long, hard days of work to take care of the customer. However, he credits his dedication to the customer to the early principles, ethics, and morals he learned from his mentors and coworkers – specifically the man who hired him, former service manager Primo Quarisa, as well as former service manager Orin Johnson, Candi Sweeney, former parts manager, and Mike Bellino, former power operations manager.
"This 'best customer experience' business isn't new," Lance insisted. "You took care of the customer. Period. You worked until the job was done, not when it was quitting time. And my mentors and coworkers taught me those kinds of things from the day I started at 18."
When asked about his legacy, Lance laughed stated he "wasn't that kind of guy" and refused to acknowledge any kind of "legacy."
Cashman's vice president of service and product support, Thomas Shrecengost, slightly disagreed, stating, "It has been a real pleasure working with Lance, and I feel pretty darned honored to call him a friend. Looking forward to many years of hunting and gun stories to come after hanging up [your] hat with Cashman. He was a great mentor to many, and his passion for this business can't be replaced."
Lance did admit that he has tried to share one simple fact with his employees and coworkers – the basic need to take care of the customer doesn't ever change. Lance talked to all of his people every day, but did not ever try to micromanage anyone. He also stressed the importance of building relationships.
"I cherish the relationships and friendships I've build over the years," Lance said. "I've built so many with Granite, Q&D, the mines… I've met a lot of really good people that I will miss working with."
However, Lance quickly stressed that while his chapter at Cashman is ending, his one in Reno is not. A third generation Reno native whose family came over from Italy back in 1894, he has long and strong ties to the community. He's planning on finally finishing remodeling his kitchen and living room… something he half-heartedly started two years ago. Lance has lots of hobbies and already has plans, like a fishing trip and his monthly movie/casino trips with Candi, as well as spending more time with his daughter.
"I will miss the interaction with my people and my customers, but I'm getting old and all of my friends are retiring, too!" Lance laughed. "I'm so fortunate to have had all these opportunities with Cashman. Looking back over the past 45 years, it's has actually gone by pretty fast. Of course, there were tough times, but I don't think I'd do anything differently."
Cashman Equipment is thankful for that! Lance's dedication to the customer and to daily excellence helped lead to the formation of Cashman's Component Rebuild Center (CRC) as an independent division of the service department. As Cashman's first CRC technician in 1984 and first CRC manager in 2003, Lance laid the foundation for a division that now boasts 60+ employees and is world-class certified for excellence by Caterpillar.
Thank you for all your years of service, Lance Pecetti. You may have relinquished your product support manager title at Cashman, but you'll always be the godfather of Cashman's CRC.