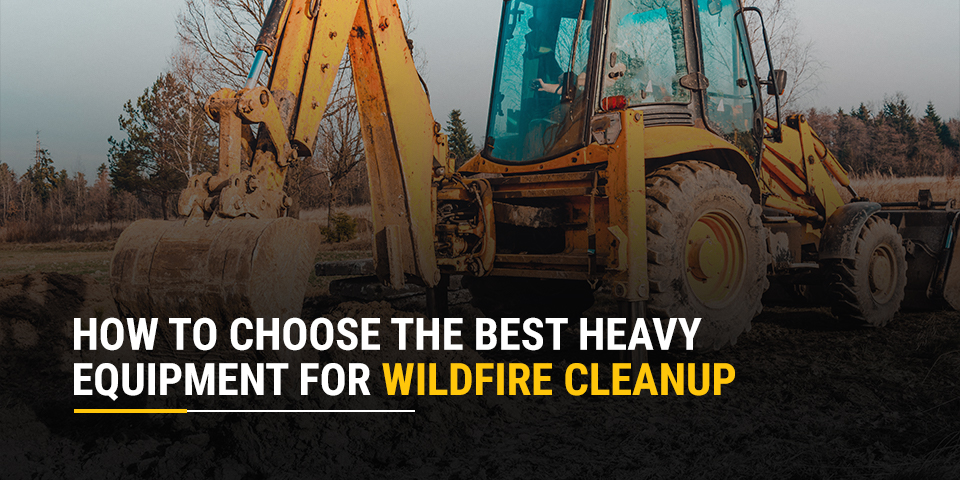 Cleaning up after a disaster can be dangerous, but with the right heavy equipment for fighting wildfires and handling cleanup, you can get the job done safely and efficiently. Various types of heavy machinery are used to clean up wildfires, such as excavators, loaders, dozers, and forest machines. When you have the proper equipment to clear large expanses of land, you can remove destroyed materials, establish fire lines, and revive the environment.
At Cashman Equipment, we offer a line of heavy equipment for firefighting cleanup that includes numerous variations in size and power. This guide will help you determine which pieces of equipment can meet your needs.
How to Choose the Right Equipment for Wildfire Cleanup
A wildfire can leave a path of destruction in its wake, including structurally unstable buildings, burning or burnt materials, dangerous items like broken metal and glass, the potential for electrocution, uneven ground, and pools of water from firefighting efforts. To choose the right heavy equipment for cleanup, consider the location of the cleanup and the terrain: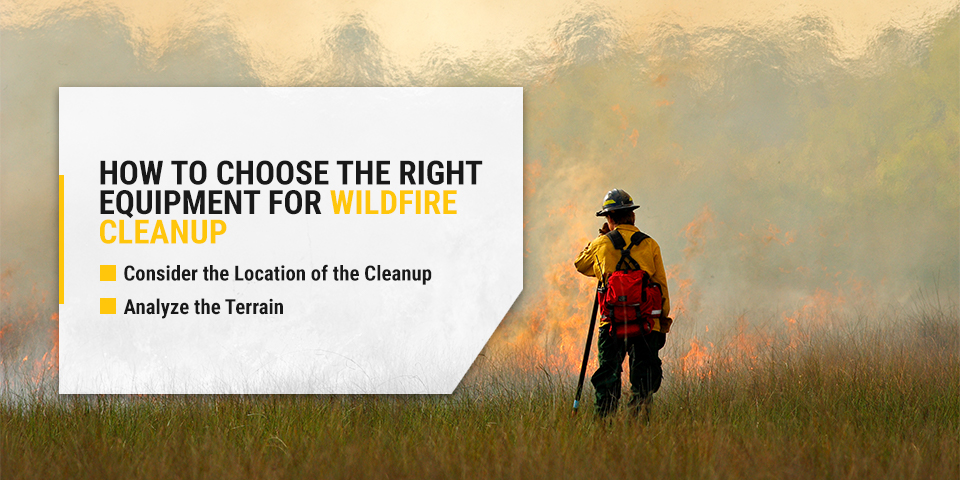 Consider the Location of the Cleanup
The cleanup location is an important consideration when choosing your equipment. Determine what the scope and scale of your cleanup efforts will need to be so you can pick the type and size of the machine that is right for the job.
Though a machine with a larger engine is more powerful and can move material more quickly, the large size and weight mean it's more likely to sink into soft ground. If your cleanup efforts will be conducted in a tight space, larger machines may not be able to enter or operate efficiently within the space.
In a big, open space, a larger machine could be the right choice — especially if you have a significant area to clean up. On the other hand, if you will be cleaning up the aftermath of a wildfire in a residential area with softer terrain or among dense forests, a smaller machine may be a better option.
Analyze the Terrain
To successfully clean up after a wildfire, consider the terrain you are dealing with. Equipment like excavators and loaders come equipped with wheels or tracks. Track machines have greater traction and a lower center of gravity, so they are better at scaling steep slopes compared to machines with wheels. However, wheeled machines tend to move faster, so they can cover greater distances on public roads and won't need to be transported between sites as often.
You may also want to consider how soft the terrain is when you choose your equipment. Track machines are a great choice for softer ground, as the machine's weight is distributed across the tracks. This means the machines can travel across softer ground without getting stuck or sinking in. A wheeled machine is more likely to sink in the mud and get stuck.
5 Common Types of Heavy Equipment Used to Clean Up Wildfires
Cleaning up after a wildfire can be a hazardous, dirty task, so understanding the equipment available to you is essential. With heavy equipment, you can fight wildfires and clean up after them from a distance, keeping yourself and your crew protected from the fire's dangers. Your crews will also be able to perform cleanup duties more efficiently.
Each of the following heavy machines is designed to handle a specific task. The common types of heavy machinery you can use for wildfire cleanup include: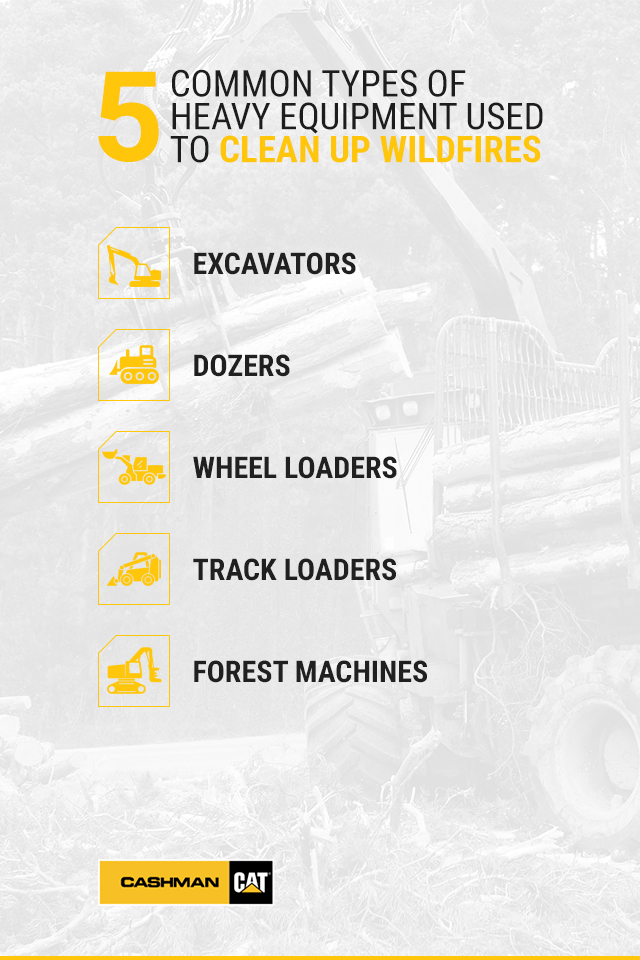 1. Excavators
One crucial machine in the wildfire cleanup process is an excavator. This heavy machinery comes equipped with a bucket and boom arm, and its versatility is unmatched. If you need to clear out burnt vegetation or structures, an excavator is a perfect tool to dig up stumps and tear down a ruined structure.
Excavators vary in weight, size, and power, so consider what you will be using your excavator for before you make your selection. Typically, for a wildfire cleanup, an excavator that has a bucket and hydraulic arm is the best choice. If you are dealing with mountainous terrain or soft ground, you may want to select a smaller, lighter excavator. A larger excavator may be better for an area that requires a machine to dig deep holes, crush tough materials and lift heavy objects.
2. Dozers
Dozers are essential machinery for cleaning up after wildfires. Dozer drivers tend to work in a team with other support personnel. During a wildfire, a dozer's primary function is to establish a fire line that stops the fire's advancement.
Typically, multiple dozers are used to create a fire line. One dozer clears a path, another pushes aside debris and fallen trees, and another follows the path of the first dozer and scrapes down the soil to the mineral level. This effort forms a barrier that a wildfire can't jump over easily.
If you decide a dozer is right for your cleanup efforts, ensure the machine has the modifications needed to successfully operate in a risky environment. Examples of modifications include undercarriage protection, protective radiator grills, and overhead protection for the operator.
3. Wheel Loaders
One of the greatest advantages of a wheel loader is its speed. A wheel loader can travel faster than a track loader, so it's ideal for traveling a long distance with materials. These loaders are also great for use in clean underfoot environments, and since their wheels allow them to travel on public roadways they become very effective for wildfire cleanup.
A wildfire tends to impact a large swath of land, so cleanup efforts mandate heavy equipment capable of operating over a vast area. With a wheel loader, you can traverse the terrain more quickly, so you can use this machine in a variety of locations without needing transportation via a trailer.
4. Track Loaders
When combined with a dozer's pushing power, a track loader can be incredibly useful in cleaning up a wildfire, as it includes a convenient, lifetable bucket. If you need to remove a large amount of material or clear burned homes, track loaders are essential. With a large track loader, you can unearth massive objects like structural building material and burnt-out tree stumps. You can also use a track loader to scrape away a soil layer to remove burnt materials.
After a wildfire, you can scale steep slopes and travel across softer terrain with a tracked loader more efficiently than you can with a wheeled machine. A track loader tends to be used near a home site where debris like nails is present, which typically makes using wheeled loaders difficult. However, track loaders are also slower than wheeled loaders, so they need to be transported between sites via a truck and trailer.
5. Forest Machines
This type of heavy equipment uses attachments to perform crucial work in forestry, including processing heads, felling heads, waratah heads, and fork and log grapples. With a felling head attachment, you can grab a tree with the grabbing arm and cut it down with a cutting blade. While the tree is in the grabbing arm, you can deliver it to a collection spot.
A processing head offers the ability to process the tree after cutting it down. This attachment includes feed rollers that move the tree through the head, where the branches are cut off along the stem by delimbing knives. After the tree is through the processing head, the tree is cut with a bar saw at your discretion so the stems can be cut to a uniform length for transportation.
Forest machines are essential for heavy equipment safety during wildfires. These machines can dramatically increase safety and enhance productivity. During your wildfire cleanup efforts, you can use a forest machine to remove dead or burnt trees and process them for removal.
Save on Cat® Firefighting Machines Through the NWSA
The National Wildfire Suppression Association (NSWA) has Cat® discounts for various machines and Generators. If you are a member of the NSWA, you can save thousands on qualifying machines and hundreds on qualifying attachments. Become a member to save on the following Cat equipment for fighting wildfires and cleanup efforts:
Dozers
Telehandlers
Mini excavators
Backhoe loaders
Skid steer loaders
Compact track loaders
Large and medium excavators
Medium and compact wheel loaders
Sign up if you aren't an NSWA member yet, or contact a representative to ask about the full offer details, restrictions, and discounts.
4 Reasons to Choose Cat Equipment to Fight Wildfires
Wildfires are responsible for burning millions of acres each year in the U.S, and they result in fatalities and property destruction. As such, it's crucial to be as thorough as possible when selecting the equipment and tools to use for fighting wildfires and cleaning up after them. If you need heavy equipment to fight wildfires, choose the machinery from Caterpillar for the following benefits:
Quality equipment: Caterpillar has a track record of quality that heavy equipment buyers have come to rely on.
Expertise you can depend on: Caterpillar is the biggest equipment manufacturer in the world. They have experience providing machinery that is built and designed to be durable, sophisticated, and reliable.
Safety and power with every machine: Cat equipment can provide the safety and power you need to get the job done.
Variety of sizes: You can choose from several sizes to meet your project's needs and keep your crews safe during wildfire cleanup.
Caterpillar is also matching donations for wildfire disaster relief through the Caterpillar Foundation, so when you support Caterpillar, you support their disaster relief efforts. When you have wildfires to deal with and need to keep projects moving forward, invest in the best.
Wildfire Safety Tips and the Importance of Operator Training
Operator competence is crucial when operating heavy equipment during wildfire cleanup. Knowing proper safety precautions can ensure everyone is able to perform their job duties safely and correctly. Of course, operators should have a strong grasp of proper heavy equipment operation as a foundation. They must also have adequate training and experience to safely navigate the extra challenges fire cleanup presents.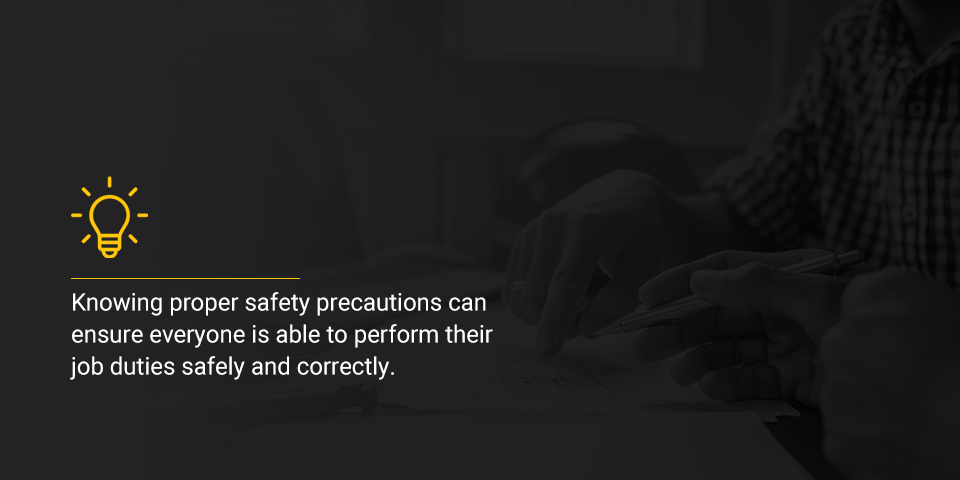 While operating in a wildfire area, ensure workers follow appropriate safety precautions. Proper safety precautions include protection from electrocution or burns and safety from falling objects:
Protect machines from falling objects: A wildfire is capable of compromising the structural integrity of every item it comes into contact with, such as buildings and trees. When a fire passes through and structural integrity is compromised, the risk of falling or collapsing objects dramatically increases. It's essential to take steps to protect a machine's cab and sensitive components from damage as a result of falling debris. Measures you can take include putting cages around the operator cab for reinforcement and adding guarding for the protection of critical components.
Use caution around water: During firefighting efforts, crews use significant amounts of water. This can leave behind puddles that become an extreme risk for electrocution during the cleanup, especially if the water is located near equipment, electrical circuits, or power lines. To reduce the risk to equipment operators and cleanup crews, make sure the authorities have turned off electricity to the area before you access it. Be wary of power lines below or above equipment and try to avoid transformer stations that could be hidden by debris.
Contact Cashman Equipment for Wildfire Cleanup Equipment
Cashman Equipment is a full-service provider for sales, parts, service, rental, technology, fluids analysis, and power solutions. We sell equipment you need and rent additional, job-specific machines and generators with cutting-edge technology. We support all your purchases with comprehensive parts, maintenance, and repair service, along with a lab that performs fluids analysis. In particular, we are expanding our technology offerings, which include a variety of safety-enhancing features.
We are a one-stop shop for all of your equipment needs. We are local — we know your business, we understand your needs, and we are here to support your operation. We have been here for 90 years, and we're not going anywhere. Contact us at Cashman Equipment today for more information about our heavy fire equipment in Nevada, or visit one of our convenient locations.