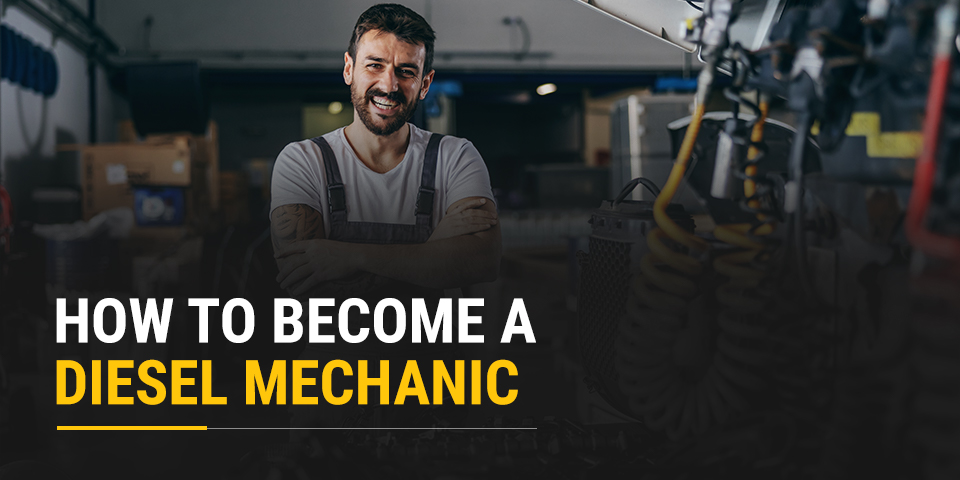 If you're looking for a career where you get to work with your hands and earn a solid income without a four-year college degree, becoming a diesel mechanic might be for you. As a diesel mechanic, you'll get to solve problems every day and keep heavy-duty diesel engines running at their best. Before pursuing a career as a diesel mechanic, explore what it takes to become one and how you can set yourself up for success.
What Is a Diesel Mechanic?
A diesel mechanic is a type of technician who specializes in working on diesel-powered machines and vehicles.
What Does a Diesel Mechanic Do?
Diesel mechanics are tasked with maintaining, inspecting, and repairing diesel engines for heavy machinery and big trucks. Alongside their work with diesel engines, they also perform work on electrical systems or vehicle exhausts to ensure they're running properly. They'll often conduct preventive maintenance too, such as changing oil and rotating tires.
Typically, most diesel mechanic work is completed in a shop. However, some diesel mechanics go to clients' locations to perform services. These mobile mechanics assist customers in the event of a breakdown or go to a client's fleet yard to do preventive maintenance. Many diesel engine owners enjoy the convenience of mobile mechanics, as it helps them save time and receive fast services.
Since diesel mechanics work with their hands, a typical workday involves a significant amount of physical exertion. For example, a diesel mechanic is often on their feet during the day and can expect there to be lots of walking, standing, reaching, and bending. Additionally, diesel mechanics will regularly handle power tools throughout their workday.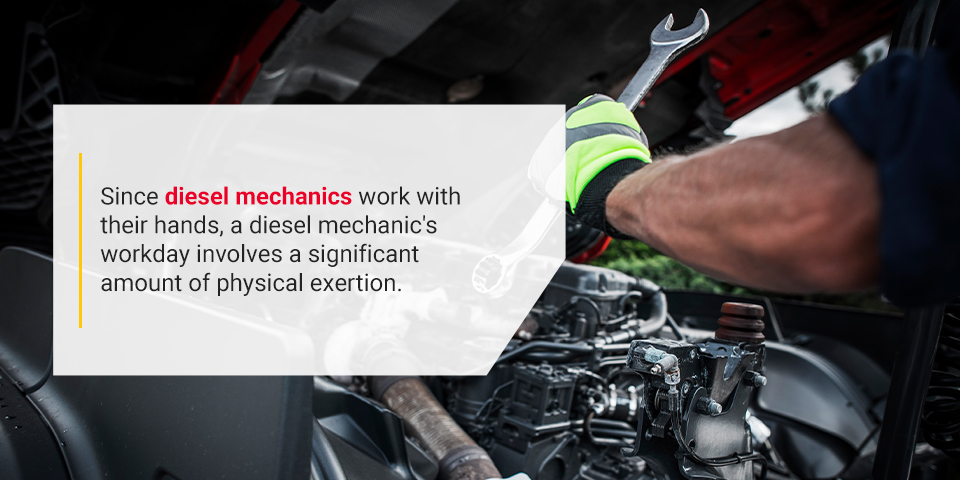 As you determine if you'd like to become a diesel mechanic, check out some of the main responsibilities below:
Reviewing the condition of a vehicle's lighting system
Repairing or replacing worn-out or broken engine parts
Cleaning engine systems and parts
Replacing transmissions, diesel engines, steering mechanisms, and brake systems
Conducting diagnostic tests for vehicles with diesel engines
Analyzing diagnostic test results and taking action on them by creating a repair plan
Inspecting wheels and adjusting them as needed
Gauging vehicles' performance by taking them on test drives
Diesel Mechanic Education and Training Requirements
Currently, the U.S. doesn't have federal or state laws requiring diesel mechanics to have any education, formal training, certifications, or licenses. Though there aren't official diesel mechanic education requirements, employers tend to require their diesel mechanics to have a high school diploma. Additionally, many employers give preference to applicants with diesel mechanic training and certifications, as well as those with an associate degree.
One of the top certifications that owners and shop managers look for in applicants is an Automotive Service Excellence (ASE) certification. When you receive an ASE certification, you'll show employers you're highly qualified and have the expertise and skill necessary to work on diesel engines. As a result, you'll be more likely to receive offers and possibly a higher starting salary.
Another great way to make yourself more attractive to employers is to obtain a Commercial Driver's License (CDL). With a CDL, you can legally drive semis during the inspection process and after you make your repairs. Essentially, licenses and certifications signal to employers that they won't have to spend as much money and time training you to do the various diesel mechanic tasks they require.
If you want to boost your job prospects, you can receive a formal diesel mechanics education. You can earn a relevant associate degree or enroll in various certification programs to raise your value in employers' eyes. Additionally, you can receive certifications in more specialized mechanic work. Some of these specialized certifications show you can work on aircraft, farm equipment, or boats. Since these certifications are harder to obtain, you can often earn more.
How Long Does It Take to Become a Diesel Mechanic?
Since diesel mechanics don't need to have any formal education or certifications to be hired, it can take less time than you think to become a diesel mechanic. After a business hires you, you may have to complete various aptitude tests, certifications, or training programs they require. These training program times will vary based on an employer's specific training requirements.
If you decide to earn a degree or receive a certification, you can expect to spend somewhere between six months and two years working on them. For those who want to earn a more specialized certification, the certification process may add more time to your overall training.
Diesel Mechanic Skill Requirements
Many companies want their diesel mechanics to have a few standard skills to ensure they deliver the best service possible. Some key skills include technical proficiency, communication ability, and attention to detail. If you're interested in becoming a diesel mechanic, take a moment to review some of the top diesel mechanic skills below: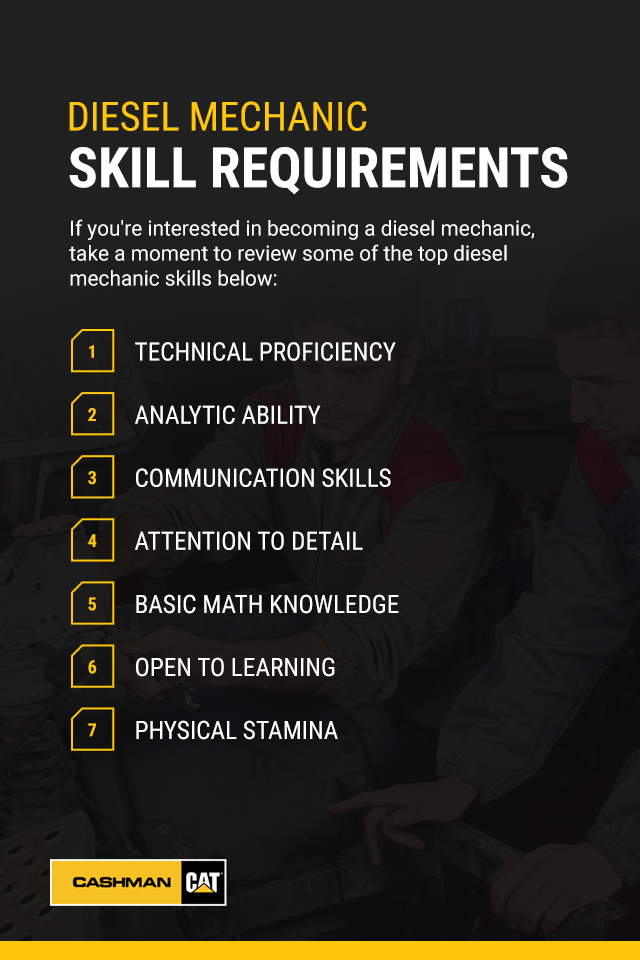 Technical proficiency: Diesel mechanics often have to work with complex engines and systems, so it's important they have technical know-how. Many diesel engines require mechanics to use diagnostic tools to test the various electronic parts. Successful diesel mechanics should know how to utilize the technology they need to properly diagnose and fix engine issues.
Analytic ability: Another key skill diesel mechanics need is analytic ability. Oftentimes, an engine issue may not be readily apparent, requiring the mechanic to take a moment to review the evidence and take appropriate action. As a result, a diesel mechanic with strong critical thinking skills is very valuable to employers.
Communication skills: Diesel mechanics also need strong communication and people skills to do their jobs. Since mechanics usually have to work as a team, they need to communicate effectively with their co-workers and managers to ensure they're doing their job appropriately. Additionally, top mechanics can break down technical concepts into simple language clients can understand, helping clients know exactly what needs fixing and how the mechanic can help.
Attention to detail: Diesel-powered vehicles and machines are complex, so successful mechanics often have strong attention to detail. An engine's issues could be as small as a missing bolt or loose wire, making it crucial that mechanics pay attention to all details.
Basic math knowledge: While diesel mechanics don't have to know advanced math, they should know how to work with decimals, fractions, and other basic calculations.
Open to learning: Diesel engine technology is constantly changing, so even the most seasoned mechanics will need continuous training. A mechanic who is willing to learn more and committed to constant development can set themselves apart from other mechanics stuck in their ways.
Physical stamina: Since diesel mechanics have to stand for long periods of time, bend over to do certain tasks, and lift heavy tools, a great diesel mechanic will have the physical stamina to do their jobs effectively day in and day out. Additionally, mechanics may have to work in awkward, hot, or cramped spaces, so being in good physical shape can help them stay focused on the work instead of letting fatigue wear them down.
What Is the Average Diesel Mechanic Salary?
According to the Bureau of Labor Statistics (BLS), in 2019 there were 281,300 jobs for diesel mechanics, and they estimate the number of jobs will grow by 3% from 2019 to 2029. Mechanics can earn a competitive salary with opportunities for higher earnings as the industry grows and experience is gained.
Step-By-Step Guide to Becoming a Diesel Mechanic
As you prepare to become a diesel mechanic, you can take a few steps to help secure a job. Knowing how to become a diesel technician and taking a few actions to raise your application profile can help you receive job offers faster. Review the following steps you'll take to become a diesel mechanic: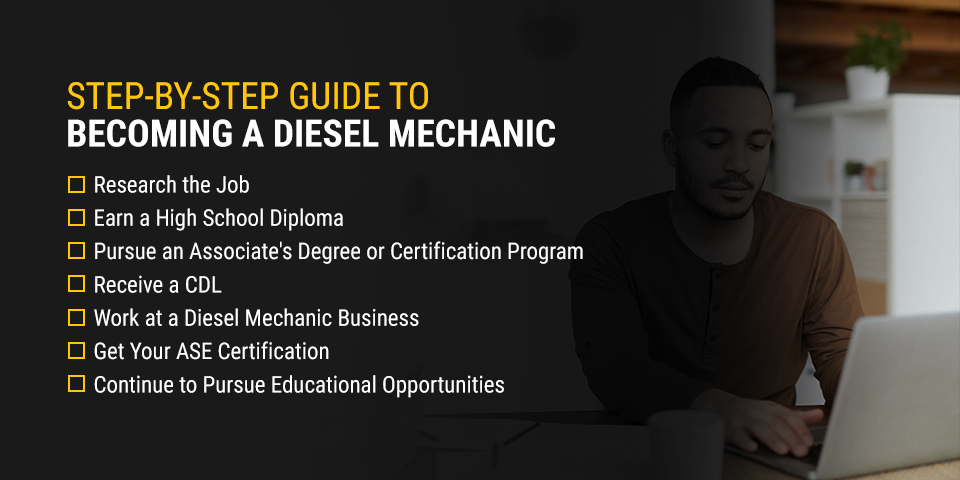 1. Research the Job
Before you apply for any diesel mechanic job or education, take the time to research the profession. Learn about its responsibilities, pay, and required skills. Understanding and ensuring that you have the drive to succeed in the profession is critical. Since a diesel mechanic often has to have an education and certifications to stand out, you'll want to be prepared to meet the challenges ahead of you.
If you've reviewed information about diesel mechanics and the work appeals to you, you're off to a great start already. Besides looking online or reading about what a diesel mechanic does, you can also do some extra research by talking to diesel mechanics about their experience in the industry. Experienced mechanics can give you tons of valuable information about the work you'll be expected to do and help you get a sense of if it's something you'll want to make a career out of.
2. Earn a High School Diploma
Once you've done your research, you can start preparing yourself for a diesel mechanic career by earning a high school diploma. Since a high school diploma is often a minimum requirement, it's important you've graduated from high school before you start looking for work. If you're not in high school currently and didn't graduate, you can study to get your GED instead.
If you're in high school, you can set yourself up for a job by attending a technical school. Many technical schools allow students to take mechanic classes while still in high school, giving these students an advantage when they graduate. If you don't have technical schools nearby that offer classes to high school students, it's a good idea to enroll in your high school's auto repair class. While these classes usually aren't specialized, you can still get some basic knowledge about engines and mechanical work.
3. Pursue an Associate's Degree or Certification Program
After you have a high school diploma, another great way to help yourself become a diesel mechanic is to pursue higher education. Two of the best options are to earn an associate degree or complete a certificate program. You can usually find schools in your area offering diesel mechanic programs, and you can register for many different certification programs online.
4. Receive a CDL
Since a CDL makes it legal for you to operate heavy machinery, it's recommended to receive one if you want to be a diesel mechanic. You'll have to take an exam and pass it to receive your CDL, but you can study for it while taking other classes to streamline the process. If you're already pursuing higher education opportunities, make it a goal to also pass your CDL exam before you start applying for jobs.
5. Work at a Diesel Mechanic Business
While you're still in school, you can likely start working at an entry-level position at a diesel mechanic shop. Even if you're not handling complex tasks, the experience can improve your abilities and help you get a full-time position in the future. Use the time in your entry-level position to take advantage of opportunities to learn more about being a diesel mechanic and distinguish yourself as a reliable employee.
6. Get Your ASE Certification
An ASE certification is one of the best certifications to help land a full-time position as a diesel mechanic. To receive an ASE certification, you'll need to have a set number of hours working in the industry and pass a certification exam. ASE offers several types of certifications, so if you're hoping to specialize in a type of machinery, you'll likely want to explore their offerings. Having an ASE will make the job search easier and help you achieve a higher earnings potential.
7. Continue to Pursue Educational Opportunities
Once you've started working in the diesel mechanic industry and earned relevant ASE certifications, you can continue to advance in your career by pursuing more educational opportunities. Taking courses to further your mechanical knowledge and passing the tests will help you reach an expert level! Additionally, keeping up with the latest developments in the industry and proving you're knowledgeable about them can make you more valuable to any diesel mechanic business.
How to Become a Diesel Mechanic at Cashman Equipment
At Cashman Equipment, we want to help you become the best diesel mechanic possible. We regularly offer Apprentice Technician positions, perfect for those with a knack for engine repairs and desire to become high-earning diesel mechanics.
If you're interested in working for Cashman Equipment and entering our Technician Apprentice Program, you'll need to pass our service mechanic apparatus test and technical skills assessment. Once we've identified you have the skills and potential required of our diesel mechanics, you'll spend a year learning more about how to be a Caterpillar Diesel Mechanic. In this program, you'll have access to our in-depth training modules, a supportive team, and state-of-the-art facilities.
Many experienced mechanics move to Cashman Equipment due to our in-depth technical training. If you're a seasoned mechanic looking to take a few refresher courses or become proficient in a more specific type of work, our training programs can help. No matter whether you're a brand-new mechanic or an experienced one, you'll love how our comprehensive training programs can set you up for a more profitable and rewarding career as a mechanic.
Contact Cashman Equipment for More Information
After reviewing our guide to becoming a diesel technician, apply to become a mechanic at Cashman Equipment today. If you have any questions or need more information, feel free to contact us.