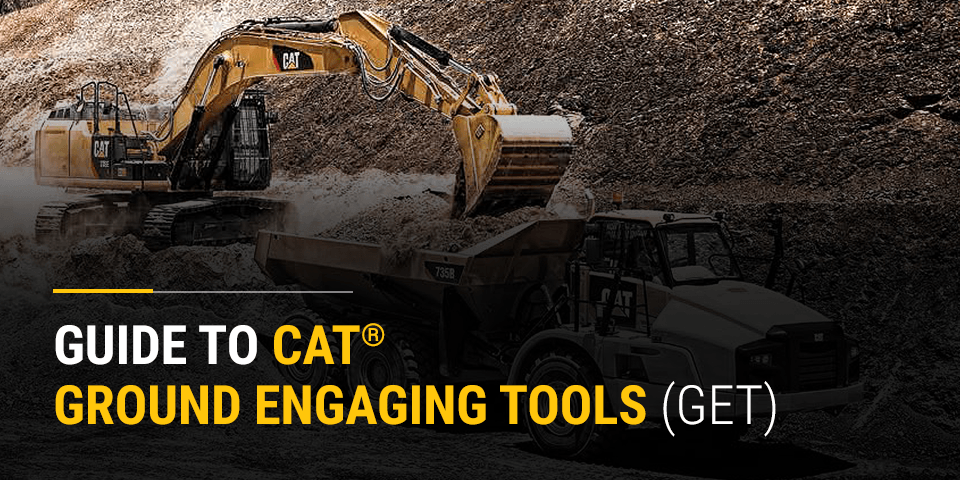 Industries like mining and construction are hard on machines. Even the best-made equipment experiences wear and tear that can dampen its performance and lead to premature breakdowns. To help prevent this, you need tools that can strengthen and protect your equipment.
Ground engaging tools (GET) offer a practical solution. These tools provide invaluable capabilities like enhanced soil penetration and efficient ripping and grading while also giving your machines the protection they need to maintain maximum performance. This guide to ground engaging tools will explain how these implements work, outline their benefits, and offer some ground engaging tool repair tips.
What Are Ground Engaging Tools?
Ground engaging tools are the parts of your equipment that make contact with the ground or other materials during their work.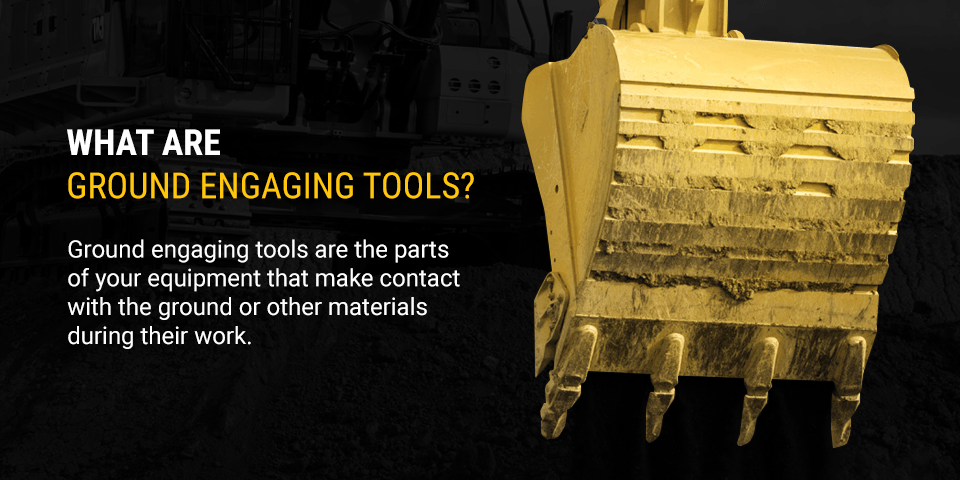 These tools serve a couple of main purposes — to assist with moving, cutting, and grading materials and to absorb a substantial amount of impact for the machine. These tools are generally detachable, so when one wears out, you can order another, attach it, and carry on with your projects.
Below are a few different types of ground engaging tools.
Adapters
Bucket teeth adapters provide different levels of tip penetration into the soil. They work well on loaders, excavators, and scrapers to allow for a range of digging depths, and you can use them with both bolt-on bucket teeth and weld-on bucket teeth. They are instrumental in applications like mining, forestry, and construction that require powerful groundbreaking abilities.
Cutter Bits
Cutter bits are useful for cutting during paving and demolition. You can choose different specifications to optimize this tool for the material you're using, the depth of the cut, and your machine's horsepower.
Cutting Edges
Cutting edges are ideal for use with motor graders and scrapers. They come in different shapes, widths, and thicknesses, so you can tailor your choice to your unique grading and scraping requirements. They may be curved, with serrated edges to increase penetration capabilities into the soil, or they can be flat to reduce impact and abrasion.
Dozer Blades
Dozer blades allow you to increase a bulldozer's soil penetration and groundbreaking capabilities so it can move more material with less downtime. You can also use dozer blades with tools like end bits and cutting edges for more options.
Rippers and Scarifiers
Rippers and scarifiers are ideal for use on dozers, motor graders, and scrapers. They shred materials with tremendous efficiency while offering durable protection for the body of the machine.
Side Bars and Edge Protectors
Side bars and edge protectors are useful on wheel loaders to guard against impact and reduce wear and tear. They help minimize machine damage and extend the machine's lifespan.
Tips
Tips are indispensable on excavator buckets and wheel loaders because they offer increased strength and penetrative capabilities. They also absorb shocks to extend the machine's lifespan.
Wear Parts
Wear protection parts such as chocky bars, roll bars, wear buttons, and wear blocks protect a machine from wear and tear. They typically feature two bonded layers for maximum protective abilities.
Benefits of Ground Engaging Tools
What are some of the primary advantages of ground engaging tools? These impressive components offer an array of benefits for anyone who works with heavy machinery.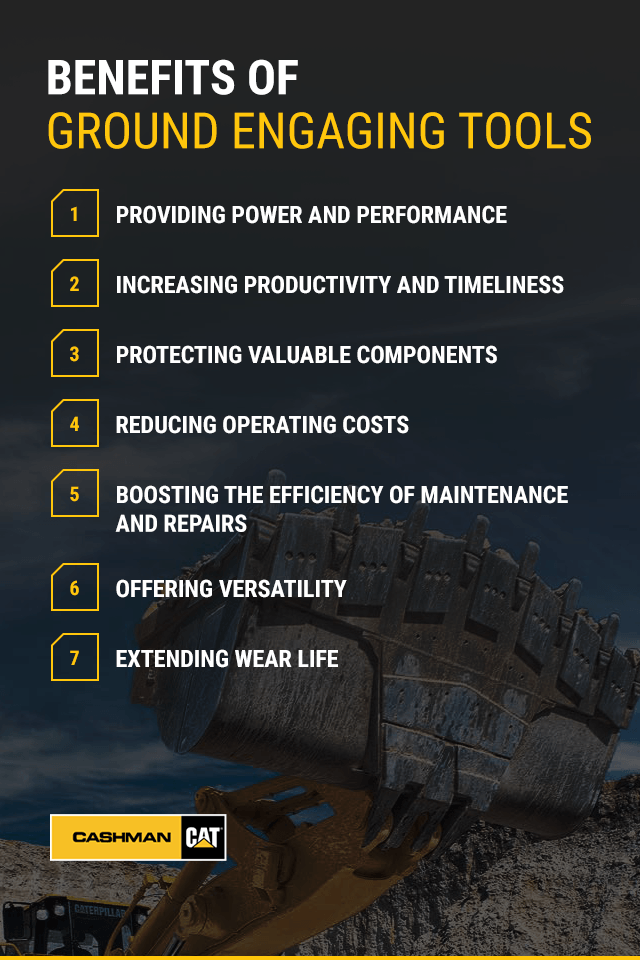 1. Providing Power and Performance
GET solutions make your machine a powerful workhorse for the toughest jobs. Their rugged metal construction means they can bite into the earth or contact rigid materials with tremendous force.
2. Increasing Productivity and Timeliness
GET are incredibly useful tools for boosting productivity and ensuring you make your clients happy by getting projects done on time. Especially in the construction industry, where 70% of contracting businesses struggle to meet deadlines, the efficiency and power of ground engaging tools mean you can make the most of your work time and maintain your reputation for timely completion.
3. Protecting Valuable Components
One of the main advantages of using GET on your machines is that they help protect expensive internal components by absorbing impact. When the sturdy blades, edges, or teeth make contact with the ground, they help resist its force. They keep the effects of the impact from damaging the components inside the machine.
4. Reducing Operating Costs
Unscheduled maintenance can wreak havoc on your budget, and repairs on a machine's internal components are incredibly costly. Reliable GET solutions that hold up on the most demanding jobsites can save you money with their durability and longevity.
5. Boosting the Efficiency of Maintenance and Repairs
Imagine if you had to repair or replace your entire machine when a blade wore down or one of the tips came off. Even minor repairs would quickly become prohibitively time-consuming and expensive. With GET, you gain compact, removable components you can efficiently swap out for maintenance or replacements.
6. Offering Versatility
You have a variety of options for GET for your machine. You can choose different edges, tips, side cutters, rippers — whatever tools will work best for your project. GET gives you the flexibility to change your implements as often as you need to optimize your machine for the task at hand.
7. Extending Wear Life
Because GET have such durable construction, they wear down slowly, even after hard use. You can expect your GET to have long lifespans and give you the most value for your investment.
How to Choose the Right Ground Engaging Tools for Your Equipment
Here are a few tips for determining which GET will work best in your operations:
Consider the needs of your jobsite: With so many GET options available, you'll want to consider your particular needs carefully as you make your selection. The ripper tips you're considering may have premium construction and aggressive tearing power, but if you'll make little use of them in your day-to-day applications, you may want to consider other options first.
Determine your highest priorities: Maybe your business has set the goal of reducing its fuel consumption by 10%. Maybe it has fallen behind on inventory management and needs tools that won't require constant reordering. Or maybe maximum performance is your priority, and all other considerations are secondary. Prioritizing your needs can help you determine what GET to choose.
Take notes on usage: In your operations, you may have the opportunity to try different GET on your machines for various projects. When you do, take detailed notes. When you look back on GET strengths and weaknesses, a written record can help you keep the different tools straight and remind you how they performed. You can also indicate in your notes how long each GET lasted, so you'll have a better idea of how often you can expect new tools to require maintenance.
The Importance of Ground Engaging Tool Preventative Maintenance
Keeping up with the maintenance for your GET is essential for continuing its superior performance. Below are a few reasons preventative care is so critical:
Extending equipment lifespan: If your equipment goes too long without maintenance, it may develop too much wear to be repairable, or it may break down entirely. Preventative maintenance can keep problems from developing and help your tools last longer.
Reducing costs: Preventative maintenance also enables you to reduce your long-term costs. By keeping up with minor routine maintenance, you can prevent catastrophic — and much more expensive — breakdowns.
Reducing downtime: Broken-down equipment significantly extends your project timelines. Investing in periodic maintenance keeps your equipment running smoothly and reduces the likelihood of time overruns.
Common GET Maintenance Procedures and Tips
Here are a few common maintenance procedures and some ground engaging tool maintenance tips to help you get the most out of your routine.
1. Adjusting the Bucket Positioner
When you purchase and install new GET for your bulldozer, the bucket positioner needs precise configuration. You will likely need to adapt it to the type of work you plan to do. Even small imperfections in bucket positioning can reduce your GET's performance and lifespan, so adjust the bucket to your precise specifications.
2. Rotating Through Bucket Tips Periodically
If you use one set of bucket tips for all your projects, it will soon wear out. Generally, center tips wear out more slowly than corner tips, so you'll want to use your center tips whenever you can to prolong your tips' overall lifespan. You'll also want to change your bucket tips appropriately to ensure you're using suitable tips for each new project.
3. Adhering to OEM Welding Procedures
If your new GET will require welding, make sure you consult the guidelines from the original equipment manufacturer (OEM). The OEM likely has a defined set of welding procedures you'll need to follow to avoid damaging your GET.
4. Changing Worn Edge Segments Promptly
If you wait too long between edge changes for your GET, you run the risk of wearing down the moldboard of your motor grader or bulldozer once the edge segment has worn away. Keep a close eye on your edge segments and swap them out once they've reached the end of their lifespans.
5. Installing Ripper Tips Properly
Your ripper tips can't rip up materials if they're installed backward. Be sure to orient your GET's ripper tips so the rib is facing up.
6. Tightening Loose Bolts
It's common for bolts to loosen during regular operation. You'll want to keep a close eye on them because operating your GET with loose bolts can lead to permanent damage. Loose bolts can enlarge the bolt holes, make your equipment unstable, and cause it to break down.
7. Repairing Welding Cracks
Cracks that form in your GET's weld can damage the structural integrity of your machine, make it unsafe to operate, and necessitate costly repairs. Address the issue as soon as it arises by repairing cracks promptly. You'll keep your machine in top shape and help it last longer between repairs.
8. Replacing Worn Material
Over time, the protective material on your GET may degrade. Be prepared for this deterioration and replace the protection material when you see signs of wear.
9. Keeping a Log
Keeping a written record of the maintenance on each of your machines provides reliable documentation of what you've done and reminds you of upcoming maintenance needs. Especially if you have a large fleet of equipment, relying on memory may lead to confusion. A physical logbook will be there to refresh your memory and inform you about future requirements.
Benefits of the Cat® Advansys™ System
What is the Cat Advansys™ system, and how can you use it to your advantage in your work?
The Cat Advansys™ system consists of tips and adapters engineered for use in challenging, high-production operations. The Advansys™ 70-230 tips and adapters make the job of handling extreme jobs much more convenient and manageable.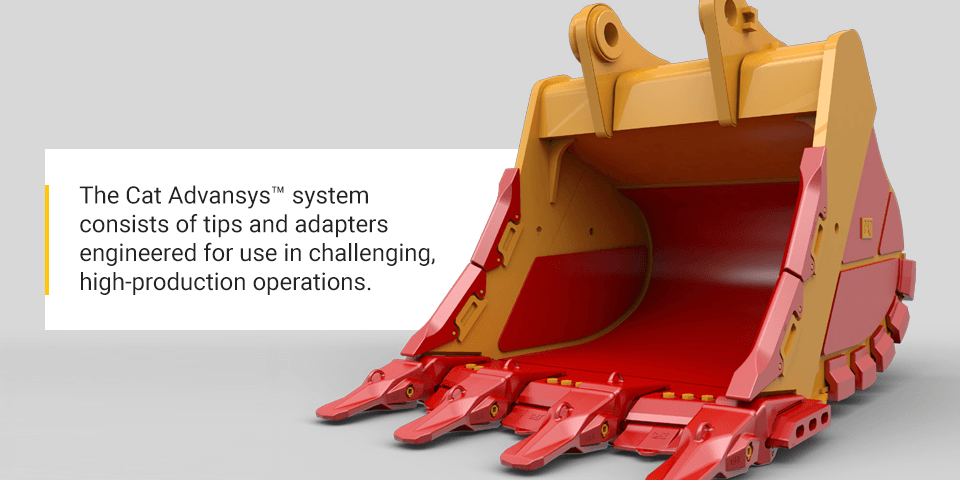 Take a look at some of the benefits of using the Cat Advansys™ system with your machine:
Rugged dependability: The Cat Advansys™ system is tough enough to tackle even the hardest jobs. It offers exceptional performance features, such as tapered tip sides for less drag, improved aerodynamics, and boosted productivity.
Rapid removal and installation: The Cat Advansys™ system makes the tips on your GET quick to remove or install. It features a hammerless construction for quicker, smoother changes and a retainer lock that you won't need specialized tools to operate. These features let you focus less time on configuring your GET and more time on getting your toughest jobs done.
Optimized tip shapes: When you're working on difficult projects, the tips on your GET will absorb heavy impacts and eventually begin to show wear and tear. The tips on the Cat Advansys™ system contain extra material at the points where they are likely to wear down. The supplementary material improves tip retention, helping them last longer even under punishing conditions.
Improved reliability: In the harshest situations, you need to know you can depend on your machine for consistently high performance. The Cat Advansys™ system gives you the peace of mind of knowing your GET will perform without breaking down. Features such as enhanced adapter nose geometry and strength can increase the adapter lifespan and reduce the stresses on it by as much as 50%.
Better efficiency: The advantages above add up to a more efficient machine that helps you save time and get more done with the limited hours in the day. Longer-lasting components mean less downtime to repair or replace them. And faster installation and removal times help make your work more efficient.
Contact Cashman Equipment for More Information About GET
To see the benefits of ground engaging tools in your industrial operations, contact Cashman Equipment. In challenging industries, you need a trustworthy partner that can help you select the best machines for your business and keep them performing at their best. We have the knowledge, industry expertise, and hands-on experience to be your one-stop shop for equipment, parts, and support.
Our Cat ground engaging tools include implements such as bucket GET, dozer GET, motor grader GET, and paver, compactor, and demolition GET. They can bolster your productivity and profitability by enhancing your machines' performance and giving them the protection they deserve.
Contact us online, give us a call at 800-937-2326, or visit one of our convenient locations to purchase GET for your equipment.