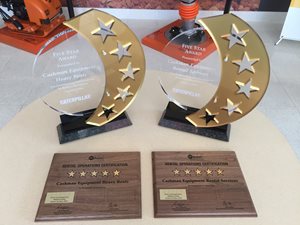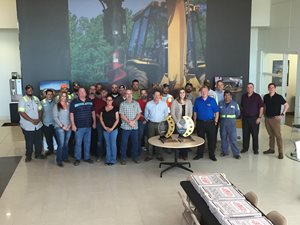 Monday, April 10, 2017 (Las Vegas) – Cashman Equipment's Cat Rental Store has earned
Caterpillar's 5-Star Certification Award for outstanding rental operations in heavy rentals and
rental services. (Heavy rents denotes equipment larger than a 328 excavator/D6 dozer size;
rental services relates to anything smaller.) Cashman Equipment has been working on
attaining this certification for about two years, which assures customers of a consistent and
best-in-class rental experience regardless of where in the world a Cat rental occurs.
Cashman Equipment partnered with representatives from Caterpillar's Global Rental Group to
conduct a comprehensive business review of the Nevada Cat dealership's rental operations. They
examined every part of Cashman Equipment's rental business, focusing specifically on excellence
standards in the areas that affect the customer experience, such as:
Consistent trucking transport costs
Streamlined return to ready times for equipment
Rental service call quality
Additional areas assessed were asset control, performance control, sales management, business
growth, employee development, and safety. The Caterpillar Global Rental Group evaluated Cashman
Equipment on 240 questions total, and the company scored 96% overall, placing them in the 5-Star
category. In recognition, Caterpillar Denver District representatives recently visited the Nevada Cat
dealership's Henderson, Nev., corporate headquarters to deliver the 5-Star Rental Certification
awards.
"A lot of work has gone in to get to this point," said Brad Donnelly, Caterpillar Denver District rental
and used operations representative, during the presentation. "I'm very proud of what you've done and
am proud to be associated with you. Thank you to everybody on behalf of Caterpillar, and
congratulations on a great, great job."
With more than 175 Caterpillar dealerships worldwide, the 5-Star Certification is the equipment
manufacturer's measurement of excellence. The certification is awarded in a variety of areas, from
rental and service to power solutions and component rebuild. Today, there are approximately 27
other dealerships with the 5-Star Certification in rental services. Cashman Equipment management
attributed the achievement to the employees.
"This would not be possible without all the efforts of everyone in this room," said Seth Hendrickson,
Cashman Equipment rental sales manager. "A lot of the processes we were evaluated on are yard
processes. They are shop processes. They are dispatch processes. All of that, all together, is what
made this happen. Thanks to the rental team, and thanks to everyone who works day in and day out
to make it happen."
###
Cashman Equipment Company… Founded in 1931 by James "Big Jim" Cashman, Cashman Equipment is one of the highest rated Caterpillar equipment dealers in North America. A full service dealership, Cashman provides new and used equipment for sale and rental, as well as high-quality parts and service to construction, paving, mining, truck engine, pipeline, and power system industries throughout Nevada and parts of California. With LEED Gold-certified corporate headquarters in Henderson, Nevada, Cashman is one of the largest privately-owned employers in the state. For more information, visit www.cashmanequipment.com or follow Cashman on Facebook (@CashmanEquipment), Twitter (@CashmanCat), or LinkedIn (/in/cashman-equipment).
For any questions or additional information on this story, please contact Kate Gallagher at 702.633.4582 or kategallagher@cashmanequipment.com.