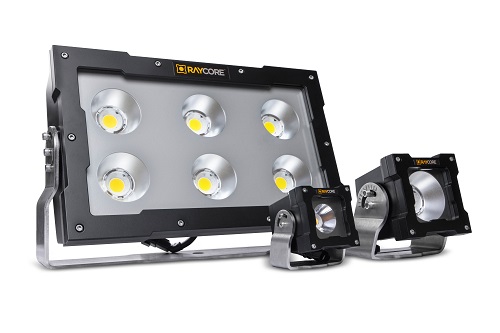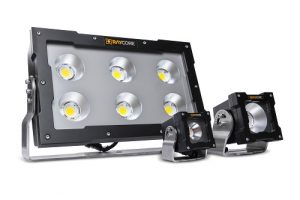 Tuesday, March 31, 2020 (Las Vegas, Nevada) Cashman Equipment and industry-leading work-light manufacturer, Raycore Lights, have announced an exclusive distribution partnership to meet the extreme lighting requirements of the mining, construction, and paving industries of Nevada and the Eastern Sierras.
Raycore Lights feature cutting-edge LED-Core technology, which is superior to conventional LED lighting in many ways. The lights are characterized by conspicuous yellow cores, which produce their market-leading light output. The flagship Raycore X60 light provide over 60,000 lumens.
"[Raycore Lights] really fill a void we had as a dealership," said Scott Brown, Cashman
Equipment corporate parts manager. "I believe in them and their products, and when our product support managers saw them, they all felt strongly that Cashman should offer it, too."
"I refer to the cores as 'miniature suns'," said Raycore director of sales, Andrew Nicolas. "You have to see them firsthand to understand how incredibly bright they are. There is nothing else like it."
The LED cores are packaged in an IP69 waterproof stack-up of seals and lenses to complete the ruggedized system. The ultra-efficiency of the LED cores allows a single Raycore light to outshine several conventional LED lights, of a similar wattage, combined. Many customers report a big reduction in the total number of lights needed to light up a machine after making the switch to Raycore.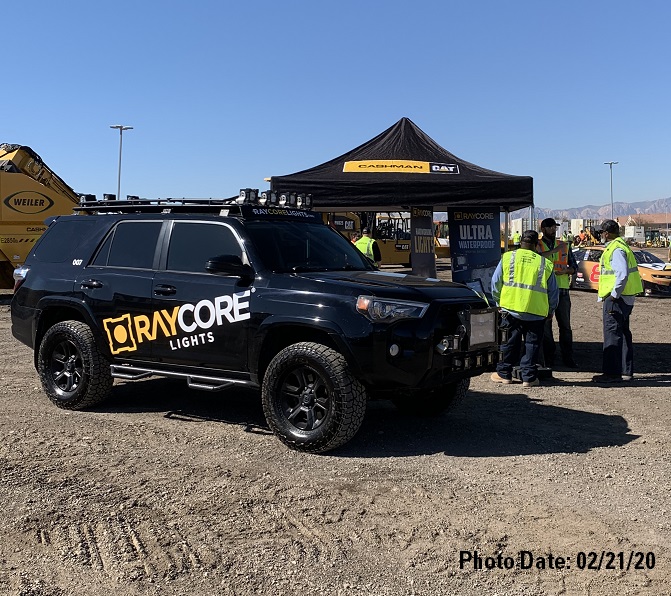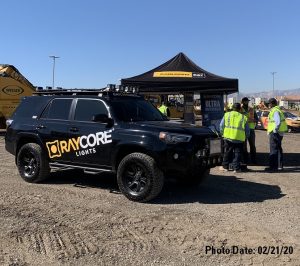 "Customer collaboration was the key for designing the ultimate work lights," Nicolas stated. "From the lights' detachable faces, to their thick cannon-style stainless steel brackets, our heavy-industry customers spoke, and we listened. They'll never settle for regular LED now. Raycore customers demand the best. That's why partnering with a world-class dealer like Cashman Equipment was a no-brainer."
Customers quickly find that worksite productivity gets a big boost as a result of the amount and quality of light produced by Raycore Lights. The color temperature of each light is calibrated to promote operator awareness.
Raycore Lights are easy plug-and-play upgrades for factory equipment lights. Raycore delivers the most lumens per dollar and lumens per watt of any work light in the market. Customers can purchase them at any Cashman Equipment location.
###
About Cashman Equipment Company… Founded in 1931 by James "Big Jim" Cashman, Cashman Equipment is one of the highest-rated Caterpillar equipment dealers in North America. A full service dealership, Cashman provides new and used equipment for sale and rental, as well as high-quality parts and service to construction, paving, mining, truck engine, technology, and power system industries throughout Nevada and the Eastern Sierras. For more information, visit www.cashmanequipment.com or follow Cashman on Facebook (@CashmanEquipment), Twitter (@CashmanCat), LinkedIn (/company/cashman-equipment/), or Instagram (@CashmanEquipment).
About Raycore Lights… Founded in 2012, Raycore Lights products are proudly made in the USA, in Logan, Utah. Raycore was formed specifically to meet the grueling demands of mining and construction machinery applications. As the only work-light manufacturer to offer economical and sustainable reusable light housings, Raycore was awarded U.S. Patent 9,625,127 B2 for its innovative rugged work-light design. Raycore lighting products are deployed in some of the world's harshest work environments including Colombia, Brazil, Australia, and Africa. For more information, visit www.RaycoreLights.com.