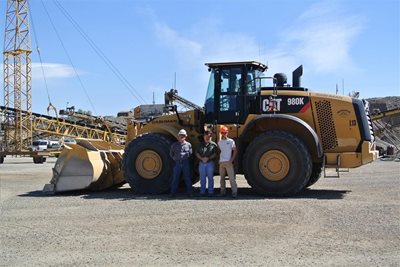 Joe Stella, fleet and production manager of Bing Materials, is still running a Cat 988B wheel loader—­a machine that debuted when Queen's Bohemian Rhapsody was topping the music Billboard charts for the first time in 1976. After almost 40 years, the Cat 988B started having a few maintenance issues. Stella's Cashman Equipment product support sale representative suggested he try oil sampling to monitor the health of the machine.
After a year and a half of oil sampling by Cashman Fluids Analysis Lab, analysts began noticing an increase of metal in the transmission. The test also revealed low oil viscosity (or thickness) showing that the component was running hot. The recommendation was to keep an eye on it through more frequent sampling. Unfortunately, the numbers still kept rising; a thorough service inspection revealed the need for a $57,000 rebuild.
Stella and his Cashman product support representative looked at the age of the machine and the hours on the machine frame and components. They discussed other options to maintain productivity on Bing's Minden, Nev., aggregate pit. The options were to buy new or rent while the machine was repaired.
The most practical answer was to rent a Cat 980K wheel loader from Cashman's rental fleet. The 980K came equipped with Product Link, Caterpillar hardware that provides detailed information about the location, utilization and condition of the machine. With the accompanying VisionLink software, Stella could login to see details of machine performance right on the dashboard—including the fuel utilization tab. There, Stella found some hard facts.
"With Product Link and VisionLink, I saw the difference in the fuel myself rather than listening to the guesstimates of an operator," said Stella. "With the 988B, we ran about 9.5 gallons of fuel an hour. With the 980K, we never break six gallons an hour."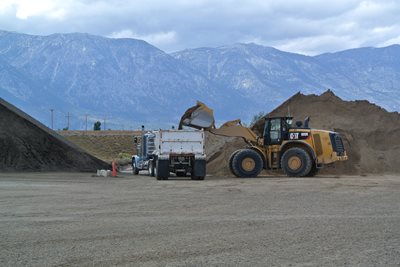 Based on the approximate cost of fuel, Stella estimated that the 980K was saving them $2,500 per month—something he said would not have happened without his Cashman product support representative. He was the one who suggested oil sampling, as well as the 980K rental demo that Bing Materials eventually decided to buy.
Ultimately, working with Cashman and simple oil sampling paid real dividends for Bing Materials. The company now owns a piece of equipment which allows it to ease the load on its 988B, start saving thousands in fuel, and remove two other machines from active production due to the efficiency of the 980K.
"We got a good one with this 980K," Stella said. "It's really the cat's meow."
Cashman Equipment was founded in 1931 by James "Big Jim" Cashman. It is a full-service dealership, and provides new and used equipment for sale and rental, as well as parts and service to mining, construction, paving, truck engine, on-highway trucks and power system industries throughout Nevada and parts of California.
To learn more about Cashman Fluids Analysis Lab, visit: www.cashmanfluidsanalysis.com