In 2018, the North American ATV and UTV market was valued at more than $5.8 billion, and that popularity is projected to keep growing — but what makes these off-roaders so desirable? The right ATV or UTV can provide endless recreational and utility opportunities and streamline work processes at home and on the job. With the use of attachments or add-on accessories, ATVs and UTVs make it easy to haul and transport materials, plow snow, explore trails, and access challenging areas of your property.
Although both are useful for various applications, ATVs and UTVs are not the same machine. This guide will help you learn more about these vehicles and how to decide which one is best for you.
What Is an ATV?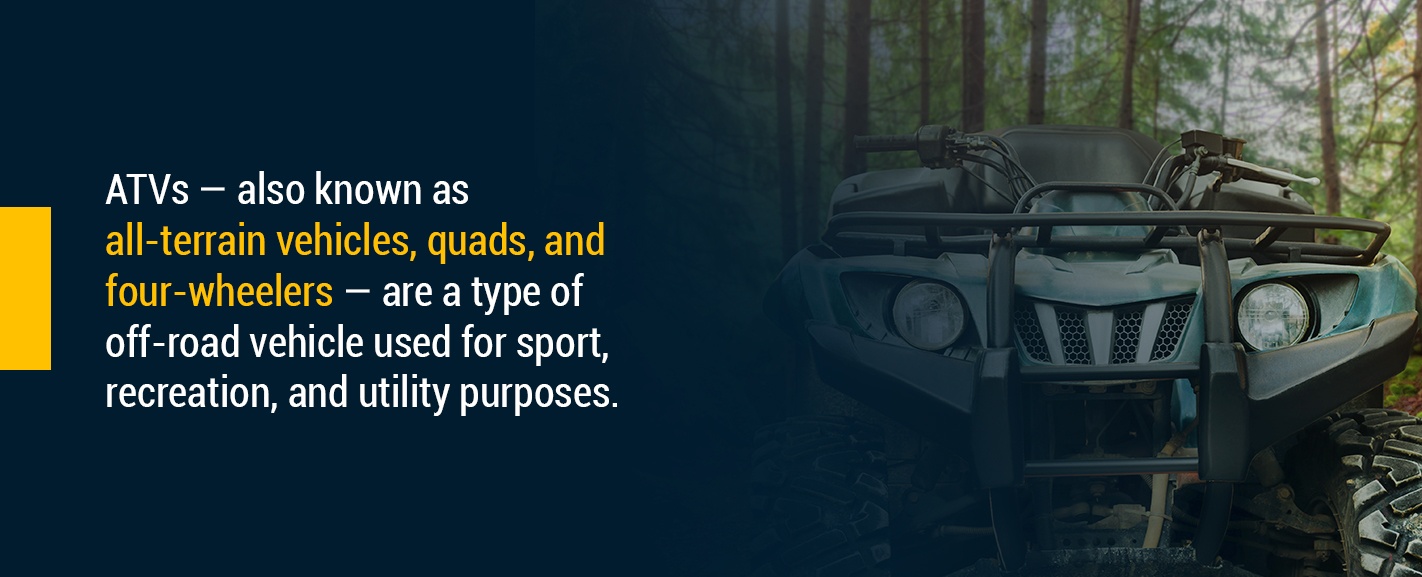 ATVs — also known as all-terrain vehicles, quads, and four-wheelers — are a type of off-road vehicle used for sport, recreation, and utility purposes. To operate an ATV, a single rider straddles a seat and uses handlebars to steer. Standard ATVs have a thumb throttle, but there are some twist throttle modifications available. To brake an ATV, you use either the handlebars or foot pedals, depending on the specific type and model of ATV you're riding.
There are several types of ATVs on the market, including:
Utility: Although not as versatile as UTVs, utility ATVs can stand up to more rugged terrain than other four-wheelers. They also have some hauling and plowing abilities, depending on the attachments you purchase to go along with it.
Sport: Sport ATVs are excellent for recreational riding and competitive racing. Enjoy the speed and agility of a sport-designed ride at a local ATV trail or track.
Youth: As the name suggests, youth ATVs are built for kids to ride and enjoy safely. They aren't as powerful as adult four-wheelers, but they can be a great tool for helping your child develop hand-eye coordination and get comfortable behind the handlebars. It's also a fun activity to do together.
In addition to riding for fun, you can use an ATV for several projects around your home, farm, or worksite. Common applications include:
Land surveying.
Off-road exploring.
Hunting and fishing.
Hauling debris, building materials, or dirt.
Transportation across wide-ranging properties.
Plowing snow from driveways and parking lots.
Pros and Cons of ATVs
How do you know if an ATV is right for you? Whether for sport or work, ATVs are a great addition to your lineup because:
They can access hard-to-reach areas: Sport ATVs are agile, making them great for accessing hard-to-reach areas around the property or worksite.
They are fast and easy to maneuver: Whether for sport or utility, you'll enjoy the speed and easy maneuverability of a four-wheeler.
They are easy to transport: Because ATVs tend to be compact, they are easier to haul in a truck bed than other vehicles.
That said, there are a few things about ATVs you need to keep in mind, including:
Size: ATVs are not one-size-fits-all. Similar to a bicycle, you need to find an ATV that can comfortably support both your height and weight. You don't want to purchase a four-wheeler only to find your legs are too cramped, or you cannot easily access the brake pedals.
Safety: Knowing when to use an ATV is important to protect you and your vehicle. For example, it's not safe to operate an ATV in hazardous weather conditions or on slopes that could cause you to roll your machine. Unlike UTVs, four-wheelers do not have a roll bar, roll cage, or seatbelts. To ensure safety, always ride with a helmet, gloves, boots, and protective clothing.
Ability: Because you use your body to stay balanced, as well as steer and navigate, four-wheelers are more physically demanding than a UTV. This physical demand might also come with a steep learning curve for some riders.
Limitations: On their own, you cannot use ATVs for many industrial or utility projects, and even with the correct attachments, they do not have as much power or storage space as UTV.
What Is a UTV?
A UTV — also known as a utility vehicle, utility terrain vehicle, side-by-side, and SXS — is a type of off-road vehicle with four to six wheels, a comfortable cab with car-like seating and steering, and endless potential for both recreational and utility use. Operating a UTV is similar to operating a car or truck — you use a steering wheel to navigate and foot pedals for power and braking. UTVs have integrated safety advantages over an ATV, like a roll bar or roll cage. They also have ample seating, so more than one passenger can ride at a time.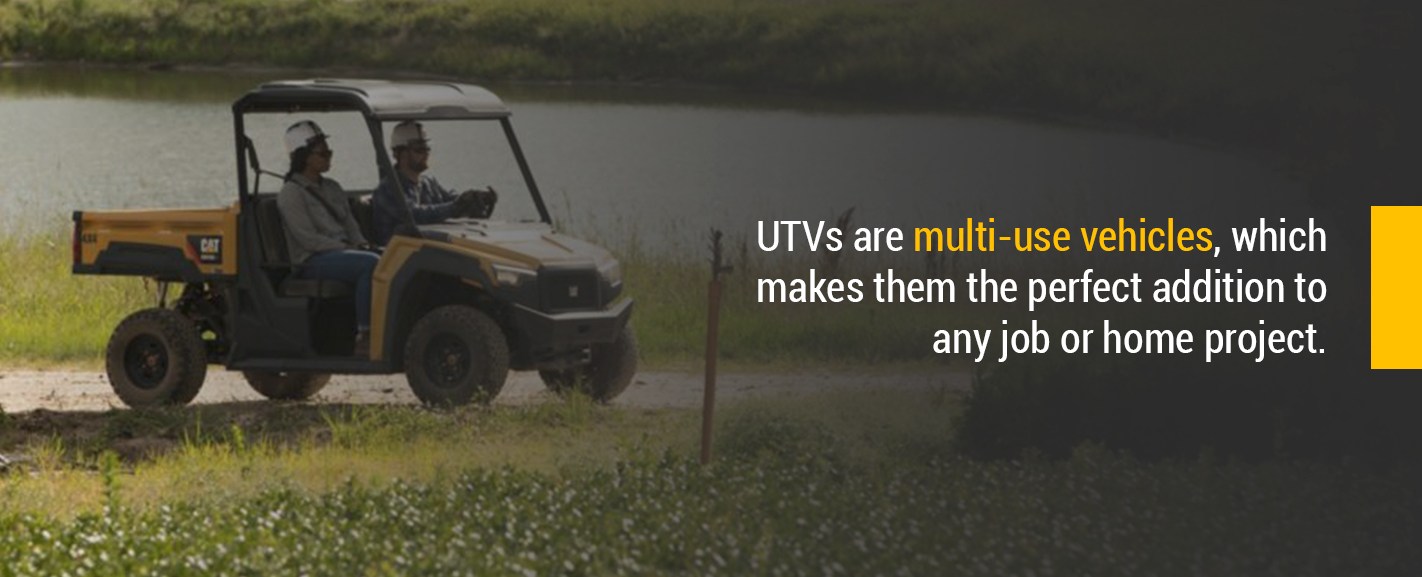 UTVs are multi-use vehicles, which makes them the perfect addition to any job or home project. Some common applications for UTVs include:
Snow removal.
Feeding livestock.
Transporting firewood.
Roadway maintenance.
Property maintenance and landscaping.
Off-roading exploring with one or more passengers.
Hauling and moving materials and debris on a farm or construction site.
No matter the application, side-by-sides are a durable and convenient solution.
Pros and Cons of UTVs
Numerous advantages come with purchasing a UTV. Here's what utility vehicles can offer you and your next job or project:
Comfort: Rather than straddling a seat and working to remain balanced, side-by-sides have comfortable bucket- or bench-style seats with ample legroom. Some UTVs even have backseats. Radios and air conditioning systems can further enhance your side-by-side experience.
Versatility: Many UTVs are enclosed to protect you from bad weather or extreme temperatures, so you never have to worry about when to use a UTV. Thanks to the multitude of optional attachments and add-on features, you can also transform your UTV to fit virtually any need.
Customization options: One of the best parts of owning a utility vehicle is choosing which features and customization options you want. According to one report, more than 80% of all side-by-side owners upgrade their UTV within a few months of purchasing it. Possible upgrade options include enhanced safety features, specialized lighting, attachments and accessories, power steering, suspension, or new wheels.
Storage space: Perhaps the most significant difference between ATVs and UTVs is the available storage space. Because UTVs have built-in seating, there is plenty of room to store tools, fishing and hunting supplies, and so much more — all without attachments. When you add a towable trailer or similar attachment, you get even more hauling capabilities that just aren't possible with an ATV.
Safety features: Finally, UTVs are often the safest off-roading option because they have a built-in roll cage or roll bar and seatbelts to help protect you and your passengers in case your vehicle overturns. Front and rear windshields and built-in doors and door nets keep you safe from branches and debris in the air, including strong wind. Unlike an ATV, lighting goes beyond headlights with overhead light domes and bars for optimal nighttime driving.
Although UTVs are a versatile piece of equipment, you should consider a few things before investing in one, such as:
Agility: UTVs are powerful enough to help you navigate around any brush and across rugged terrain, but they are a bit larger and less agile than ATVs. Keep this in mind when maneuvering turns or narrow paths.
Cost: UTVs are usually a higher initial investment than an ATV, but that's because you're investing in more than a recreational vehicle. Utility vehicles can save you a lot of time and money at jobsites or when tackling home-based projects. Because ATVs are not capable of this level of utility, utility vehicles tend to pay for themselves quickly.
Trail limitations: When riding your UTV for fun, you may run into trail limitations. Although there are certainly off-road trails that accommodate side-by-sides, it's a good idea to check before riding.
Should I Use an ATV or a UTV?
ATV vs. UTV — which vehicle is best for you? The answer to that question depends on a few factors, including:
Application: What do you plan to use your off-road vehicle for? Utility vehicles are ideal for both recreation and utility purposes, while ATVs are usually best suited for sport riding and small projects.
Terrain: ATVs are agile and can easily maneuver tight turns or narrow paths, while UTVs are durable and powerful enough to handle challenging terrain.
Budget: When considering your budget, remember to factor in the initial investment cost, as well as any applicable attachments or add-on features. If purchasing an ATV, remember there are no built-in safety components, so you will need to also invest in quality riding gear.
When it comes to purchasing an ATV vs. a side-by-side, the best vehicle for you is the one that is suitable for your work or recreational environment, meets all of your application needs, and allows you to operate within your budget. If you're just looking for a sport vehicle for racing or small, home-based projects, an ATV is a good option. But if you're looking for a vehicle that can tackle rugged terrain — for both sport and work — while offering superior safety, comfort, and versatility, a UTV is an investment that will continue to prove its worth for years to come.
4 Reasons to Buy a Cat® UTV
Cat® UTVs are comfortable, safe, and supply plenty of room for both passengers and supplies. Cat has four different UTV models, and each one has a 1,000-pound bed capacity, 2,000-pound towing capacity, and electric rear locking differential. Choose from two-wheel or four-wheel drive configurations and enjoy a smooth, spacious riding experience free from excessive noise or vibrations.
Here are four reasons why investing in a Cat side-by-side is the right choice: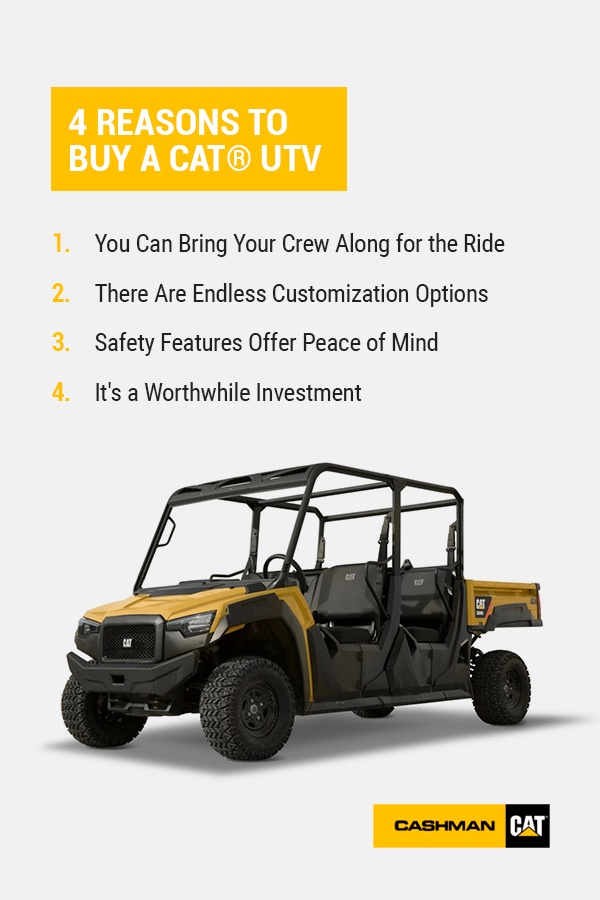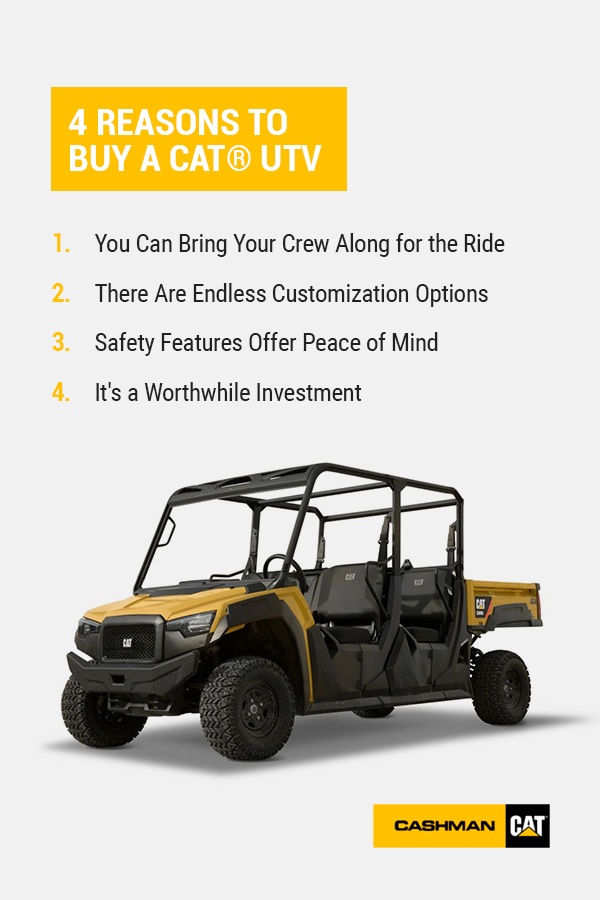 1. You Can Bring Your Crew Along for the Ride
Use your side-by-side to make work projects with your coworkers easier and faster, or gather the whole family for a weekend joyride in the country. Heading out for a fishing trip and want to bring your dog? There's plenty of room for that, too. No matter who your crew is, our two-seat and five-seat variations offer plenty of space and comfortable seating for everyone.
2. There Are Endless Customization Options
In addition to attachment capabilities, every Cat UTV comes with the following customization options:
Gas or diesel: Cat has both gas and diesel configurations available. Our gas models operate with 50 horsepower and can go up to 45 miles per hour with an optional 25 miles per hour cap. Diesel models operate at 25 horsepower and can go 25 miles per hour.
Lighting: Never worry about getting caught in the dark when you choose from different lighting options, like roof lights, LED light bars, working light kits, and interior dome lighting.
Windshields: Whether you opt for full or half front and rear windshields, you can choose from glass or poly construction and optional wiper kit.
Guards: Grill guard, brush guard, front arm guards — whatever you need, Cat has you covered.
With other add-ons like under-seat cargo storage and middle seat kits, you can build your utility vehicle to meet all of your outdoor needs.
3. Safety Features Offer Peace of Mind
When you're riding with valuable cargo and precious passengers, we know that safety is always on your mind. Cat side-by-sides are strong and powerful, but never at the risk of a comfortable and safe riding experience. Some safety features include:
Front and rear windshields
Optional guard accessories
Beacon lights
Steel construction
Back up alarms
Whip flags
4. It's a Worthwhile Investment
Every Cat UTV model is constructed out of 100% durable, long-lasting steel. In addition to top-quality materials, you can choose from more than 30 optional accessories to get even more out of your vehicle. All Cat customers enjoy access to our equipment maintenance, repair, and service options, as well as a dedicated team of professionals standing by to answer any questions.
Shop Cat UTVs at Cashman Equipment
While ATVs may be the right choice for some, utility vehicles are the ultimate investment for those seeking power, durability, comfort, safety, and versatility. If you're interested in learning more about what a Cat UTV can do for you, contact Cashman Equipment online or give us a call at 800-937-2326. You can also find a location near you.