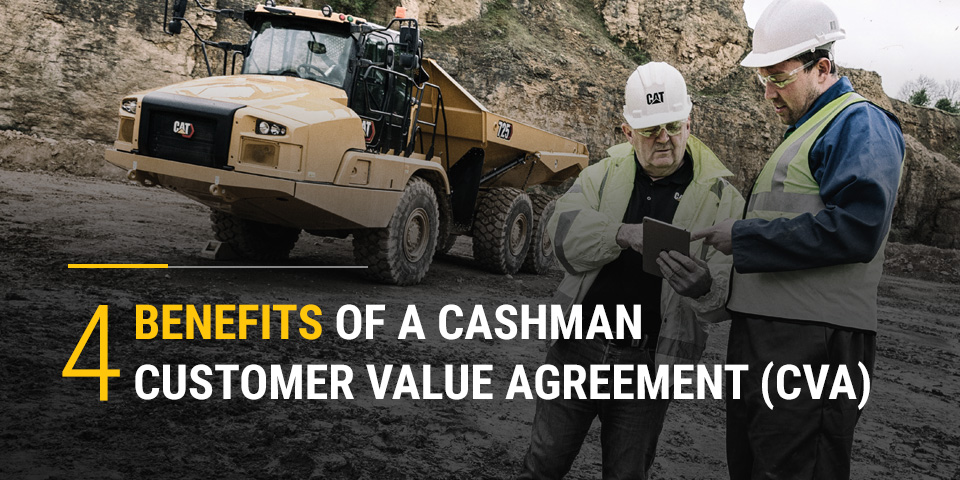 Cashman Customer Value Agreements (CVA) gives you confidence in your machine's performance. It's a hassle-free ownership plan that brings additional value to your machine and business. Our CVA allows you to get the parts you need delivered on schedule, right to your door, along with plenty of other convenient options.
The Cashman CVA works in conjunction with the Cat App, so you can do all the following from the palm of your hand:
Monitor equipment health and operating hours
Reduce risk with an equipment protection plan (EPP)
Set reminders for maintenance
To make things even more convenient, you can roll the CVA into your monthly equipment payment plan, making it as easy as possible. Learn more about which option is right for you.
What Is a Customer Value Agreement?
When small or medium-sized business owners invest in Cat equipment, they're often looking for business assets that can get the job done properly without the need for expensive repairs. Business owners want to avoid dealing with breakdowns or any of the other equipment hassles that often arise with a lack of preventive maintenance. To mitigate these issues, Cashman Equipment offers its customers the Customer Value Agreement (CVA).
The CVA is a comprehensive protection plan covering maintenance, service, inspection, parts delivery, breakdown and fault alerts, equipment locating, and more into one simple and affordable monthly plan. Keep all your payments on a single billing schedule when you combine your CVA with an existing financing or leasing plan.
One of the most important factors to keep your machine running smoothly is adequate, timely maintenance. Services such as performing oil changes, replacing belts and hoses at the end of their service life, and conducting detailed inspections by a certified technician, are at the heart of the CVA. This plan is designed to keep up with planned maintenance, performed on a scheduled basis by equipment running hours or by date, whichever comes first.
Service calls are built into the plan and automatically scheduled by Cashman Equipment based on equipment running hours in the field. To make things even easier, the Cat App also helps determine if there are any immediate mechanical issues with your equipment.
How Does a CVA Work and What's Included?
The Customer Value Agreement offers Cat equipment owners one simple monthly payment to take care of all of your equipment's service, maintenance, inspection, and part replacement needs.
There are several different CVA options and levels to choose from, and all CVAs offer the same value:
Hassle-free ownership: The Cashman CVA is a hassle-free agreement between the owner and Cashman. Cashman agrees to maintain, service, replace parts, and diagnose issues. This is a convenient service for the owner-operator or fleet manager who needs their equipment to run seamlessly and remain operational no matter what.
Hassle-free maintenance: When your Cat machine arrives at Cashman, a certified Cat dealer, for maintenance as part of your CVA, trained and certified dealer technicians are ready to perform the service.
Dealer support: If you ever have any questions or concerns about your machine, a Cat technician is always available to walk you through operation, offer their diagnostic tools to solve a problem, or arrive on-site to perform either scheduled inspections or answer any questions you might have.
Equipment health management: With a CVA, Cashman Equipment provides regular updates and scheduling for when it's time to service and inspect your equipment. The Cat App also gives you vital information on machine health, such as critical faults, running hours, equipment location, and more.
Cashman CVA also includes routine service appointments to keep your machine maintenance on schedule. Equipment covered under a CVA undergo diagnostic examinations before a service appointment.
4 Benefits of a Cashman CVA
Superior quality and dependability – these are the benefits that are already built into owning a Cat machine. You want to guarantee your equipment is working at peak performance at all times. That's what the Cashman CVA promises.
Below are the top benefits that businesses experience when they plan ahead with the Cashman CVA.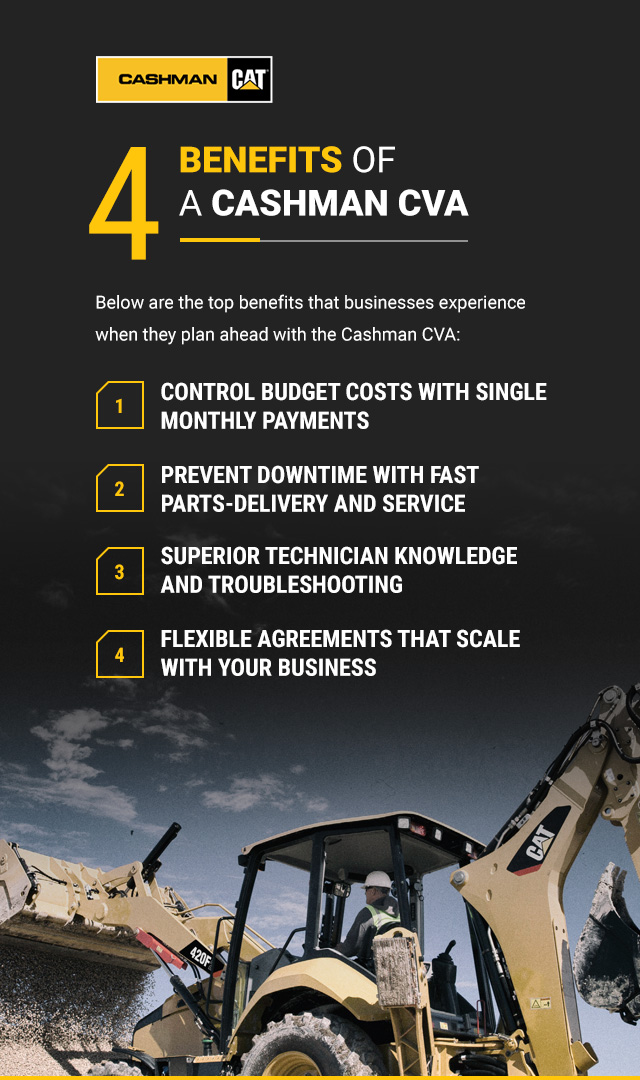 1. Control Budget Costs With Single Monthly Payments
As business owners know, managing cash flow is essential. That is why having a single monthly payment makes it easier to keep all of your expenses straight. No more separate bills for labor, parts, servicing, repairs, and other related expenses. Instead, know exactly how much you're spending and where with the convenience of the Cashman CVA.
Customer Value Agreement plans are charged in single monthly payments. You'll always know how much you're paying and what you're getting, making it easier to control your business's finances.
2. Prevent Downtime With Fast Parts-Delivery and Service
Downtime due to part replacements, drivetrain failures, and other unexpected breakdowns can throw a wrench in your operations. With the Cashman CVA, you can be assured that Genuine Cat parts will be delivered on time when you need them, reducing the time-consuming hassle of shopping around for the most cost-effective, high-quality parts.
In addition to Genuine Cat parts, the CVA maintenance program features Genuine Cat fluids, engineered specifically to handle the rigorous operations you have come to rely on from your Cat machine.
3. Superior Technician Knowledge and Troubleshooting
Under a Cashman CVA, your dealer's Cat technicians and equipment specialists apply years of technical expertise to diagnose and solve problems immediately. Leveraging their ability saves more time, energy, and money than if owner-operators or fleet managers were to tackle service, maintenance, and mechanical issues on their own.
When purchasing a new Cat machine, the last thing expected of the owner is to become a trained and certified Cat technician. Leave the heavy-lifting to your machine and rely on Cashman Equipment to look after your machine the way it was intended to be.
4. Flexible Agreements That Scale With Your Business
The CVA is flexible to your business needs. With multiple tiers available, the owner can choose from several different levels of inspection detail and frequency by a Cat technician.
There are different tiers of the Customer Value Agreement, tailored to certain types of owners. Ranging from the Convenience Plan that provides a thorough service plan for one to three years or the Confidence Plan that includes a more detailed and comprehensive service schedule for five years, we have a plan to fit your equipment service needs and budget.
You can also adapt your plan, upgrading or downgrading as your business needs fluctuate.
How Do I Know If I Need a Cashman CVA?
The Cashman Customer Value Agreement is ideal for anyone who owns, operates or manages Cat equipment, and wants their machine maintained and serviced by the most qualified Cat technicians using Genuine Cat parts and fluids. For those who like to keep track of preventative maintenance (PM), the maintenance and service sessions are scheduled by Cashman Equipment based on equipment running hours.
Whether you're a fleet manager responsible for multiple Cat assets or an owner-operator relying on high-performance machines to make your living, Cashman Equipment has a CVA for you. Below is an overview of how fleet managers and owner-operators can benefit from a CVA.
CVA for Fleet Managers
Managing a fleet of heavy equipment and operators is a stressful task for anyone. The Cashman CVA is game-changing for those who need to keep track of equipment running hours and ensure each piece of equipment is kept up and operating in the best possible condition.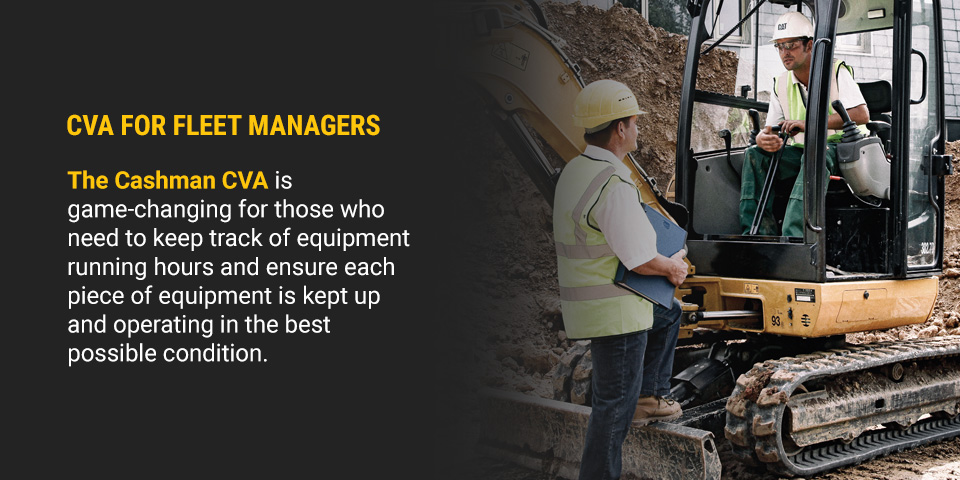 Rather than manually checking equipment running clocks and logging operating hours, fleet managers can rely on their Cashman CVA to track when services are due. What makes the CVA so valuable is the inclusion of certified Cat parts available on an as-needed basis, matching your PM schedule.
In addition, a team of CVA Coordinators ensure services are done properly and on time using the Connectivity feature that transmits available data, such as hours, location and fault codes. Cashman Equipment CVAs include a Condition Monitoring service with recommendations to proactively identify machine issues in order to reduce downtime and lower repair costs.
CVA for Owner-Operators
When starting out with your own heavy equipment, owner-operators need to provide a high level of service to their own customers. To do so, it is crucial to remain constantly aware of how to properly maintain your new investment.
Cashman Equipment has a CVA that fits the needs of owner-operators new to the industry or those who have long taken on the sole responsibility of PM themselves. Depending on the CVA level you choose, you can benefit from the on-time delivery of Genuine Cat parts, equipment monitoring using the Cat App, and expert assistance to troubleshoot problems. Cashman CVA offers the affordable option of self-installation, making it the perfect opportunity for new owner-operators looking to keep costs low.
Cashman CVA Options
Cashman Equipment offers three levels of CVA for your choosing. Whether you're an owner-operator or a fleet manager, we have CVA options that fit your needs. CVA availability ranges from a simple parts and maintenance plan to a comprehensive partnership with your dealer. Regardless of the plan you choose, Cashman Equipment is invested in your success and is here to provide the value agreement that works best for you.
Discover the three CVA options available to you and compare how each plan may meet your needs.
1. Convenience CVA
The Convenience CVA gives equipment owners and fleet managers the convenience of having guaranteed delivery of genuine Cat parts to their shop, ready for self-installation. For those with an in-house team of technicians, the Convenience CVA may be the ideal option.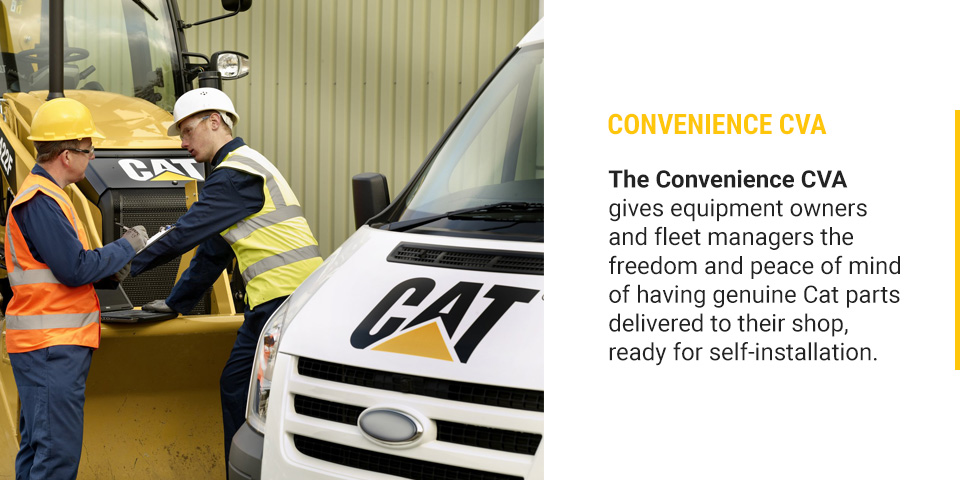 The Convenience CVA is designed to help you improve your business operations. You'll also be backed by the knowledge you need with dealer repairs on powertrain, hydraulics, or technology failure.
Get the following services included in the Convenience CVA:
As-needed Genuine Cat parts delivery with clear instructions for independent installations
Access to the Cat App for machine data and insights to manage preventive maintenance
EPP can be included to cover your powertrain and hydraulics systems, as well as Cat technology
Cashman Convenience CVA is available to equipment owners through a single monthly payment plan included in your financing term.
2. Performance CVA
The next level of CVA available to Cat equipment owners is the Performance CVA. Offering all the services from the Convenience CVA, the Performance CVA also focuses more on dealer involvement. While you have in-house technicians to manage your planned maintenance and other servicing needs, you can rely on Cashman for routine maintenance, annual inspections, and critical fluid analysis.
In addition to everything included in the Convenience CVA, the Performance CVA includes:
SOS analysis of Cat fluids following the sampling schedule outlined in your OMM
Ongoing inspections by the dealer with results shared in your Cat App
Advanced machine insights for productivity and cost-control, including operating hours and fuel burn
Cashman Performance CVA is available in one convenient monthly payment rolled into your equipment financing agreement.
3. Confidence CVA
The top level of CVA is the Confidence CVA — a comprehensive strategic partnership with your dealer. When you want the highest level of dealer involvement and machine protection, choose the Confidence CVA. Your dealer performs all on-location maintenance with the right part at the right time. For unexpected and unplanned downtime, Cashman Equipment is standing by with expert servicing and repairs to address failures and get you back up and running.
With the Confidence CVA, you'll get the following service benefits:
EPP extends to your electronics, cab, brakes, steering, and suspension
Flexible PM on major milestones, such as 3,000-hour or 5,000-hour servicing
Active conditioning monitoring and analysis by the dealer
As with the other CVA levels, the Confidence package makes your business eligible for a single monthly payment with your machine financing agreement.
Contact Cashman Equipment to Learn More About CVAs
With the Cashman CVA, you have the ability to take on more jobs, exceeding your clients' expectations with efficient, highly productive work. Mitigate downtime and keep your machine working in peak condition by securing hassle-free ownership with a Cashman CVA.
Learn more about Cashman CVAs available from Cashman Equipment. Contact us online today or call us at 1-800-937-2326.